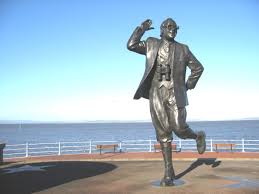 Must Do
One of the most famous parts of Morecambe is the Eric Morecambe statue. The Statue on the sea front is based on the famous comedian; everyone who visits the sea side town must get their photo with this piece of art – of course doing the famous Eric Morecambe pose!
What do you like best about your city?
More combines all the best parts of a busy sea-side resort without all the hustle, bustle and mess of the busier tourist parts of the UK. It has a great mixture of entertainment, hotels and shops without making it so busy that you are unable to relax
Best Walk in Morcambe
Morecambe's Bay Walk – is a guided walk that takes place between May and September. This walk allows participants to start your walk from Arnside and end at . This is an interesting and almost dangerous walk due to the quick changing Morecambe tides.
Best Restaurants in Morcambe
Morecambe has a wide range of eateries, catering for every taste. The Shrimp is probably Morecambe's most renowned restaurant offering good old fashioned pub food as well as a help yourself Carvery, it is very popular amongst Morecambe residents. If you are after something more romantic or above pub food, then the Blue Mountain restaurant on the sea front also offers a wide variety of meals.
Best Music
Morecambe's Dome venue is famous for music. It has a wide range of well known and unknown bands playing regularly. The Platform on the promenade also has a huge range of acts visiting, including lots of 80s acts currently doing tours.
Best Nightlife
The Queens Hotel on the sea front in town is probably Morecambe's busiest club. Open every day and playing a range of pop music there is usually something to suit everyone. Open until the early hours and serving drinks and very reasonable prices this is Morecambe's most well known night club.
Best Day Trip from Morcambe
Morecambe is more or less just a stones from away from the Lake District. Take a trip to the lakes and you can enjoy a day of boat rides, fun fairs and other tourist attractions. There are regular bus and train journeys from Morecambe to Kendal and other parts of the Lake District.
Something that not many tourists would know about Morcambe
Morecambe is under going a multi million pound make over. As well as the world famous Midland Hotel re-opening there is money being spent rejuvenating the whole town. This involves new shops, a new golfing area and plenty of new bars and restaurants.
Save