The state capital of Malaysia's Sabah state, Kota Kinabalu is located in northern Borneo. Often referred to as KK, it is a coastal city with a modern boardwalk and bustling markets. The waterfront Kota Kinabalu City Mosque is a highlight, and it is also the gateway to the 4,095m Mount Kinabalu.
The main things to do in Kota Kinabalu include:
visit Manukan Island
enjoy the water at Tanjung Aru Beach
buy local crafts at the Gaya Street Sunday Market
taste local foods at the Kota Kinabalu Night Market
learn to scuba dive in the beautiful waters of the South China Sea
History of Kota Kinabalu Malaysia
Kota Kinabalu, the vibrant capital city of Sabah, Malaysia, holds a captivating history that dates back centuries. From its humble beginnings as a fishing village to becoming a bustling metropolis, Kota Kinabalu's historical journey is a tale of cultural exchange, colonization, and modernization. Let's embark on a chronological journey through the evolution of Kota Kinabalu, tracing its fascinating history through significant milestones:
Ancient Roots – Indigenous Settlements:
Ancient archaeological findings suggest that the area around Kota Kinabalu was inhabited by indigenous communities, including the Kadazan-Dusun, Bajau, and Murut tribes, dating back thousands of years.
15th Century – Bruneian Influence:
In the 15th century, the Bruneian Empire extended its influence to Borneo's northern coast, establishing a settlement called "Singgah Mata" near present-day Kota Kinabalu.
19th Century – Arrival of the British North Borneo Company:
In the late 19th century, the British North Borneo Company, led by Sir Alfred Dent and later managed by Baron von Overbeck, acquired territories in northern Borneo from the Sultan of Brunei. In 1882, the company established a trading post at Api-Api, which eventually grew into the town of Jesselton.
1899 – Official Establishment of Jesselton:
On August 30, 1899, the British North Borneo Company officially established the town of Jesselton, named after Sir Charles Jessel, a prominent official of the company. The settlement was strategically located along the coastline and developed into a significant trading port.
World War II – Japanese Occupation:
During World War II, Jesselton fell under Japanese occupation on January 9, 1942. The Japanese forces established the town as their administrative center in Borneo.
1945 – Post-War Reconstruction and Name Change:
After the war, the town underwent significant reconstruction. On September 30, 1945, the name "Jesselton" was officially changed to "Api-Api" before eventually adopting the name "Kota Kinabalu" in 1968.
1963 – Sabah Joins Malaysia – Statehood and Capital Status:
On September 16, 1963, Sabah, including Kota Kinabalu, became a part of the Federation of Malaysia. Kota Kinabalu was designated as the capital of Sabah.
1967 – Officially Renamed Kota Kinabalu:
On November 30, 1967, the city was officially renamed "Kota Kinabalu" by the Sabah State Government, honoring the iconic Mount Kinabalu, the highest peak in Southeast Asia.
1990s – Urbanization and Development:
During the 1990s, Kota Kinabalu experienced rapid urbanization and development, transforming from a small town to a modern metropolis. The city's infrastructure expanded, and tourism began to thrive.
Present Day – A Vibrant Global City:
Today, Kota Kinabalu stands as a vibrant global city on the northwest coast of Borneo. It continues to be a significant economic and cultural hub for Sabah, attracting travelers with its stunning natural beauty, diverse marine life, and warm hospitality.
Kota Kinabalu's historical timeline reflects its resilience and adaptability over the centuries. As the gateway to Borneo's natural wonders and a melting pot of cultures, the city embraces its past while looking towards a promising future as an integral part of Malaysia's rich tapestry of heritage and progress.
Must Do
The best thing and must do in my city is scuba diving. There are lots of sandy beaches, tropical islands, blue waters and coral reefs. Tourists who would come to Kota Kinabalu won't miss the chance for scuba diving. For example, Pulau Tiga is believed to have been formed by the eruption of several mud volcanoes. The surrounding reefs are shallow with healthy coral and water visibility ranging approximately 20 metres. Several species of flora and fauna can be found and these make Pulau Tiga a truly wild tropical island. It was no surprise when Pulau Tiga was chosen as the location for the first US CBS TV series 'Survivor'.
Besides, we have Tunku Abdul Rahman Park, a marine park, which is a cluster of islands comprising Pulau Gaya, Pulau Sapi, Pulau Manukan, Pulau Mamutik and Pulau Sulug. The five islands are characterized by shallow waters, sumptuous coral gardens and splendid white sandy beaches.
The city is an ideal spot for exploring local culture. The Mari Cultural Village offers a chance to learn about local customs and handicrafts, and a thirty-minute performance of a traditional dance will bring the evening to a close. Visitors can also experience the Tunku Abdul Rahman Marine Park, established in 1974, and see some of the world's most beautiful coral reefs. Whether you are a novice or a pro, there's something for everyone in this park.
For a more adventurous day, try white-water rafting on the Kiulu River. During the 90-minute trip, you'll get to see the mountain's peak and experience its lush vegetation. If you're looking for something more active, you can sign up for guided two-day tours to Mt. Kinabalu. You can find several companies offering such tours.
The Marlin statue is a must-see venue in Kota Kinabalu. The statue, located just a few kilometers from the city centre, is a unique attraction. It is surrounded by the blue sea, making it the perfect location to watch the sun go down. At the same time, it is close to a large market and is an ideal place to experience the sunrise and sunset.
One of the most popular attractions in Kota Kinabalu is the city's cultural village. The mosque is an important part of the city, and a trip to it can be an unforgettable experience. You can learn about the history of the island's indigenous peoples at the Mari Cultural Village, a 30-minute ride from the city center. A visit to the Muslim quarters of the town will provide you with a unique perspective on the island's diverse ethnic groups.
The Signal Hill Observatory Platform is the highest point in Kota Kinabalu. The observation platform is the city's most scenic spot, with unbroken views of the region. The views from the top are stunning, and it is worth a trip to the park. If you have a hankering for nature, the museum will be a good place to start. If you're a nature lover, you'll love the local fauna and flora.
During the day, if you're looking for a place to dine, take a cruise on the River Klias. This tour is very popular and offers a chance to observe the wildlife. It's also a great way to see the city's famous lost waterfront. It's a great spot for photos, and you can enjoy the nightlife here. While you're there, don't miss out on the city's nightlife.
For the foodies, you'll want to visit the Chinatown. It's a great place to pick up souvenirs. The market is a popular spot for tourists, and it's also home to a Sunday market. You can also grab a bite at a nearby coffee shop. While you're there, make sure to spend time walking around the waterfront of Kota Kinabalu, as this is the heart of the city.
For those interested in religion, Kota Kinabalu has two main mosques, the Donggongon Tamu and the City Mosque. The floating mosque is situated in the middle of the city and is open to visitors every day except for Sundays. You'll have to rent a suit to enter the mosque, but it's worth the visit. If you're interested in observing Islam, you'll find plenty of opportunities to do so.
With sandy beaches, tropical islands, and clear blue waters, diving in Kota Kinabalu is a great way to see the surrounding area. The nearby Pulau Tiga is an ideal spot to try scuba diving. This island is believed to be formed by mud volcanoes, and the reefs are shallow with healthy coral. The water's visibility is up to 20 metres. Divers can experience several different species of fish and flora. Interestingly, this island was chosen as the location for the first US CBS series 'Survivor'.
Manukan Island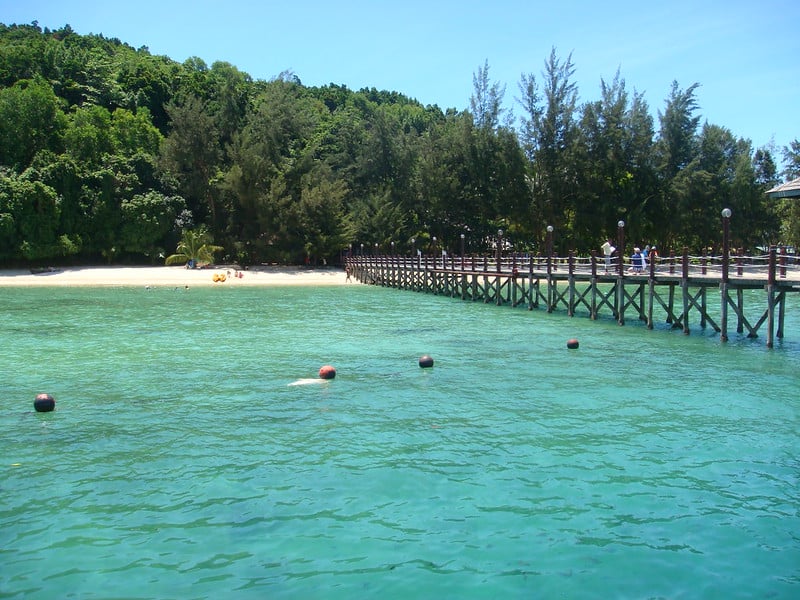 If you're planning to visit the beautiful Kota Kinabalu, Malaysia, then you might want to consider the Sutera Sanctuary Lodges At Manukan Island. This luxurious resort boasts an outdoor pool and 16 air-conditioned rooms with direct beach access. Some units come with a kitchen and dining area. The lodge offers free toiletries and offers all-day dining and room service.
The island's water sports are second to none. Visitors can enjoy banana boat rides, jet skiing, parasailing, and snorkelling. The coral reefs are protected, which means you are more likely to spot rare marine life. There are even jungle trails for nature lovers to explore the wildlife that lives on the island. Getting there is as easy as catching a ferry from the Jesselton Harbour.
Tanjung Aru Beach
For those who enjoy the beach, the Tanjung Aru Beach offers a long stretch of sand with stalls selling food and drinks. It is also a popular place to watch the sunset. Here are some of the things to do in Kota Kinabalu that will get you in the mood to spend your day on the beach! Read on to find out more about the various options for activities to enjoy while on holiday in this beautiful Malaysian island.
If you have a taste for art, don't miss the graffiti wall located near Suria Sabah shopping mall. The graffiti was created on the ruins of an Old Welfare building that survived WWII bombing but was completely destroyed by a fire in 1992. It is the work of the Cracko Art Group of North Borneo, but anyone can spray over the current paintings.
North Borneo Railway
A trip on the North Borneo Railway from Kota Kinabalu to Tenom is one of the many unique experiences in the region. The journey is scenic, passing through paddy fields, healthy towns and the famous Padas Gorge. The train will also have a new steam operation that will showcase Sabah's diverse indigenous groups. The new steam train service will be known as the North Borneo Railway.
The train's historic heritage is also preserved at the North Borneo Railway. A British Vulcan steam locomotive, designed to burn wood instead of coal, pulls the train, reliving the colonial days of British North Borneo. Passengers enjoy the scenic ride along the route as well as a traditional 'tiffin' colonial lunch. The journey will take about four hours and features some of Sabah's most picturesque scenery.
Gaya Street Sunday Market
Kota Kinabalu's famous Sunday market can be found along Gaya Street, located in the city's central business district. You can find everything from antiques to handcrafted batik clothing at this vibrant market. There are also a variety of street food vendors, shops, and restaurants to peruse. The market is also a great place to start your day with breakfast or to just browse.
The market is open every Sunday, and offers the perfect opportunity to shop local products. Many stalls feature Sabahan food, souvenir t-shirts, and local medicine. You can also find souvenirs and bamboo handicraft at the market. The market is easily accessible by local buses and taxis. Alternatively, if you prefer to stay in Kota Kinabalu a little longer, you can dine out at one of the many restaurants in the area.
Sabah State Museum
The Sabah State Museum is an interesting place to visit if you are in Kota Kinabalu. The museum is a fusion of heritage and modern art. Its mission is to promote Sabah's culture and history through education. Apart from the usual exhibits, it also has areas dedicated to technology, science, ethnography and archaeology. In addition to the main museum building, there are other buildings nearby that you can check out. The Ethnobotanical Garden and the Heritage Village are other places you should visit.
The Sabah State Museum was established in 1984. This museum covers 17 hectares of land and is decorated in the shape of a Malay village. It has authentic Malay houses where visitors can see how people lived before British colonization. Other exhibits include artifacts from the George Woolley collection and a science center. It also offers lectures and open-air programs that teach about the history of the state.
Best Walk in Kota Kinabalu
Best walk around the city! We can start from the Filipino Market which is currently known as the Handicraft Market. Lots of exotic handicrafts sold here. After that, the next spot for good walk is Kota Kinabalu city mosque. It's beautiful. And there is also floating mosque. Besides, we can go for sightseeing at cultural villages. For example, Monsopiad Cultural Village. Greet and mix with local people. It would be fun.
Next, we have the Nature Interpretation Centre located at the Shangri-La Rasa Ria Resort. We can go for nature walk. Experience the flora and fauna. What I like about this place is there is Bird Watching Trail.
Then, for shopping, we have 1 Borneo Hyper mall, Asia City, Centre Point, Warisan Square, and the newest, Suria KK. It's really fun strolling around this city.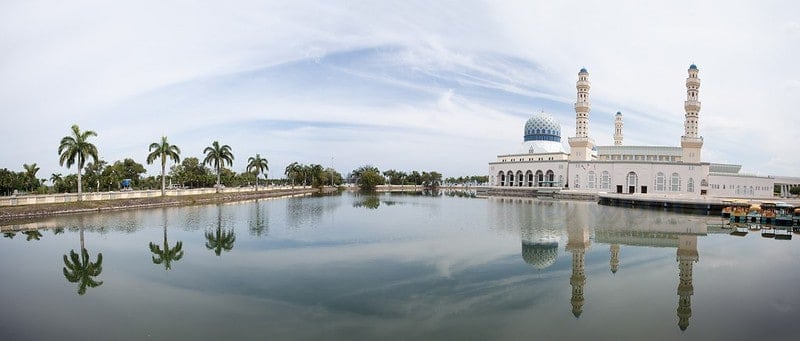 What do you like best about your Kota Kinabalu?
The best thing I like about my city is, it's full with fun things to do. You will never get bored in this city. If you are bored with urban lifestyle, you can relax and enjoy the nature, away from the concrete jungle. Scuba diving also might be fun. There are lots of things to see. We have museum, monuments and so on. And we can also go for some adventurous activities.
Best Restaurants in Kota Kinabalu
Great cuisine is everywhere in this city – from restaurants that offer gourmet food in elegant surroundings to mouth watering flavors and textures in a bowl of food you buy from a hawker's stall at the night market.
If you are in Kota Kinabalu, there are a few places you need to check out. You can't go wrong with seafood, especially if you've been craving for it for a while. If you're a fan of western food, you'll love the variety of dishes offered here. From fresh oysters and scallops to squid ink, you're sure to find something that suits your palate.
However, I would suggest local cuisine. There is this place called Anjung Selera near Tanjung Lipat. It's by the seaside. You can have Malaysian cuisine here. Plus, there are also Chinese cuisine and Indian cuisine. 🙂
If you're looking for authentic Indian food, Kohinoor is the place to go. Their authentic, delicious dishes are made from fresh seafood. The restaurant is open until 4 p.m., so you can expect a line. Owner Ye Liangde has been making meat and bone tea since he was 22, and he has been doing it for 30 years. To prepare the authentic flavor of this drink, he starts early in the morning and simmers the ingredients for seven to eight hours.
The food in Kota Kinabalu is diverse and has many unique flavors. The city has many Indian and other Asian restaurants, including Kohinoor, Choice and Hi Seoul. You can also get some decent Korean food from Hi Seoul. There are plenty of Western eateries to choose from, but if you're looking for high-end fare, you can try Sushi Tei, which offers sushi, and Tambayan, which specializes in Filipino cuisine.
Sri Latha Curry House is a must-visit for the authentic laksa. This restaurant is very popular with locals and tourists alike, and is famous for its leaf rice set, which comes with chicken or lamb curry. You can try a lamb or chicken curry to complete the meal. You can also try one of the many other Indian restaurants in the area, which are also highly recommended.
If you want to eat a local dish, you should try Yu Kee Bak Kut Teh. This famous local dish is very popular, and is a must-try. You'll find the restaurant open from 4 p.m., and a queue is usually formed by the time dinner rolls around. You can also try this dish in the nearby Central Market. However, it is recommended to make reservations at least a week in advance to avoid long queues.
 if you're looking for a more exotic meal, consider the Twinsky Seafood Restaurant. This restaurant was opened in 1983 and uses deep sea and live seafood to create the traditional satay dish. Although the prices are slightly higher, the service is impeccable and the food is delicious. It's worth visiting both the Chinese and Malay food markets in Kota Kinabalu.
Cooking Classes in Kota Kinabalu
Momma's House is a local family run cooking class to learn the secret family recipes and cook like a Sabahan. The class is held 15 minutes from Kota Kinabalu and includes a small trip to the local market to buy ingredients. There are tour companies that provides transport to the cooking school.
There are a variety of other tour companies that offer cooking classes that seem to be all quite similar. You get picked up at the hotel you are taken to a local village where you go to the local market and then are taught to cook some local dishes.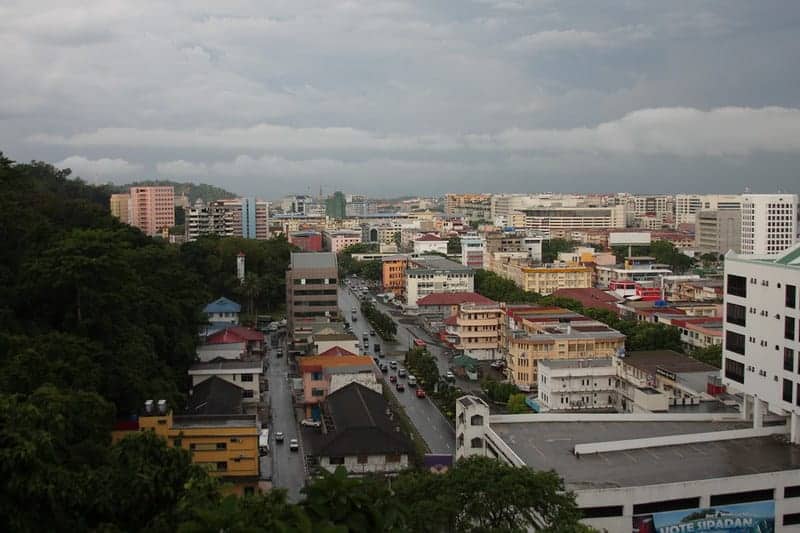 Best Music/Festivals:
There are lots of events going on throughout the year. Too much of them and I can't list them all here. So, I'll pick the hottest ones around the city. Every May, there will be Sabah Festival. It's about celebrating Sabah's natural charms. Delve into age-old traditions and learn about the multi-hued cultural heritage that embodies the essence of the mystical Land below the Wind.
And, we have 25th Sabah Dragon Boat Race this June. It's organized in conjunction with the Duan Wu Festival and in honor of the legendary Chinese poet and patriot, Qu Yuan.
Besides, we have Music Fest at The Tip of Borneo this July. Music aficionados will enjoy the unique mix of world music ranging from jazz, pop, classical, and rhythm and blues to traditional folk performed by the indigenous people. Anyway, this is a bit 'out of town'. It's about 2-hours on road journey to the north.
And so much more! From January to December, this city will always have celebrations.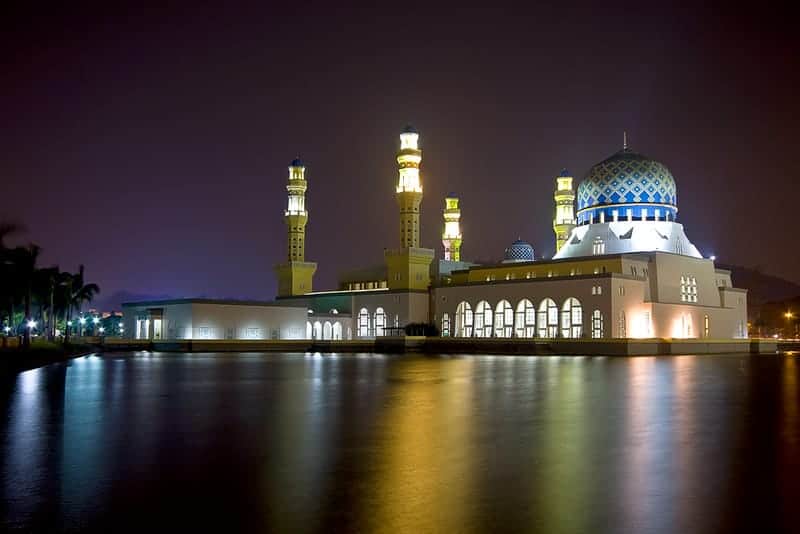 Art Galleries in Kota Kinabalu
Kota Kinabalu, the capital city of Sabah, Malaysia, is home to a vibrant arts and culture scene. From contemporary art galleries to traditional handicraft markets, there is something for everyone. Here are some of the best art galleries and art markets to explore in Kota Kinabalu:
Sabah Art Gallery – Located in the State Museum complex, the Sabah Art Gallery is one of the most prominent art galleries in Kota Kinabalu. The gallery features an impressive collection of contemporary and traditional artworks, including paintings, sculptures, and installations. The gallery also hosts regular exhibitions and events, showcasing the works of local and international artists.
The Artisan Market – Held every Sunday at the Jesselton Artisan Market, The Artisan Market is a vibrant outdoor market that offers a wide range of locally made arts and crafts. From handcrafted jewelry and clothing to pottery and paintings, there is plenty to explore at this market. The market also features live music performances, food stalls, and a laid-back atmosphere.
Gaya Street Sunday Market – The Gaya Street Sunday Market is one of the most popular markets in Kota Kinabalu. Held every Sunday on Gaya Street, the market offers a wide range of goods, including antiques, handicrafts, clothing, and souvenirs. The market is also a great place to sample local street food and experience the bustling atmosphere of Kota Kinabalu.
Sembulan Gallery – Located in the Sembulan area of Kota Kinabalu, the Sembulan Gallery features a diverse collection of contemporary artworks by local and international artists. The gallery also hosts regular exhibitions and events, showcasing the works of emerging artists and established names in the art world.
Mari Mari Cultural Village – The Mari Mari Cultural Village is a living museum that offers visitors a glimpse into the traditional culture and lifestyles of the indigenous people of Sabah. The village features traditional architecture, handicrafts, and cultural performances, providing a unique opportunity to experience the rich cultural heritage of Sabah.
Whether you are a seasoned art enthusiast or simply looking to explore the vibrant arts and culture scene of Kota Kinabalu, these art galleries and markets are definitely worth a visit. From contemporary art to traditional handicrafts, there is something for everyone to discover in this vibrant city.
Best Hotels in Kota Kinabalu
Kota Kinabalu, the vibrant capital city of Sabah in Malaysia, is a captivating destination that offers a perfect blend of natural beauty, cultural richness, and modern amenities. Whether you seek a beachfront escape, a luxurious resort, or a budget-friendly stay, Kota Kinabalu has a wide range of accommodation options to suit every traveler's preferences. Let's explore some of the best hotels in Kota Kinabalu, promising an unforgettable experience in this coastal gem of Borneo.
1. Shangri-La's Tanjung Aru Resort & Spa – Beachfront Bliss: Nestled along the white sands of Tanjung Aru Beach, this luxurious resort offers breathtaking sunset views and a range of amenities, including a beautiful pool and a serene spa.
2. The Pacific Sutera Hotel – Golf and Waterfront Luxury: Located within the Sutera Harbour Resort complex, this hotel offers easy access to golf courses and a marina, with elegantly designed rooms and stunning views of the sea.
3. Gaya Island Resort – Island Retreat: Escape to Gaya Island, just off Kota Kinabalu's coast, for a tranquil and eco-friendly retreat. Surrounded by lush rainforest and azure waters, the resort promises a private island paradise.
4. Hilton Kota Kinabalu – City Center Comfort: Situated in the heart of the city, the Hilton Kota Kinabalu offers modern comfort and convenience, with spacious rooms, a rooftop pool, and easy access to popular attractions.
5. Hyatt Regency Kinabalu – Iconic Landmark: As an iconic landmark in the city, the Hyatt Regency Kinabalu provides stunning views of the South China Sea and the city skyline, making it a popular choice for both business and leisure travelers.
6. Le Meridien Kota Kinabalu – Contemporary Elegance: Located near the waterfront, Le Meridien Kota Kinabalu showcases contemporary elegance with stylish rooms and a rooftop pool offering panoramic views of the sea and city.
7. Shangri-La's Rasa Ria Resort & Spa – Nature and Luxury Blend: Situated amid a nature reserve, this luxurious resort is ideal for nature lovers. It features an 18-hole golf course, a private beach, and an Orangutan Rehabilitation Centre.
8. The Magellan Sutera Resort – Resort Haven: Part of the Sutera Harbour Resort complex, this grand hotel offers spacious rooms, an array of dining options, and access to a fitness center and water sports facilities.
9. Promenade Hotel Kota Kinabalu – City Views and Comfort: Located within the city center, this hotel provides comfortable accommodation with beautiful city views. It also boasts a rooftop pool and easy access to shopping and dining.
10. Ming Garden Hotel & Residences – Value and Convenience: Offering a balance of value and convenience, Ming Garden Hotel & Residences provides comfortable rooms, a fitness center, and a swimming pool, making it an ideal choice for budget-conscious travelers.
Kota Kinabalu's top hotels offer a perfect blend of luxurious amenities, breathtaking views, and warm hospitality, ensuring that every traveler's stay is nothing short of extraordinary. Whether you're seeking relaxation on a private island, urban comfort, or beachfront bliss, these handpicked accommodations promise an enriching experience in this captivating city on the coast of Borneo.
Best Nightlife
Kota Kinabalu, the capital of Sabah, is known for its scenic beauty, rich culture, and vibrant nightlife. From rooftop bars to beachside clubs, the city offers a diverse range of options for those looking to let loose after dark. In this article, we'll explore some of the best nightlife spots in Kota Kinabalu.
Cocktails at The Loft
Located on the rooftop of The Waterfront Hotel, The Loft offers stunning views of the city skyline. The bar is known for its extensive selection of cocktails, which are expertly crafted by the resident mixologists. The atmosphere is relaxed and sophisticated, making it the perfect spot for a night out with friends or a romantic date.
Live music at Shamrock Irish Bar
If you're a fan of live music, head to Shamrock Irish Bar in the heart of Kota Kinabalu. The bar is known for its nightly performances by local and international bands, covering everything from classic rock to modern pop hits. The atmosphere is lively and welcoming, with a friendly crowd and a wide selection of drinks on offer.
Clubbing at Bed Club
For those looking to dance the night away, Bed Club is the place to be. The club is located in the heart of the city and features a spacious dance floor, state-of-the-art sound system, and a lineup of local and international DJs. The dress code is smart casual, and the club attracts a young, energetic crowd.
Beachside drinks at Sunset Bar
Located on the beachfront of the Shangri-La's Tanjung Aru Resort, Sunset Bar is the perfect spot to unwind after a long day. The bar offers a wide range of cocktails, beers, and wines, as well as light bites and snacks. The atmosphere is relaxed and casual, and the view of the sunset over the ocean is simply breathtaking.
Rooftop drinks at Cloud 9
Cloud 9 is a rooftop bar located on the 9th floor of the Sky Hotel in Kota Kinabalu. The bar offers panoramic views of the city skyline, and the atmosphere is sophisticated and upscale. The bar features an extensive selection of cocktails, wines, and spirits, as well as a menu of delicious snacks and light bites.
Karaoke at Loud Speaker
Karaoke is a popular pastime in Kota Kinabalu, and Loud Speaker is one of the best spots to belt out your favorite tunes. The karaoke bar is located in the heart of the city and features private rooms with state-of-the-art sound systems. The atmosphere is lively and fun, with a wide selection of drinks on offer.
Best Day Trip out of Kota Kinabalu
For day trip out of the city, I would suggest Poring Hot Spring. There are cold and hot sulphur pools where water is piped in from natural springs. Apparently, the sulphur is supposed to be good for your skin. If you don't fancy a dip, you can go for a short jungle trek (various treks that are well marked, not very difficult) or canopy walk.
Besides, it would be fun to visit Tanjung Simpang Mengayau which is also known as The Tip of Borneo in Kudat. It's a beautiful place.
Or maybe visit the Honey Bee Village and Gong-making Village. Stay for a while at the Rungus longhouse and experience the local lifestyle.
Next, we could also join White Water Rafting. Adventurous activity would be fun.
Or perhaps you might want to go for a historical journey? Go to Labuan Island and we can see so much historical monuments from the World War 2. It's more like memorial park. Well, for day trip out of city, there are so many choices. Whether we choose to go north, south or east, it's worth it. It's fun.
Something not many tourists would know about Kota Kinabalu
Last time I conducted a research about Home Stay program, most tourists don't know about this program. Home Stay program is more like spending holidays with local people. This means, tourist got the chance to be part of the family. Tourists will get to experience the local lifestyle, from joining the day-life routines, eating the same food and living under the same roof. It's nice and would remain as good memories.
10 Interesting facts about Kota Kinabalu
Gateway to Mount Kinabalu: Kota Kinabalu serves as the gateway to Mount Kinabalu, the highest peak in Southeast Asia. The mountain's stunning summit attracts trekkers and adventure enthusiasts from all over the world.
Diverse Cultural Heritage: The city is a melting pot of cultures, with influences from indigenous Bornean tribes, Malays, Chinese, and other ethnic groups, creating a rich tapestry of traditions and customs.
Stunning Sunsets: Kota Kinabalu is renowned for its breathtaking sunsets over the South China Sea. Locals and visitors alike flock to the waterfront to witness the magical hues that paint the sky.
Tunku Abdul Rahman Marine Park: Just a short boat ride away from the city, this marine park comprises five idyllic islands with crystal-clear waters, perfect for snorkeling, diving, and beach relaxation.
Signal Hill Observatory Platform: Offering panoramic views of Kota Kinabalu, the Signal Hill Observatory Platform is an ideal spot for photography and admiring the city's skyline.
Sunday Market (Gaya Street Market): Every Sunday, Gaya Street transforms into a bustling market with vendors selling a variety of goods, including local produce, handicrafts, and souvenirs.
Water Villages: The city is home to traditional water villages, known as "kampungs," built on stilts over the water. These villages offer a glimpse into the local way of life.
Atkinson Clock Tower: Built in 1905, the Atkinson Clock Tower is one of Kota Kinabalu's oldest structures and serves as a historical landmark in the city.
Borneo's Largest City: As the capital of Sabah, Kota Kinabalu is the largest city in Borneo and serves as a significant economic and cultural hub for the region.
Rich Marine Life: The waters around Kota Kinabalu are teeming with marine life, making it a popular destination for diving and snorkeling enthusiasts. The nearby Tunku Abdul Rahman Marine Park offers excellent opportunities for underwater exploration.