If you're heading down to Australia, you might have a road trip already planned…..if you don't you definitely should! There's over 817,000 kilometers of roads in the country.
If you planned a trip from Sydney (in the south-east) to Perth (Western Australia), it would take you nearly two whole days to drive there.
In other words, Australia is huge, but the best way to see it is by road. Nothing compares to the freedom you experience seeing this gorgeous country from behind a steering wheel. But that begs the question – is it better to buy a used car or rent one?
Here's a look at the pros and cons of both options:
Renting a car in Australia
In most countries, renting a car is straightforward. You can even do it at the airport. You probably know all the big rental brands anyway – Hertz, Avis, Europcar, Thrifty, and Redspot. There's also a ton of local players that offer cars.
The issue is the complex paperwork involved in getting a car hired. There could be issues with security deposits, insurance cover and the amount of distance you can cover.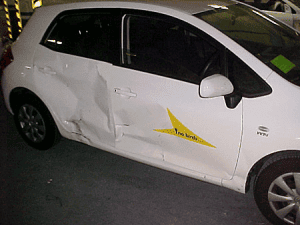 Damage excess for rentals varies greatly. Image: bayswatercarrental.com.au
You may fail to notice car damage as minor as bumps or scratches, before you leave the car rental lot. Then end up paying for damage you weren't responsible for. The terms and conditions also apply many restrictions – not letting you take the car on a ferry, for example.
Our overall thoughts on renting a car in Australia
Overall, renting a car provides less freedom to do what you want. For a lot of travellers, renting is the least enjoyable part of travelling.
But if you're only going to be visiting for a few days, renting a car rather than buying one might make sense.
Buying a second hand car in Australia
Prefer having more freedom to do what you want? Whilst saving money over the long term, buying a used car might be a better option in Australia.
You can easily buy a used car online and complete the paperwork in a few days. Australians love the open roads and there's a lot of variety in the cars on offer.
Buying a second hand car can work out cheaper if you're in Australia for longer than a few weeks. The one caveat is the need to inspect the car before you buy.
You can even sell the car for a reasonable price once your trip is done and you have to leave.  Just make sure you sell the car in the same state as you bought it to avoid extra paperwork.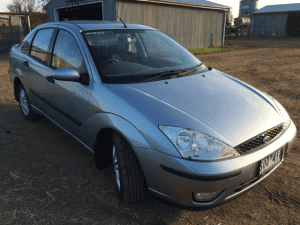 2006 Ford Focus with 6 months registration. Image: Gumtree Cars
At the end of the day, whether you buy or rent a car, depends on your budget and time in Australia.
It's the perfect country for a road trip, so make sure you do your research and get the car you want before you land.
Save
Save
Save
Save
Save
Save