Redcliffe is a relatively small district of Bristol. It's almost definable by its relation to the city's bodies of water. The new cut demarcates its southern border, the harbour its northern. Despite the ubiquity of the photographs of its more beautiful aspects – pastel coloured Georgian houses, views of the docks at night that look like watercolours – in brochures advertising the city, Redcliffe is not a place that immediately comes to mind when deciding which area of Bristol to focus on, when travelling. But it's a deeply rewarding place to explore, and testifies to the deep economic and social forces that make Bristol the city it is today.
Must-do activities
A Visit to St Mary Redcliffe Church
Described by Elizabeth I 'the fairest, goodliest, and most popular parish church in England. St Mary Redcliffe church is a beautiful example of gothic architecture. The earliest iteration of a church on these grounds probably dates back to Saxon times. This was when the port of Bristol began to prosper, but early extant parts of the church – the parts of the church that you'll see on your visit – date to the late twelfth century. There's a lot of different of styles of architecture in play here. From the late gothic decorated style (ribbed vaulted ceilings, pointed arches) to the baroque generosity of the stained glass. The spire was struck by lightning in 1448 and replaced (finally) in 1872; it remains the tallest building in the whole of the city.
Redcliffe Caves
These caves are how the area got its name. They stand beside the docks, and upon them stand some of Bristol's most iconic pieces of architecture: the multi-coloured houses of Redcliffe Parade. Consisting of red sandstone from the triassic period, the cliffs were dug into in order to provide sand for glass and pottery artisans during the Medieval period.
Later on, the caves were used to store imported goods, testifying to Bristol's growing importance as a centre of commerce during the seventeenth-, eighteenth- and nineteenth centuries. There's also a more macabre element in their mythology: it has been suggested – almost certainly falsely – that the caves were used to store chattel-slaves during the transatlantic slave trade. Today, a lot of the structures have fallen in, and the caves are now used primarily for visiting purposes, although there have been occasions in which they're used for theatre productions and film festivals.
The caves are not only a very impressive thing to visit – their cavernous spaces perhaps recalling somewhat the high ceilings of St Mary Redcliffe – but they are a great way into many aspects of Bristolian history: its prosperity and ingenuity, but also the darker aspects of its past, too.
The best thing about Redcliffe
The best thing about Redcliffe is the beauty and eclecticism of its architecture. It is unlikely that you'll find such a mixture of new and old buildings standing side by side whilst retaining such a high quality of design and thought. For example, on Guinea Street, you'll find one of Bristol's oldest remaining domestic buildings – a house built in the 1720s – standing next to a block of council flats whose coloured panels recalls the aspiration architectural ideals le Corbusier. This profound mixture of styles not only makes Redcliffe an interesting and beautiful place to live, but also a place really worth travelling to, as well.
Best Walk
Bristol Temple Meads
Towards its eastern end sits Bristol's main railway station, Bristol Temple Meads. The original terminus was built in 1843, and trains departed to London. since then it has grown massively, with 13 platforms taking passengers all over the country. It's a grade-1 listed building, and boasts some wonderful buttery sandstone and Neo-gothic gestures. After taking all this in, head down station approach, turn right and cross the road.
Redcliffe Estate
Turn left onto Redcliffe Mead Lane, and head up the hill. You'll be able to see the aforementioned Redcliffe flats: excellent post-war state architecture, both aspirational and pragmatic. Follow the road until you reach a passageway after the faith centre: take this turn off. There's a pretty good pub along this path, so if you're feeling thirsty, it's a good place to stop off.
St Mary Redcliffe Church and Courtyard
With the pub on your left, you'll be able to see an entrance to a church yard. Go through the gates and walk down the path that diagonally splits the gated square of the courtyard. From here, you'll be able to visit the church, or merely take it in your surroundings – the intense spires and buttresses, the war memorial – from a bench.
Redcliffe Parade
Do not leave the courtyard the same way you came in: instead, take the steps down to Redcliffe Way. Cross the road at the pelican lights and head up the hill, turning right after the pub. You'll be on Redcliffe Parade. As you walk down, the houses change. First, thin, slightly younger terraces made from an anonymous but stately brown brick. Then huge expanses of polished pastel wall set off with impeccable white details. The houses overlook the harbour, and it's worth lingering here, taking in the view.
Best Restaurants
Casamia
A Michelin-star restaurant on the Harbourside, with a rapidly changing menu. Regardless of what you end up with, the food will be locally sourced and delicious, though expensive.
Don Giovanni's: no-nonsense Italian food. Its location is particularly convenient for those travelling by rail, as it almost directly opposite the station approach of Bristol Temple Meads station.
Bocobar (Finzel's)
A modern and stylish environment in which to drink premium coffee, locally-made apple juices or impressive-looking cocktails. (The cocktails are 2-4-1 on Tuesday and Wednesday evenings, between 5-7pm. They also do excellent sourdough pizzas, wraps and salads. It's a good option for those with dietary requirements.
Best Music
The Fleece and Ferkin
Usually known as just 'The Fleece," it is Bristol's largest independent live venue, and has put on shows from the likes of Radiohead, Coldplay and Idles. As well holding gigs from touring artists, it holds acoustic nights with a great range of new talent, as well as "Battle of the Bands"-type events. It's a grungy sort of venue, with reasonably priced cider and spirits, and promises a great night out.
The Louisiana
This is a smaller venue, but equally impressive in terms of talent that graces its small stage, both past and present. It's a pub that sits ever so slightly outside the usual boundaries of the traditional "Redcliffe" area, near where the harbour and new cut meet. upstairs. There is a small stage that a young Amy Winehouse once stood upon, and it continues to provide excellent live music.
Best Nightlife
Thekla
There are few nights out that will involve you walking across a gang-plank and onto a boat. But the Thekla allows you to do just this. It is an ex-steam boat that has been converted into a nightclub and live venue, and resides in Redcliffe section of the harbour. It hosts a lot of different nights: Pressure, an indie night, on a Thursday; Pop Confessional, which plays cheesy radio hits, on a Saturday-to name just a few of its regular events. There's reggae nights and David Bowie tribute nights: there really is something for everyone here.
Motion
Situated in the industrial buildings around Bristol Temple Meads, Motion is a great option for those who have more "heavy" tastes: those into EDM, those into hip-hop. It's a larger venue than the Thekla, with sound systems to match. A regular favourite event is Brooklyn Zoo.
A Day-Trip Out of the City: to Glastonbury Tor
You can catch a bus that will take you all the way out of the city, to the ancient town of Glastonbury. Before the festival, Glastonbury was famous fo a completely different reason. The tower that stands on the hill above the small town, and its associated mythology. The Arthurian Isle of Avalon – where the sword of excalibur was forged, and where Arthur was buried.
According to the folklore – is often identified with the hill. There's evidence that the tower has been around in some form or other since the Dark Ages, and certainly since the twelfth century. The tower that stands today is the same iteration from which the last abbot of Glastonbury abbey Richard Whiting, was hung from.
It's obviously of great historical and literary interest, but it's a beautiful place to visit, too. The hill is steep, but not far from Glastonbury high street, and the views from the top of the hill are wonderful. It would be a great place to travel to with a picnic.
Something that you didn't know about Redcliffe
Redcliffe is the birthplace of Thomas Chatterton, an eighteenth-century poet whose writing inspired the likes of William Wordsworth and Dante Gabriel Rossetti. His early death was immortalised in paint by the pre-Raphaelite artist Henry Wallis. The last surviving wall of his house is visible on Redcliffe Way.
Things to do in Coventry – United Kingdom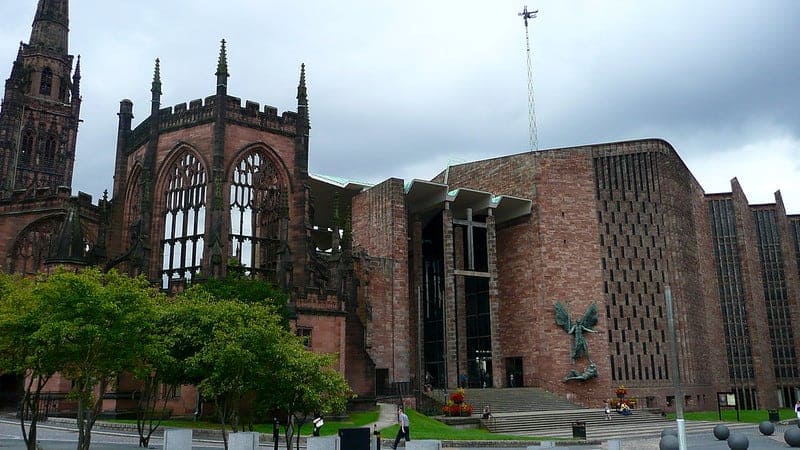 Mention Coventry City to people and the image most have is a city almost destroyed by bombing in WW2. Rebuilt with some interesting design choices, there is so much more to this midland city. Located in the centre of the UK – it is one of the easiest places to travel to. Journey by train, road or air, and you'll be surprised to find a place full of hidden treasures. After all, legend reports that this is the birth place of St George – Patron Saint of England and slayer of a dragon!
Must Do
Not only does Coventry have one cathedral – it actually boasts three! Admittedly two are in ruins but equally fascinating. St Marys wall and foundations can still be seen today walking through Priory Gardens. Dating back to the 12th Century it was destroyed in the 16th Century. Next is St Michaels. After being bombed in WW2, the remains are impressive to see. Right next door to the ruins is the third cathedral – the new St Michaels. A wonderful modernist design. It has a magnificent tapestry measuring 75ft x 38ft. It's a truly peaceful and fascinating visit.
To travel to Coventry, you cannot overlook its incredible historical links to transport. The motor industry has its roots in Coventry and the transport museum is a must visit. Boasting over 500 different vehicles it includes Thrust SSC and Thrust 2 – both of which broke the land speed records. From vehicles used by royalty and military, to tractors and motorbikes – there's always something new to catch the eye.
Not to be forgotten is the city's art and culture. The Belgrade Theatre, Herbert Art Gallery and Warwick Arts Centre are very worthy of a visit.
What do you like best about your city?
When I enter Coventry I like to drive along the Kenilworth road. For nearly two miles, this straight road has the most beautiful trees lining the route. A memorable entrance to the city, especially in the autumn, when the trees change colour – it also passes by the War Memorial Park (an oasis of green). Another personal favourite is the ring road in Coventry. Drivers either love it or hate it! It is not for the faint hearted as traffic merges and exits on the same junction, but if you miss your junction just stay on – you'll soon be back to it!
Best Walk
My personal favourite starts in the walled garden of Allesley Park and meanders to Coundon Wedge. The footpath will lead you through meadows, and a woodland burial ground. A quiet route, it's hard to believe that you can enjoy fresh air, and the countryside, while still being within the city.
A great way to see more is to walk the Coventry Way. This is made up of circular walks around the city in a 40 mile loop. Don't let that put you off – they break down into walks varying from 2.5 miles to 12.
Depending on the time of the year, the bluebell woods in Eastern Green are also worth a visit, as is the canal basin.
Best Restaurants in Coventry
With Coventry being so multi cultured there is an wide range of restaurants.Turmeric Gold for a good curry, Sultan Restaurant for Turkish, Leave it to Esmie for delicious Caribbean. Finally The Golden Cross is great if you enjoy traditional British food. A great place to visit – as it's the oldest pub in Coventry and has wonderful Tudor features.
Best Music/Festival
The Godiva Festival is held every summer. Every year a three day, musical festival is held in the War Memorial Park. It's a family based festival with two different fields – the main and the family. Big names and independent acts have all played it. There's an acoustic stage, a rock and rhythm tent, a fairground and market. The family field also has attractions like a petting farm, and community stage. It's fantastic fun for all ages.
Best Nightlife
For anyone under 21 or who is a student – Kasbah is the Nightclub for you. It boasts the best drink prices in Coventry (meaning the cheapest!) The Empire is a music and club venue – hosting live acts – great to catch some Ska. Catch Twenty Two is slightly more sophisticated and also hosts live music.
Best Day Trip Out of the City
Depending on your mood the choices are endless. Stratford upon Avon is a great day out for all things Shakespeare and oldie worldie buildings! Alternatively take the train from Coventry and 20 minutes later you're in Birmingham – ready for some retail therapy! Finally I would definitely recommend Coombe Abbey (on the outskirts of Coventry). acres of park, Go Ape and afternoon tea. A fun day out!
Something that not many travellers would know about Coventry
Many famous people have come from Coventry – poet Philip Larkin, and jet pioneer Sir Frank Whittle – but one very famous person is Lady Godiva. An Anglo Saxon noblewoman, she rode through the streets naked (only covered by her long hair), to stop her husband from imposing high taxes. She asked the people not to watch but one "peeping Tom" did and was then struck blind.
There is an impressive statue to the Lady in the City Centre – but what's worth looking out for is the central clock. On the hour a statue of Lady Godiva rides out of one door while Peeping Tom pops out from a window.
To travel to Coventry is easy and well worth it. The City Centre may feel concrete in some areas but then you'll find the most amazing pockets of history. Travel within the City (very cheaply and easily from its central bus station) and you'll find green spaces, sport venues, and art. Coventry has been named UK City of Culture for 2021 – a title it is keen to embrace. The phrase "Sent to Coventry" may have come from the Civil War but today being sent here will only bring enjoyment.
Things to do in Bruges – Belgium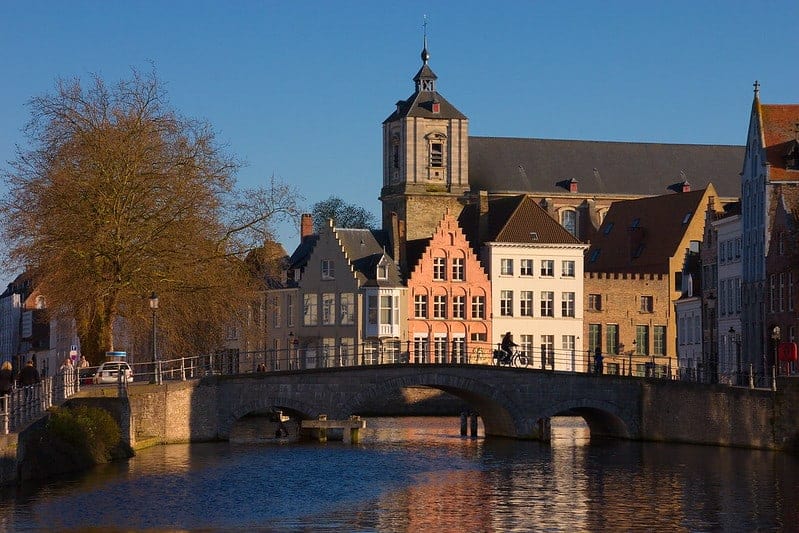 Bruges, also known as "Brugge', is actually only the 7th biggest city in Belgium, but that doesn't change the fact that it's one of the cities in Belgium that attracts the most tourists on an annual basis. And with good reason! Namely, not only are the people in Bruges remarkably nice, but the city itself is also simply stunning and definitely has a lot to offer! It's the perfect place if you're looking for a short city trip on the weekend, so don't hesitate to check it out!
Must Do
Bruges is one of the most beautiful cities in Belgium and can provide you with a lot of remarkably nice views. That's precisely why you must absolutely visit the Belfort when you're there on a visit! The Belfort is a stunning bell tower that originates from the medieval times and has managed to stay in unusually great shape. It's located in the heart of Bruges in the old marketplace. When you get to the Belfort, you'll have to pack sturdy shoes, since you'll have to climb 366 stair steps in order to reach the top. However, this will all be worth it once you'll be able to watch over the picturesque city of Bruges from an 83m height.
What do you like best about your city?
There are a lot of things to like about Bruges, but what stands out especially are the numerous little canals throughout the city. That is to say, when you take a walk through the city, you'll constantly encounter different bridges and canals and just water in general. Namely, the river, the "Reie" flows through the city center and the area around it. This really adds to the quaint and peaceful atmosphere that's steadily present in Bruges.
Best Walk in Bruges
In Bruges, there are relatively many opportunities to take a great walk since nature is definitely very present throughout this city.
Minnewaterpark
For starters, when you're looking for a quiet, peaceful day whilst you're in Bruges, it would definitely be a great idea to visit the "Minnewaterpark". That is, this park is ideal when it comes to relaxing and having a delightful picnic. However, it's also one of the best spots in Bruges to stroll around and to talk long, calm walks through the park. An added plus in this aspect is that the park also contains various drinking spots, so you'll be able to hydrate plentily during your walk!
Begijnhof
Moreover, the "Begijnhof" is also a very cozy place in Bruges to stroll around. It's located right next to the "Minnewaterpark" so if you could even visit both places on the same day if you'd like. When you decide to visit the "Begijnhof", you'll immediately notice the numerous, little white houses, which are not only very stunning but also remarkably adorable as well. Besides these houses, you'll also find that there's a beautiful courtyard with the most striking trees and flowers, which is perfect for taking a walk!
Best Restaurants
When you're in Bruges, you'll have a lot of opportunities to experience delicious food, since Bruges is renowned for its many, cozy restaurants. However, there are some restaurants that truly stand out from the rest.
Books & Brunch
First and foremost, there's "Books & Brunch", which is located right in the city center. Not only is this the perfect place if you want to have an extensive brunch, but it's also a paradise for booklovers. Namely, there's also an enormous bookcase present, so you can just take a look at the collection of books after your brunch and take some books home if you've found something you like!
The Potato Bar
If you're looking for something quick and delicious to eat, I'd definitely suggest going to "The Potato Bar". At first sight, you might think that this is another basic bistro, but that's absolutely not the case at all. No, in this cute little restaurant, you'll be able to discover potatoes and croquettes in a whole new way. To match this explosion of tastes, it would also be nice to drink an authentic beer from Bruges to go with your meal!
Best Music/Festival
Throughout the year, the city of Bruges holds a couple of small music gatherings that can be associated with different music genres. nonetheless, there's one music festival, in particular, that attracts many people and that's the "Cactusfestival". the city authorities always let this festival take place on the second weekend of July and are able to provide both the local and possible tourists with 3 days filled with great music. This festival doesn't limit itself to one specific type of music, so basically, any kind of band is allowed to perform there. Consequently, this festival can offer just about any kind of person something to enjoy. An added plus is that the "Cactusfestival" is held in the above-mentioned "Minnewaterpark", which truly is a great location for a successful music festival!
Best Nightlife
It should be mentioned that Bruges is not famous for its many big clubs or anything like that. Nonetheless, there are still a lot of cozy bars where you can drink and dance the whole night long! Most of those cozy bars are located on the "Eiermarkt", which attracts a lot of partygoers every night, both students and slightly older people. There, you'll have access to many dancing establishments, it all depends on your own preference!
Best Day Trip Out of the City
There's a very large train station in the city of Bruges and from there, you can travel to a lot of other big cities in Belgium. For example, you can reach the city of Ghent in about 30 minutes. Ghent is another medieval-looking city, just like Bruges, so if you like that type of city, visiting Ghent would definitely be a great idea. However, you could also just as easily travel to Brussels, which is the capital of Belgium. It only takes about 1 hour to travel from Bruges to Brussels by train, so that definitely is not too bad!
Something that not many travellers would know about Bruges
Earlier, the renowned "Belfort" was mentioned as one of the biggest monuments in Bruges. However, what not many travellers know about is that this bell tower actually does lean a little bit. That's why it's sort of an inside joke among locals to call the "Belfort" our own crooked tower of Pisa. Of course, even though the tower doesn't stand completely straight, it's not something that you need to worry about, it's been like that for ages!
Things to do in Iligan – The Philippines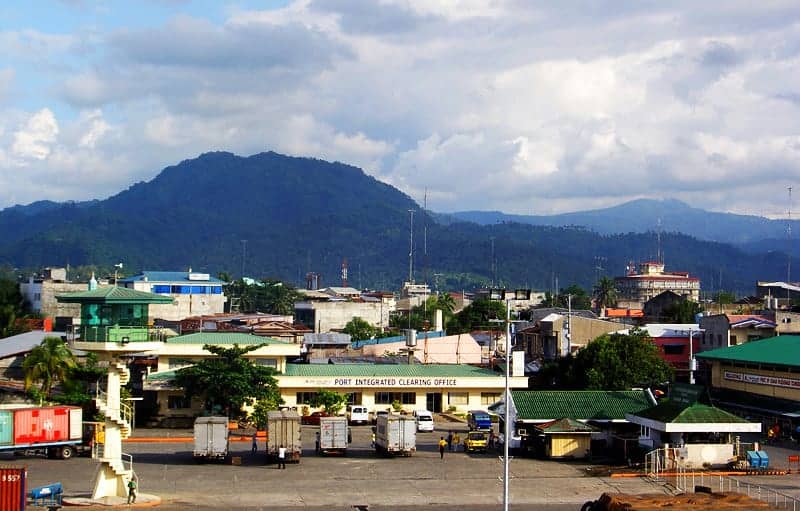 Must do
Iligan is a highly urbanized city in Northern Mindanao, Philippines. Dubbed as the "City of Majestic Waterfalls". There is no doubt that chasing waterfalls (literally not figuratively) would be the best thing to do in this city with a land area of 81,337 hectares and a population of 342,618 people according to the 2015 census.
There are 39 waterfalls located in its lush green forest area but only 23 are promoted. Maria Cristina Falls is the most popular on the list and is the pride of the city. Parted by a rock at the verge of the waterfall, this stunner is also known as "twin falls" and its flowing water is routinely diverted for the generation of hydroelectricity by the powerplants.
The second most popular waterfalls is this charm hidden in a deep ravine with the name, Tinago Falls. In order to reach this hidden gem, one must trek an approximately 500 descending steps and definitely not an adventure for the faint hearted. Once you reach the bottom of the ravine and see the breathtaking view of Tinago's cascading waters thundering down, all your exhaustion will begin to sink into oblivion. It's a place that would make you promise not to return only to have that promise broken every time.
What do you like best about your city?
Timoga Springs is well known for its icy-cool and crystal-clear water and it never ceases to amaze and lure both locals and tourists alike. In fact, your Iligan tour will never be complete without visiting Timoga. There are multiple beautiful resorts that you can select from in the area and choosing which one to enter would be a difficult decision to make. Expect these resorts to be jampacked with people especially during summer when the weather is extremely hot and less in rainy season. Safe to say, this place is everyone's favorite.
Best Walk
Paseo de Santiago which in English translates to Santiago Walk is a great place to stroll and unwind. This place is located near the seashore and was developed by a private individual who aimed to provide the Iliganons a new location for relaxation that they can be proud of. One of the attractions in this walk is the big signage of the city itself – ILIGAN CITY which became popular instantly right after it was erected.
It has now become a favorite place for families that would want to bond and enjoy picnics on a weekend. For solo individuals or backpackers who would want to enjoy a day tour, there are mini restaurants where you can dine and they offer different activities for you to enjoy. You can rent a bicycle to go around the place or rent a carriage if you prefer something fancier. The best time to stroll would be in the afternoon so that you will not miss the beautiful sunset over the water while enjoying the sea breeze and the calming sound of waves. At night, live bands will start playing their music to entertain everyone who opts to stay longer to enjoy the night.
Best Restaurants
Marianos Home Cooked Specialties is the best restaurant in Iligan. It is a cozy restaurant in a private location where you can enjoy sumptuous meals. They have a well trained and courteous staff and the place is owned and managed by the chef's family. People who have experienced fine dining in this place have nothing to say but praises.
Aruma Coffee Lounge is a perfect place for coffee lovers and is situated in the heart of the city. It has a pleasant ambiance and a great place for short business meetings, for friends who would like to catch up with each other or even for those who needs a relaxing place to study.
Enang's Grill & Seafood Restaurant is a family restaurant that offers a variety of delightful dishes in a spacious and airy location. This restaurant is normally very busy every Friday and Saturday because that's the time that most people would have dinner and stay longer at night to drink and enjoy the live music.
Best Festival
The Diyandi Festival is an annual month long celebration in honor of the city's patron saint, St. Michael The Archangel. According to legends, the city remains untouched and safe from the rebel and pirate attacks because of the miracles of St. Michael and this lore continues to intensify the devotion of the locals up to this day. The best highlight of this festival is the street dancing competition. It is the much-awaited event where you will witness the mind-blowing transformation of the streets of Iligan from its normal state into a vibrant moving theatre packed with dancers and a huge crowd of revelers in psychedelic costumes.
Best Nightlife
This may be a small city but the locals definitely know how to enjoy beautiful evenings with friends and finding a place to experience night life in this part of the world would not be a very difficult task. However, the best nightlife happens every October in the annual celebration of the city's version of Octoberfest. This is a monthlong celebration that starts from afternoon until dawn and lures people from the neighboring areas of Iligan.
Best Day Trip Out of the City
Initao is a municipality that's 34 km away from Iligan and taking a day trip there would be an amazing venture. You can go to Initao National Park and marvel in its different wildlife and geological features. Nearby is a white sand beach resort that offers a selection of water activities that you can enjoy.
Something that not many travelers would know about Iligan
Lawis Spring is an amazing place that not many travelers or even locals would know about for this resort is located in the middle of nowhere. In order to get to this place, you need to walk for about 30 minutes from the highway, up to the hill and into the woods with no trail. Going there is like a daring adventure that is worthy of your undertaking. In the middle of nowhere, you can indulge in the beauty of a serene surrounding, swim in the sweet water fresh from the spring and immerse in a nature untouched by man.
Things to do in Maracay – Venezuela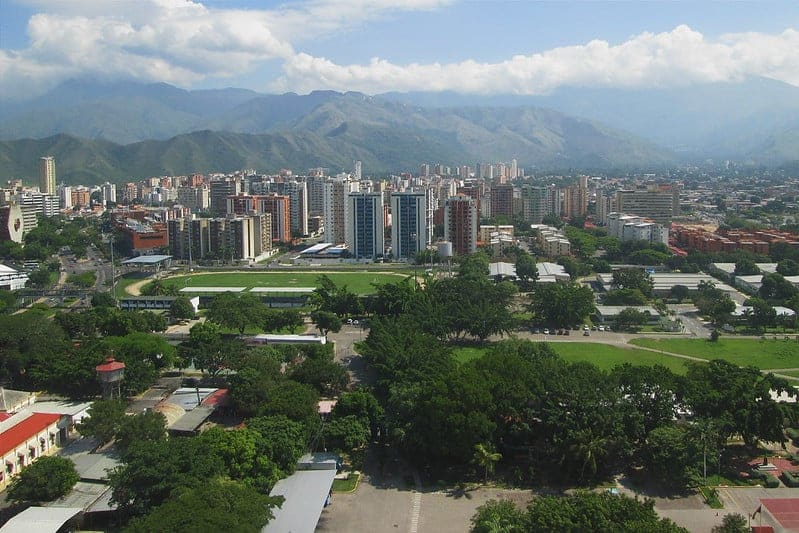 Maracay is famous and known by all as the Ciudad Jardin de Venezuela. Although it is not very big and most people know each other (you would certainly confirm the saying "how small the world is). It has places of interest to go and enjoy a good walk and an excellent nightlife.
What I like Best about Maracay
What I like the most about the city is its people. They are always very attentive, their gastronomy is excellent, despite everything, it is a quiet place compared to the country's capital. And without a doubt, you can find everything quickly since its location is very central and it is not very difficult for you to get lost in it.
Best Walk
The best walk that can be done is along the Las Delicias avenue. It is a path in the middle of this famous avenue surrounded by different food stores, shops, and shopping centers. Most of the locals will see them on this road going to work, exercising, taking photos, and much more.
Another place to walk in the "Parque del Ejercito," located just behind Las Delicias Avenue. This large space has several areas to be. It has a green area used to play soccer or carry out any outdoor activity. Behind this is the paved area that you can also use to exercise, but this place comes to life at night. Here street vendors gather, offering you all kinds of street food, sweets, clothing sales, souvenirs, jewelry. And for the little ones in the house, there are many attractions such as an inflatable slide, electric car rental, motorcycle rental, ride on a flintstones train. It is an ideal experience to hang out with different options to do at your fingertips.
As mentioned before. Maracay has different gastronomic options for all budgets and all types of occasions. You will find most of these options in the center of the city and on Las Delicias avenue.
Best Restaurants in Maracay
Rucula Restaurant Bar and Lounge: This place is located on Las Delicias Avenue within the military circle. This restaurant offers you a very varied menu for all tastes, a liquor menu, desserts, and a good atmosphere at a comfortable price. It has two areas to be-one with air conditioning and one outdoors with a bar.
Sushi & cebiches: this site offers you the best menu with sushi options. If you are a lover of this type of food, you will indeed find the perfect Roll for you. It is located in the military circle.
Topping: This is the perfect place if you are looking for a sweet afternoon. It offers you the best desserts with ice cream and chocolate, cookie burgers, explosive cakes of flavor, and the best atmosphere and attention. It is located in the plaza la Soledad on Avenida las Delicias.
Bosque Pino: this lounge offers you the best pizzas and hamburgers. Bosque Pino also has a very extensive menu, but they are famous for their hamburgers and pizzas. It has two settings to enjoy, a cocktail menu, its mojitos are the best, and from 11:00 pm it works as a disco. It is located in the military circle.
Citobar: this place, besides being a restaurant, is a bar. It offers you excellent food, drinks, and attention. What makes this place peculiar is its live music atmosphere. You have to check their pages because a different group is presented with tributes to famous music every day. It is located in the Hyper Jumbo shopping center.
Best Festivals/Music
Unfortunately, music and festivals are not given much importance in this city. But you have to check the networks. There are always shows by local, street, and urban music artists who seek their society's support to advance in music.
Best Nightlife in Maracay
The nightlife in Maracay is energetic. It has several clubs where you can be and have a great time:
Oz club: also located on Avenida las Delicias. This nightclub is a favorite among locals. It is the right size, has a VIP area, perfect liquor services for you and your groups of friends.
Bosque Pino: as we mentioned above, this restaurant is transformed into a disco from 11 pm. It has an excellent atmosphere to spend the night with your friends. You certainly won't regret it.
Bigotes: it is an enjoyable place to visit. Among all the nightspots in Maracay's city, it distinguishes being the first Karaoke to be erected at the beginning of the 2000s. It has not been maintained for little reason, located on Avenida 19 de Abril.
Best Daytrips out of Maracay
But what is the perfect destination to leave Maracay? Without a doubt, there are four places that you cannot miss, which are close to Maracay, and you will not have to go so far.
Ocumare de la Costa
This coastal town is a favorite destination for locals. Maracay is also known for its beautiful beaches. Here you will find the beach of Cata, the threshing, whose water, the Cienega and among others. It is a paradise to spend the weekend.
Choroni Town
If we continue along the Via de las Delicias and we go a little further, we will find Choroni. Another favorite beach destination for locals to disconnect from their daily life. It is a very colorful and colonial town with peculiar and very friendly people. It is composed of several beaches such as Playa Grande, Valle Seco, Cepe, and others.
Hacienda Santa Teresa
about an hour from Maracay, is the city of victory. In it is this famous farm where the favorite rum of the locals and the Venezuelan is produced. This beautiful place tells you about the process of how rum is distilled, and it has a restaurant with good food, a bar with rum cocktails, tours where they tell you the history of the hacienda, cocktail courses, and let me tell you that it is a perfect place to relax. And be in contact with nature with a good drink in hand.
Colonia Tovar
also, near the victory, is this beautiful town. Believe me that if you see it, it is as if you were transported to a small village in colonial German. It is located on a hill with an excellent climate, food, and attention. Also, it is very romantic and perfect to come with the person you love.
Something that not many travelers would know about Maracay
Maracay has the largest Plaza Bolivar in Latin America. It is a lovely square to hang out, walk, and watch the day go by. For those who do not know, Simon Bolivar is the liberator of Venezuela and other Latin American countries.
Things to do in St Bees – United Kingdom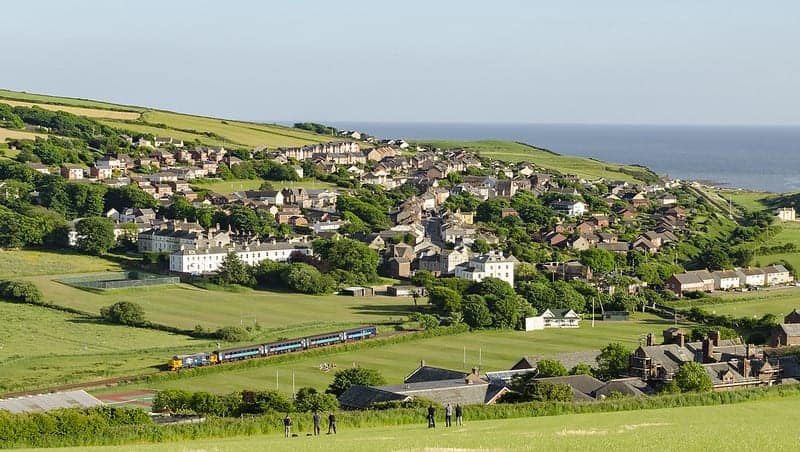 St Bees is a little-known village, yet a place that made a great impact on my life. Known best by keen hikers, St Bees is the start of Wainwrights' famous "Coast to Coast" Walk. I grew up and went to school in the village, and although I have not returned for many decades now, it is constantly in my memories. St Bees is also home to St Bees School, an international day and boarding school that was founded back in 1583 by the Archbishop of Canterbury. Famous pupils here include Rowan Atkinson, aka Mr. Bean. So, what makes St Bees such a special place?
Must Do
The landscape at St Bees is simply stunning, St Bees Head comprising red sandstone cliffs that tower 80 meters above sea level. A brisk walk up to the head, starting at the main North beach in St Bees will take you to the once-inhabited lighthouse, and stunning views across West Cumbria and across to the Isle of Man (on clear days). St Bees boasts 2 beaches, as well as a caravan park for traditional seaside holidays, a spattering of local shops, and at least 4 public houses. Down at the North beach you will also find the Seacote Hotel, the perfect place to rest up before the start of the Coast to Coast trek.
The Legend of St Bega
The village of St Bees is situated on the West Cumbrian Coast, four miles south of Whitehaven, a town that was dominated by the mining industry up until the 1980's. The rocky promontory that is St Bees Head, it the most westerly point of Cumbria, and it was here, in the 9th Century that an Irish Nun became shipwrecked. According to the legend, Saint Bega, and other nuns that survived the shipwreck went to ask Lord Egremont for land where they could build a priory.
It was midsummer, and the Lord responded that they could have any land covered by snow the next day. Much to his surprise, the land between the sea and the castle were covered by snow the next day, and the priory that officially dates back to 1130 was built. The priory is, to this day, a focal point of St Begian life, the whole school gathering there for prayer and celebration throughout the school term. Other buildings that dominate the landscape of St Bees are the "Quadrangle", the original building of St Bees School.
Restaurants, Bars, and Eateries
As St Bees is a village of just 1,800 inhabitants, it is understandable that there isn't much nightlife to be found in the village. St Bees is a place people visit to get back to nature, learn about historical buildings, and of course, for hiking the Coast to Coast route. Nearby Whitehaven does, on the other hand, have a handful of nightclubs with later opening hours. In the village itself, you will find The Queens Hotel, The Seacote Hotel, The Odd fellows Arms, the Albert Hotel, and the Manor House.
Good pub grub and traditional food is widely available, and for a more elegant choice, Lulu's bistro in the village is the perfect location for a romantic dinner. Run by a personal friend of mine, Lulu's also caters for overnight guests during the summer season, her establishment being set in the very interesting old railway station buildings. St Bees is still accessible by train and is a request stop on the Carlisle to Barrow-in-Line. But don't worry about being kept awake at night by the trains; the service runs during the day and evening only.
Day Trips Out From St Bees
As St Bees is in West Cumbria, it is only a short drive away from the Lake District. Within the Lake District there are too many towns worth a visit to mention all of them, Keswick, Ambleside, Coniston, Bowness-on-Windermere, and Grasmere being some of my personal favorites. Here you will find the homes of the famous Coleridge poets, Wordsworth, and, the miniature Ravenglass to Eskdale train (a must for visits with children).
If you prefer to use public transport, the train line that runs along the Cumbrian Coast will take you through many interesting towns and villages before you reach Carlisle. Here you can take a mainline train to Oxenholme the Lake District, where you will find local bus services that connect the different villages on a regular basis.
The Lake District is famous for its fells and peaks, and you will find endless trails and hikes for all ages and abilities. If you come ill-equipped for hiking, don't worry. In towns like Keswick, you will find more outdoor equipment stores than you will find food outlets. For a more relaxing day with less hiking involved, take a boat trip on Lake Windermere, or head to Lake Coniston in Keswick and book a boat trip on a Gondola.
Little Known Facts about St Bees
St Bees Head is the only Heritage Coast site between Wales and Scotland that is a Site of Specific Scientific Interest. The town is also a RSPB reserve, and boasts the largest colony of seabirds in the North-West of England. St Bees head is indeed not only the most westerly point in Cumbria; it is also the most westerly point in the North of England.
St Bees School also has its own claims to fame. It boasts the oldest indoor swimming pool still in use in the UK and also the most northerly "Eton Fives" Courts. St Bees School suffered a temporary closure in 2015, but thankfully, due to its trustees, reopened its doors in 2017, breathing life back into the village once again. The village also boasts an enormous amount of listed buildings, when the amount of total buildings is taken into consideration. Both the Priory Church and the Church of St Mary and St Bega are listed buildings, along with many of the other buildings currently used by St Bees School.
St Bees is a hidden gem that is relatively unknown due to its semi-rural location in West Cumbria. It is a village with huge community spirit, a hub of activity during the school year, and the perfect place to take a coastal break during the long summer holiday months.