As with most travelling, particularly when you travel by plane the "getting there" is not what you enjoy. Here is a rundown of the last couple days.
I left Adelaide on Saturday 17 March, it was an afternoon flight on Malaysia Airlines to Kuala Lumpur. I watched a couple movies – exciting stuff.
My overall impression of Malaysia Airlines (this is the first time I've flown Malaysia) was overall average/below average. It was evident that the ground crew at Adelaide had been outsourced from a labour hire company. We had issues getting the seats we wanted with the ground crew employee saying that a certain seat had already been requested and we kept saying "that's right – we requested it" but anyway they put us in different seats and surprise surprise the front row seats that we requested were empty. The flight was about half full at the most – Malaysia Airlines must be doing it tough. But when you start outsourcing staff it's a slow trip downhill. Also we had issues with the Malaysia Airlines website that didn't work very well when we requested our seats.
We got to Kuala Lumpur and gave some consideration to taking the train into town, but we were shattered and needed sleep. Had a flight to get on at 9am the next morning. We stayed at the Pan Pacific Hotel at Kuala Lumpur International Airport. I would happily recommend anyone who is transferring flights and needs to stay at the airport to stay at this hotel. Conveniently you can check in at a counter in the airport itself , then get a shuttle across to the hotel and half an hour later you are in bed. Also the counter was right next to where we picked up our luggage. Thank you Pan Pacific Hotel Kuala Lumpur Airport for a nice if short stay.
Next morning, out of bed and in the airport at 7am checking into our next flight to Ho Chi Minh City (Saigon). Shortish flight 90 minutes I think it was. Looked straight ahead no movies, no book, until we arrived at Saigon. Had a couple hours to kill until we got on our next flight to Hanoi.
Went into the domestic terminal to check in and we stopped at a nice looking restaurant on the right hand side of the entrance to the domestic terminal if you had walked from the International terminal. Had a nice lunch of spring rolls, fantastic watermelon juice, coconut juice and a cafe'sua da just beautiful and refreshing respite from the tropical heat.
Next onto our Jetstar flight, I have a conflicting opinion of budget airlines. I am happy they exist because it has forced conventional airlines to stop gouging their customers but I hate them for the appalling service they provide. We were bused out to the plane and in usual Asian fashion boarding degenerated into a stampede. I was getting pushed around by this 80 year old Vietnamese lady. By the way I'm 185cm and well over 100kg.
The plane itself was a Airbus A320 that looked like it was over 20 years old and they may have leased it from an African airline that had gone bust. Although it was clean the Jetstar name looked as though it had been painted on using a roller and was starting to peel. At the beginning of the flight the engine had an unusual pitch to it that had me fearing for my life.
When we got into the air my travelling companion said "It only needs to make one more landing" when I looked at him in horror at what was happening.
So at 2.10pm on the second day of travelling we reached our destination Hanoi.
Had a driver waiting for us and took the 30 minute drive into Hanoi. Incredible amount of industry in this city. In the space of 1km we saw a Canon, Panasonic, Yamaha, Asahi Intec factories that would all be bigger than the largest factory in my home city Adelaide.
My first impression about Hanoi is how much dust there is and how dirty the city is because of this dust. It had only been raining a little while before we arrived and there was still dust and also grime and mud. It's also quite hazy, not sure if it's the weather or pollution or a bit of both but its fairly gray.
Arrived at the hotel which is the Hanoi Holiday Diamond Hotel. Problem – they only have 1 room booked for us not the 2 rooms that we booked and paid for through Agoda. Could we sleep together in a double bed. I think the words that came out was "I don't think so" or "No way" but my mind was saying something less polite.
So we got a twin room for one night and at least now we have 2 rooms. The girls on the desk were very apologetic but it's not the first time that I have heard of things like this happening when you book through Agoda.
Got settled went for some beers and watched the insane traffic at a roundabout near the lake and ate some beers snacks before crashing into a sound stupor.
Mongolia and the End of the Mongol Rally!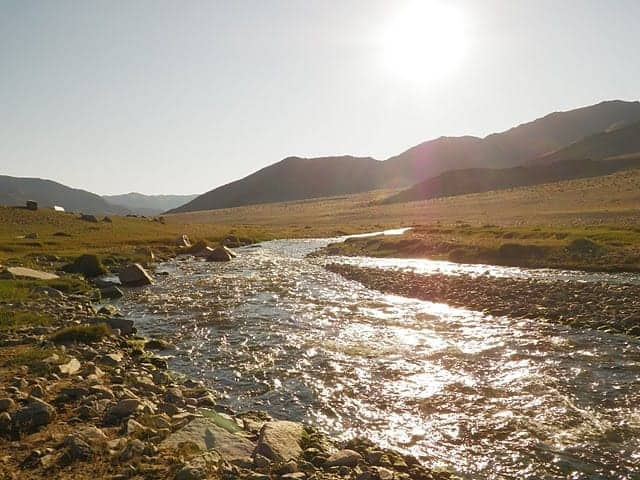 Leaving Russia
The ambulance hadn't been fairing well over the last few weeks and a few problems had come up at the border. Lucky we had time: apparently only 6 cars would be allowed through each hour, and we were at least 3 hours back in line. The cold woke us all early that morning and through rumours we heard that we had missed a crucial step in the Russia to Mongolia border crossing.
A small shed about 300 meters back held a stamp that we all needed to get through and so we headed down there at about 7 am in the early cold, to get our stamp. We lined up and watched as other teams realized that something was up, so we decided to have some fun. As the first team came up we mentioned another small shack another 300 meters down which had a turquoise roof.
We then explained how an important piece of paperwork, necessary to the border crossing was to be gained there. And off they went. Laughing we stopped them but for the next hour giggled as the same joke was played on each team that next came to us. Good times.
Conner the legend had some work to do: We needed to clean out the fuel filter on the ambo, and we had a water hose that was basically degraded to nothing and needed replacing. While the teams played football and threw Frisbees, I did my best to help Conner get the job done, finding a much needed hose pipe amongst the ralliers and a bit of ingenuity we had the Ambo back on the road and ready for the border. The teams let us get back to our previous spot in the line and we were ready, until a mini bus full of people tried to cut the line. The teams then proceeded to block him in and let absolutely everyone around him! The strong winds pelted us with sand as the skies opened up for our first snow!
The Russian part of the border crossing was simple and we headed off into what we thought was the Mongolian desert, only to come across another small random hut in the middle of nowhere about 10 km down the road. A stop sign and a quick stamp and we were allowed through a gate. Thinking we were again in Mongolia through the easiest border ever, we all congratulated ourselves and shook hands. Off we went again! Over a rise and then… The Mongolian border crossing.
Mongolian Border Crossing
We arrived there about 2pm and the wait started. Other teams and buses started pouring in as well. Stamps and passports, car registrations and payments. My passport had been stuffed up y the organizers of the Mongol Rally and according to my Visa I was almost a week late for it. Joking with the girls checking the passports they stamped it without even noticing the dates, we even managed to get a laugh out of them! But at about 6pm we were informed that we would be staying at the border over night. About 8 teams were stuck and we parked in a small compound for the night. Organised some dinner and chatted about the trip. It was freezing!
But to our rescue came Serge in a tourist bus. His passengers went into Mongolia to stay at a small town just after the border. So he had a huge bus all to himself and his co-driver. He invited us all onto it for a warm night of laughs and way too much Vodka. He even invited us to stay onboard for the night and a few of us did. For his kindness I gave him a Cuban cigar the GM at the Ford dealership had given me and he was very pleased with the gift.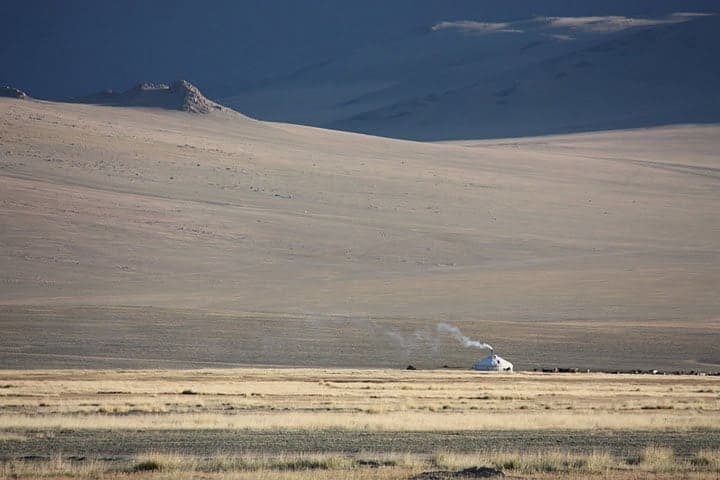 The next day was much of the same. Cold and no movement with our passports. So we started to play some games. Football and Frisbees again! But then a border official came to spoil our fun. Taking one of the balls he headed for me demanding the other ball.
One hand out, the other holding the confiscated ball behind his back. I adopted a similar pose with the ball I had and stood my ground. "Give me the ball!" he demanded all official like. "No, give us our passports and let us through and I'll give you the ball!" was my answer. Trying not to crack up he repeated his demands and I repeated mine. Seconds before he broke down with laughter, the smile threatening to break free, he turned on his heal, throwing the ball to someone else and said "No ball games at the border!" Still snickering he headed back to the office building. We all just cracked up.
No photos at the border
Now taking photos at the border is a no-no, they seriously don't like it. And a very serious soldier came over to us, very angry about the number of cameras about. "No photos!" he exclaimed, grabbing one of the guys cameras! Now this camera is quite valuable and I grabbed the same camera and told him he couldn't take it. A little tug of war ensued as he demanded the camera so he could examine it and delete the photos, but I wasn't sure it would be returned and held on.
All of us were asking him to let go by now and after a few minutes his whole demeanor changed. His voice softened and he explained the laws and rules and "we don't want pictures of the border to get on facebook…" The boys then deleted some of the pics in front of him to keep him happy. Ironic considering that the building had been completely deserted overnight and we could have taken as many photos as we wanted!
Then finally some of us were allowed to leave! 3 teams, then another 3 teams were allowed through into Mongolia! 50 meters and another stop sign, another small shed and another gate. A man walked towards us wearing civilian clothing and an official looking hat and demanded our vehicle papers. I went in with the others and was immediately wary of this bloke, who really looked as though he wasn't very official. He wanted $11 USD for insurance for non-Mongolia cars.
Trying to explain to him that this was a charity event and officially the cars were now Mongolian fell on deaf ears. I asked him for ID and he got very angry threatening and yelling and tried to throw us out of his little room. We then got the border police to help, the looks on their faces confirming that this wasn't necessary for us to pay, but the man wouldn't hear of it. He even tried to rip us off when we did eventually pay. And we were in Mongolia! Finally. After 40 hours!
Travelling into Mongolia
We stopped and waited for the other teams and had some of the local food. Meat dumplings and a spicy chilli sauce. I want some now! We stocked up and headed into the Mongolian desert. Eerily featureless, Mongolia is just breathtaking. I can't quite explain why it was so amazing, but it was. Open plains, rippling into the distance, large, surprising lakes, scattered around, camels and gers everywhere. The local huts are called yerts in Russia and its neighbours, but gers in Mongolia. Its not like they get upset if you get it wrong, but it's nice to actually ask and get it right! We played soccer with some local kids and gave them some candy.
Just to let you know too, the paved tarmac stopped at that little gate in the middle of the borders. It was all dirt from here on in. And as for a distinct road? Well, you're better off with a direction, not a map, as many of the tracks were criss-crossed with other roads as the locals try and make a smoother ride for themselves. Up to 20 dirt roads in any direction, corrugated and filled with rocks and ditches. These roads would have to be taken carefully, safely. Apparently there is some 25000 km of road in Mongolia, 4000 of which was paved. And less than that is actually recognizable as a road!
Just before we left the town, the angry insurance official saw me sitting alone in the Ambulance, and headed over. Resigned to another tongue lashing after our push and shove, I wound the window down. But he was a different man. Through broken English and sign language he apologised for his behaviour and hope I would have a great time in his country. Genuinely stunned I smiled at him and shook his hand telling him there were no hard feeling. We smiled and said our goodbyes.
Olgii – Mongolia
We came across the town of Olgii, a man on a motorbike waiting at its outskirts. The Mongol Rally Charity had helped this town and he was there to help the travellers make their way. After a brief conversation the man set off motioning us to follow him. I joked that he was taking us to his house. And he did! Another brief conversation and we followed him out of town and he sent us on our way.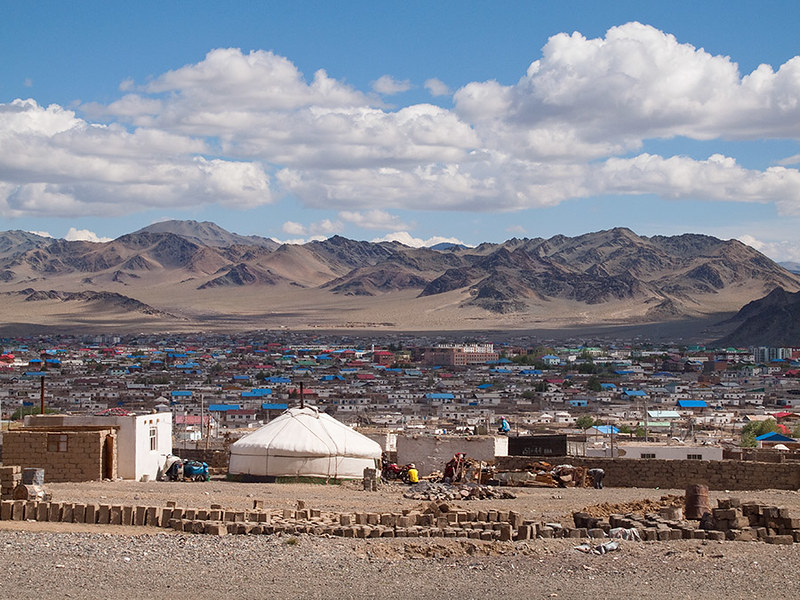 The roads are the worst you can imagine, heaps of road-works, and sometimes better to just drive through the desert, but we pushed on. There is a picture of a bridge on the MR website and we came across our first river crossing, the bridge dilapidated beyond use, but it wasn't hard and we headed on into the night before camping. Still up about 2300 meters it was another cold night, but camping in the Mongolian desert buoyed our spirits. It was just cool to be here!
There were cracks showing in the camps the next day when we got up, 40 days of travel and so close to the end were taking its toll. But a few hours' drive and we made it to Khovd. Here we found a Ger camp especially set up for the ralliers and we stopped and enjoyed the hospitality of Seseer and his lovely wife. For about $4 each we had a great meal, could use the shower and facilities and even use the internet. Like a little oasis we sat around and charged our batteries.
Khovd – Mongolia
From here we went into town to get supplies and parts for the cars. Khovd is mainly mud-brick simple buildings, with the remnants of Russia all about in the Soviet style buildings everywhere. In between you will find gers, in the town, and a great market. Above the city circling like pigeons are massive eagles, tens of them, maybe a hundred. Knowing that food was always where people are they glide across the sky and search. We even met the local representative for the MR here in the middle of town. Very nice lady. A few hours and we were ready to go again.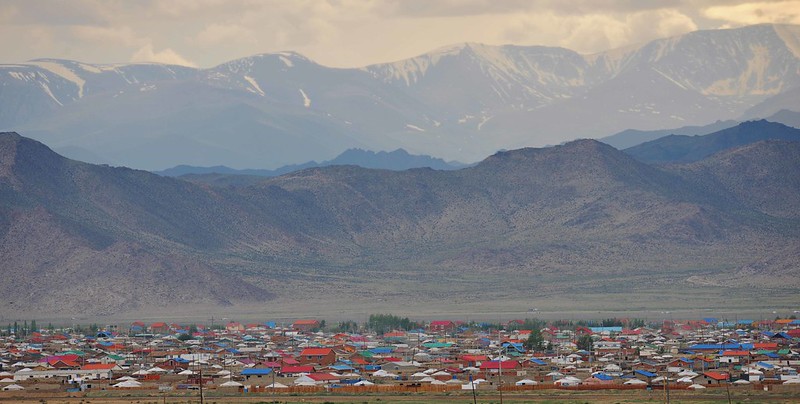 Along the way we had met a couple of French guys in a 4wd, travelling the rally. They had broken down every single day. How they had gotten so far we didn't know. And outside of Khovd we found them again. One of them had been travelling with another team and had gone ahead. But this car was done. So we went off to find the other guy for him, we travelled about 50 km's before we found him and the other teams decided to head back and help out. We found another awesome river crossing and camped on the other side by a crystal stream. The tension around the camp was eased by a massive night of drinking. Glow sticks and vodka were the winners that night. There may have been some nudity. See how rumours start…
The cars were just falling apart now, the long days of bad road taking their toll. And in 3 days we had maybe travelled 300 km. The next morning Bumblebee had to be pull started (thanks to sneaky sneaky our Serbian friend), once going the Ambo was having fuel problems again, and the other Aussie teams problems were just starting. We passed massive 2-humped camels, eagles and lakes until the desert gave way to an amazing scene of a horse race in the desert! The Mongolian Derby was less than a km away and we were able to watch the finish of it!
Darvy – Mongolia
Maybe 30 horses, surrounded by cars, bikes and trucks all driving/ riding flat-out through the desert, a long dust cloud floating behind them as they raced for the finish line in Darvy. We stopped in Darvy for supplies and the Aussie teams car spat out all of its oil, thanks to a sump plug that had worked its way out during the drive. Some steel bonded cement and more oil fixed that and we were once again on our way. This was another 140 miles of bad road, and it took us all day, before camping on the edge of the Gobi desert. We made a stew of pretty much everything we had left and it was one of the best meals we had had!! And thank god it was warming up!
We woke up determined to make some headway the next morning and after the usual troubles starting the cars we were off again. Another long drive in the morning and then something special happened: It rained in the Gobi desert. Dark skies threatened and broke into a light misty rain for a little while, washing our cars and keeping the dust down for us. The dust had been an unwanted passenger for most of our journey. In our car, our clothes, our bags, our food. You couldn't get away from it, until it rained for us.
Altai – Mongolia
On arriving in Altai we had to leave the Aussies behind as they attempted to get their car fixed. We almost lost the other teams this day as well, as we travelled well ahead of them, before heading back to help. And car problems were plaguing us again. Along the way are shrines, decorated in blue, and we found one high on a hill. We all took photos and headed off again into the desert. The morning sunrises are some of the most beautiful things you'll ever see until the sunsets come again! This night we decided to risk driving in the night as we desperately wanted to make Ulaanbaatar for the final party. Until we came to the river… 100 feet across and at night we couldn't tell how deep it was. So we camped again, leaving the river for the morning.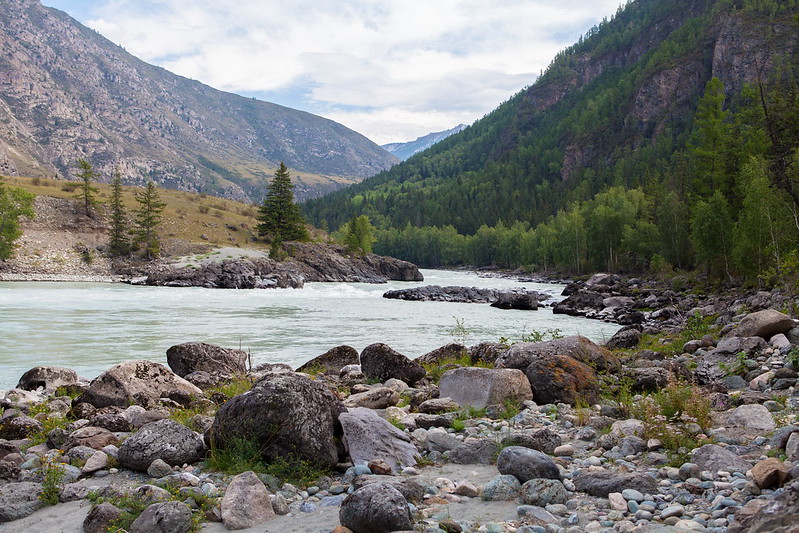 River Crossing in Mongolia
The next morning we woke early to take a good look at the river. We had 750km to go and wanted to make it safely and had all talked about driving safely and making sure we got there that night! We wanted to party!!
Another team had to leave their car and pulled up besides us, driven along by a local who had just bought a new car in Altai. While we were looking for a river crossing they attempted the trip across and got stuck ¾ the way across! As the car filled with water they climbed out and sat on the roof while we got help. A local man on a motorbike said he would help and proceeded to show us the way through the river… ON THE MOTORBIKE!
Josh pulled the much smaller Fiat through the rover and we all sat on the other side as they pulled the poor guys car out with a tractor. We now had 2 more passengers and headed off. After about another hour of Josh at the wheel I finally snapped at his over-enthusiastic driving, as he basically got a 2.5 tonne vehicle off the ground at speed and lost control.
I had had enough and told him he wasn't driving anymore, genuinely scared for my life, and wanting to make it to Ulaanbaatar in one piece. He refused to leave the driver's seat and I threw him out. Another brake down for the Serbian team and I, completely embarrassed by my outburst, apologised to Josh and the others in the team.
Leaving the Ambulance
I had also made a decision. I wouldn't be finishing the trip with Josh and the Ambulance. And the other guys. It was such a hard decision for me and you could see it on the faces of the rest of the boys. But it was obvious that on the last day of the rally, I felt very strongly about my own safety, and if I stayed my safety wasn't assured, and I couldn't ask anyone else to put themselves at risk. There is an element of danger to this entire rally, it's kind of the point, but I didn't feel it necessary to push it too far. The guy who drowned his car had turned up and I hitched a ride with him to the next town, forgetting my passport I had to wait for the teams to catch up so I could get it.
Bus to Ulaan Baatar from Bayankhongor
Then I looked for the bus. Bayankhongor is not a huge town, but it is thriving, and looks like most of the other towns. A helpful local took me to the bus stop, where I met another team already on the bus. Now these Russian made UAZ 452 buses are everywhere. 4wd and a tank couldn't stop them. Slightly bigger than a VW combi and absolutely brilliant. Until you try and put 18 people into one. And our luggage. 12 hours in the bus, with my ankles around my ears, and the guys with me were taller! A couple of stops, for food and fuel, and a couple of meetings with other teams (including 5 or 6 sightings of Bumblebee the little fiat on the way), we made it to Ulaanbaatar!
Finished
I had completed my Rally! Highs and lows this was a magnificent trip! The four of us had missed the party and were looking for accommodation at 3:30 am in the morning! A quick cab ride and a little search and we found the finish line, and about 50 people in various states of drunkenness, and a floor to sleep on for the night. I even found Ryan and Craig, and Bumblebee! Early the next morning the three of us headed for a better hotel. Comfortable beds, a truly excellent bathroom and Wi-Fi and we were home for the day. And did nothing… well maybe I had a beer. Just one.
This rally had been such a big part of our lives for 6 weeks. We all found it hard to sleep and relax at first due to the demands our bodies were used to along the way. As a big celebration amongst our Mongvoy (our teams name for our convoy) we had made plans to go to a certain restaurant and then just hit the town. Our team had split up and we weren't sure where anyone was. But dinner was still on and we caught up again with the Aussies we had left in Altai.
The Farewell Dinner
We made plans to meet them later at the finish line before heading out for our night. We had just gotten our first beers at the bar when a huge commotion arose outside and we went for a look: and around the corner came the Ambulance! One flat tyre and 9 people in it, they had made it, limping to the finish line! We cheered and went down for hugs and hand-shakes! The boys had made it! Very drunk and very dirty they told us that the other car had drowned in a mud puddle and they decided that the Mongvoy dinner was way too important, so they all got in and here they were. Even better the Serbians turned up not much later!
It was a great night of food, stories, too much laughter and great mates! Oh and there may have been a few strippers… it had been a long trip. With men, too many men…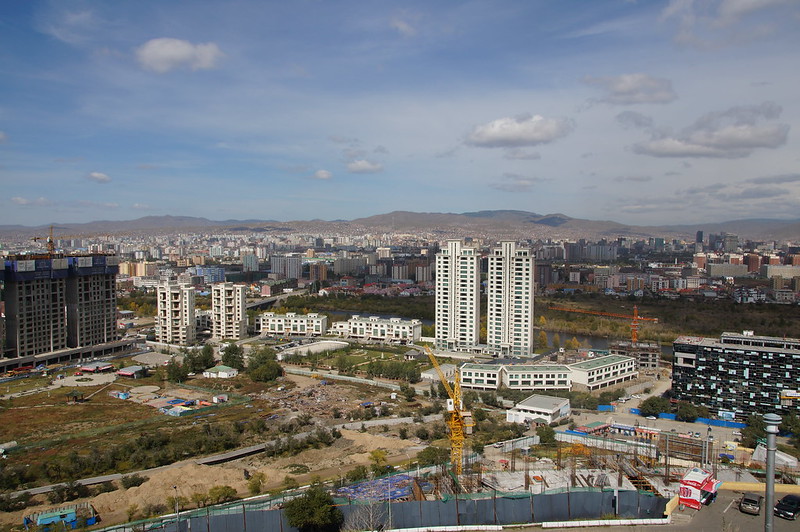 Ulaanbaatar is a large, modern city. Like all cities you have to be very careful, but our group didn't have any problems while wandering around. Others had given us warnings of muggers in broad daylight and fights at night, but we really didn't see any problems. It was a bit sad for some teams though. The cars we drive over were all being sold, locals drifting around the car park looking for good cars. I find it interesting that you would want to buy what was left of a vehicle I had driven 18,000km across truly bad roads, but hey if that's what you want to do… These cars were a part of our teams. We had spent so long with them, fixed them, mothered them, cursed them, loved them and hated them. For such a long time. And now strangers were just picking them off.
Ulaan Baatar Mongolia
We had our last big night with the group as a whole and said our goodbyes. I would be here til Thursday and had booked an early flight. The city has everything you need and the State Department store has everything you can possibly want. Food is cheap and delicious everywhere and tours are easy to book. I organised some cheap rooms in the same hotel for us and then we went horse riding. $30 USD gets you 7 hours journey.
A private driver out to the beautiful national park, stunning views of turtle rock and the surrounding valleys, an hour and a half ride on a stubborn horse, dinner, trekking in the woods and back again. What a great day. This hidden valley of grassy fields, broken by stone and rocking erupting from the ground, and central to it all the massive turtle rock.
The next day was a long walk out to the Black Market, apparently illegal, tax free markets, in the city. It really wasn't that cheap. They did have absolutely everything you could imagine there. But just wasn't that good: a bit like paddy's markets really. The snow fell while we were there, cooling us off and reminding us that the deserts were so far behind us. That night we decided that sleep wasn't an option due to our 4 am wakeup call and taxi to the airport. So we drank and chatted and said our goodbyes.
The Flight back to London
Great warrior, crap vodka. And on my 100th day away from Australia, I left Mongolia. If only it was that easy! At the airport the customs officer noticed that my visa had been stamped incorrectly and called a supervisor. Very tired now. He informed me that I had been travelling through Mongolia Illegally on an expired Visa. So very tired. I had been separated from everyone and was in a little room with him.
Making a big show about waking his superior and getting it all done by my flight. Couldn't keep my eyes open now. He then suggested I buy a new Visa. There it was! The bribe! Yawning I asked how much. The fine was about 120 pounds or 65 USD to get a new visa. Um…new visa. Now all officials I dealt with do this: when you give them money they count it at least three times and then just toss it in a drawer. He stamped my passport… where's the "new" visa? And my one and only bribe was paid. I made it to my plane and fell asleep before takeoff. A brief stop in Moscow and I was back in London. Interestingly I had met a world champion Mongolian boxer on the flight and we quickly became friends as he chatted about his career. Cho Tseveenpurev, nice guy.
22 countries: UK, France, Belgium, Luxembourg, Germany, Czech Republic, Slovakia, Hungary, (Serbia), Romania, Bulgaria, Turkey, Iraq, Iran, Turkmenistan, Uzbekistan, Tajikistan, Kyrgyzstan, Kazakhstan, Russia, Mongolia. 18000 miles. Deserts, temperatures of 55 degrees Celsius and below -6. Awesome people and food, great sights and a life changing journey. And back in 14 hours on 2 flights! What a trip!
I have been in London nearly 2 weeks now and enjoy the absurdity of doing absolutely nothing. Another couple of weeks and my journey starts again. Europe with my beautiful girlfriend and maybe Ireland next week!!

Mongolian Rally – Kyrgyzstan Pamir Highway Emergency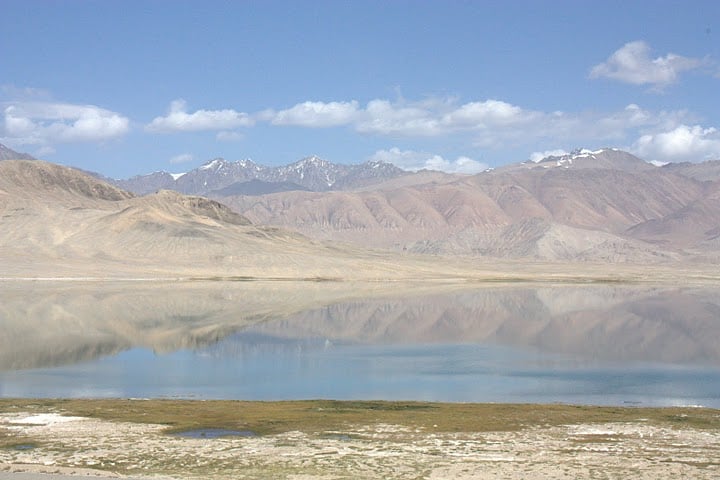 We woke up to the sound of kids washing our ambulance, thanks boys, and headed into the border. 8 Stops or so later and we were through into our next country. One of the soldiers asked the usual question "Do you have any guns?" and make guns with his fingers he made pew pew noises with his mouth. "No, of course not!" I said. "You should…" and turned away without any explanation. 47 degrees again and hot, hot, hot.
Dushanbe – Tajikistan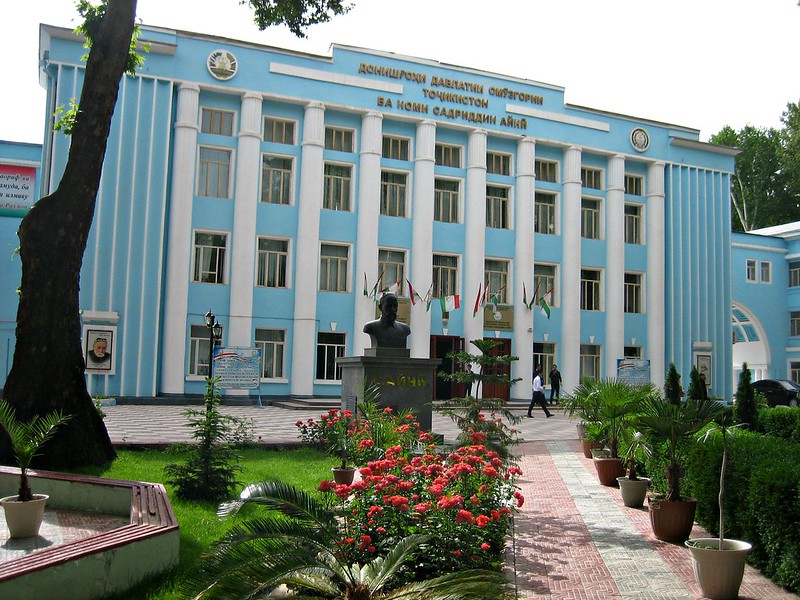 A quick stop for lunch and we headed into Dushanbe and onto the Kyrgyzstan embassy. My visa was wrong and we wouldn't be able to travel along all of the Pamir without it.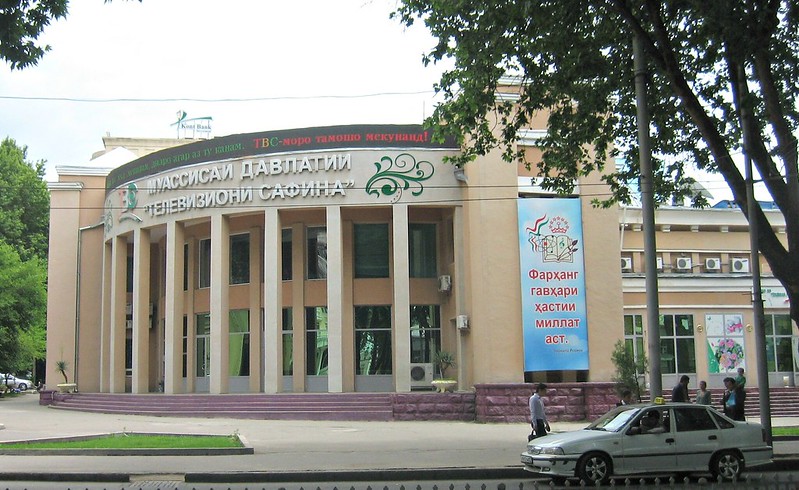 The police pulled us over in Dushanbe as we turned left illegally. It's so funny because I knew what I did wrong. None of us really knew what the other was saying and they all got together to work out what to do with me. They had my license and marvelled at the NSW colours and had a bit of a chat. The 'protocol' as they kept saying is to keep my license and fine me. But just act dumb…not too hard! And they finally realized that they didn't have the faintest idea what to do with me and ended up letting me go!
At the Embassy
Hand-shakes and smiles all round and away we went to the embassy. Unfortunately the consul wasn't there and I had to wait for a couple of hours for her. After a quick conversation and an apology for my appearance (dirty, sweaty and disgusting) oh, and of course some cash – ($50 for 3 day wait or $100 for now – bitch) $100 and we were on our way.
Oh and the Police got me again, seriously to just satisfy his curiosity. He came up to the window and in broken English said "no problem"… I ventured "you're just busting my balls aren't you?" he smiled and nodded, no idea what I said. A can of red Fanta for him and we were once again on our way.
Pamir Highway – Tajikistan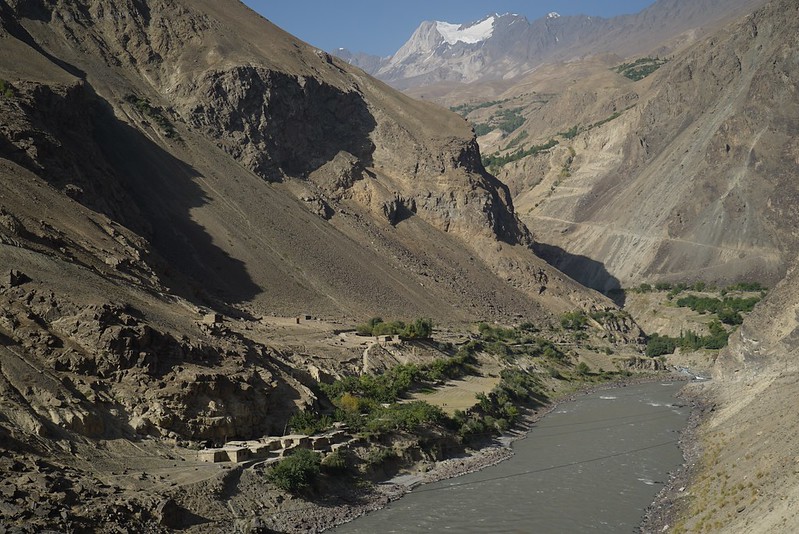 Now this road is amazing. It's supposed to be a highway but really is a dirt track with trucks on it. Through amazing mountain views, winding, twisting, turning back and forth through dirt and tarmac. A constant awareness of the road and anything that will end our rally. Rocks and potholes and roads barely wide enough for the trucks and cars that careened past us.
Voruhk – Tajikistan
The mountains and valleys separated by a rushing, crashing, roaring grey river, carving its way through the mountains and valleys. We picked up some hitchhikers and took them through to Voruhk. They bought us some lunch and thanked us. When you're out here a little kindness goes a long way and we just thought that maybe we might be in the same situation one day. Through layered mountains, past crystal blue streams we drove on and on. At one turn noticing a rally ending oil slick in the dust, some poor traveler had hit a rock and flushed its oil onto the road.
A few turns later and another rallier – Halleys Comix were on the side of the road at a mechanics and we stopped to find out if there was anything we could do. Swapped some stories, got our spare tire fixed and off again. At one check point a large happy policeman wanted to drive our car and jumped in to have a go. We also met a Mongolian riding around the world on his motorbike. Which of course the policeman also had a go on. And finally to Boruhk where we dropped our passengers and slept in the town.
On the border of Afghanistan
The next morning we went down by the river for a bit of fun. Apparently the river is the border for Afghanistan and due to the changing course of the river, at one point we were technically inside the border of Afghanistan! How cool is that. We waved back at some of the Afghan people, had a laugh and drove onto the start of the Pamir Highway. A last check point and we asked for directions, the police pointed us one way and being police we believed them. Who doesn't trust the police? We shouldn't have!
Lost on the wrong road
The road we were sent down is 100km long, a goat track, a 4wd only goat track. The Ambo isn't 4wd. I checked. It started out well enough, just some dirt, beautiful plains and mountains surrounding us, some small towns and curious locals waving and a great lunch in the middle of nowhere.
River Crossing
Then came our first river crossing – not to difficult but the heavy ambulance got stuck, and the hard work had strained our clutch a little too far. We weren't going anywhere. Then our savior appeared in a Land Rover discovery! With little help at all they got us out of the river, we thanked them and with a warning of more to come in our ears we headed on down the road…track…path? A few false starts and over a few hills we came across our biggest hurdle yet – a dry, stoney river bed. Large melon sized rocks everywhere, about 100 meters of hell for a 4wd. Did I mention the Ambo wasn't 4wd? I checked.
So we built a road: we gathered hundreds of smaller stones and filled in the gaps between the larger stones until we had a semblance of a bridge through the creek. It was awesome. The ambo got through with some bumps and scrapes, but she got through! Big cheers and high fives. And on we went. We were almost there! You could see the highway!
Cruising through the hills we could see the distant Pamir highway, a long way down in the valley but accessible. With our clutch overheating and the car seriously being a little worn out we headed for the road. Only to be stopped by massive washouts in the track, a little detour and a dodgy bridge and we made it to solid ground. I jumped out and let out a huge cheer, Josh and I laughing and high fiving!
Back on the right road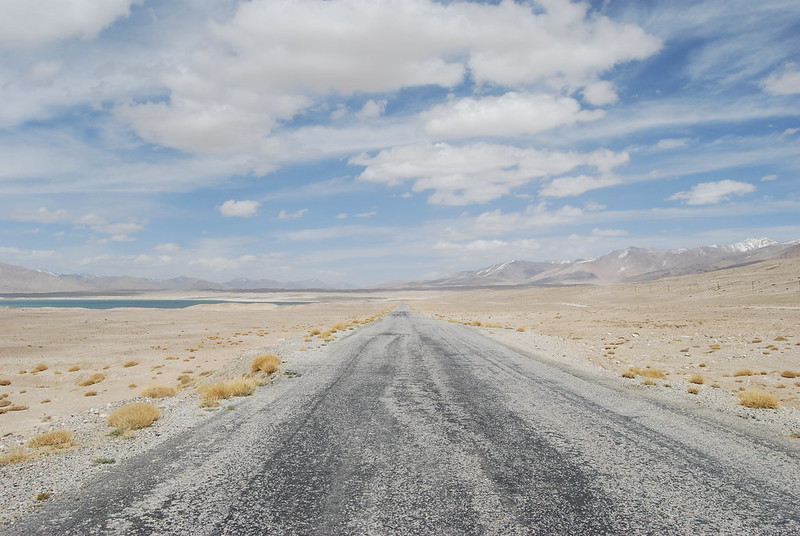 Much to the amusement of some locals also crossing the bridge. 4wd only, my ass. This is the first time in the trip I honestly thought we wouldn't make it. Some photos and pantomimed explanation later we hit the road and headed for the Hot Pools at Jindalie. The amazingly nice lady at the hot springs organized some food for us and exhausted we crashed in the ambo outside of the hotel.
The next morning was a nice breakfast and a wash, again losing most of my tan in the process but clean again. The hot pools are supposed to be healthy and give energy, but a bunch of naked men peeing in a pool is not either of those from where I come from and a hot shower was enough. We actually felt good. The Ambulance had sustained a little damage through our ordeal on the previous day, but nothing too serious, except the rear bumper had been pushed up by some of the hits we took and we weren't able to open the doors at the back.
Onwards and Upwards
And headed high into the foothills of the Himalayas (sort of). The Ambo climbing through 4200 meters and then onto 4600 at one pass. The strain from the previous day and the thin atmosphere causing a few power problems on the way, but she kept on going.
The road here was actually great though we found a few rough patches on the way up to the highest desert in the world. A massive steppe above 4200 meters, and higher in places, surrounded by mountains of all shapes and colour, like the broken, jagged crown on the top of the world. Past some of the most beautiful, still mountain lakes I have ever seen, with the unfortunate names of Salty and Stinky these ocean sized mirrors capturing the views in crystal clear, perfect reflections.
We caught up with those Swiss guys who helped us in Turkey and cooked up a big lunch with them and their US hitchhiker (Travelling the world), by a lake created by a meteor strike. We left the guys a little later to make camp before dark and headed on past some Mexican ralliers, broken down in the middle of the road, but ok, and onto the border.
Kyrgyzstan Border Crossing
The Pamir had been a brilliant, exhilarating, exhausting but amazing experience. The thin atmosphere and demanding roads were just incredible. The customs guy at the border was either very helpful or scamming us.
Apparently we were missing a receipt and $20 got us through the border without it, only to be stopped again by soldiers who invited us in. Some food and vodka later we realised that this wasn't any sort of part of the border crossing but just some fun by curious guards and a Colonel, we thanked them and headed through the border.
From here there is about 20 km of no-man's land to the Kyrgyzstan, but the road was an extraordinary pass during the day and just simply crazy to drive down at night. We were both tired and passed by some rocks on the road before Josh slammed on the brakes! The road was washed away in front of us. The roaring river had eaten away our road. We looked at each other, at the black night, at the road that wasn't there, shrugged and went to bed. Deal with it in the morning.
Another River Crossing
The raging river turned out to be wide creek as we stretched and woke up, eyes wide at the snow covered mountains that surround us. See what you miss when you drive at night! A massive flat plain, with a crawling, wide, split river spilling through it surrounded by snowcapped mountains in all directions made golden by the new morning.
A quick look and the stones on the road appeared to be a warning and detour to a low dirt track through the river and onto the other side. The ride was a little rough but we headed on. But a grumbling growling noise from beneath the car slowed and stopped us from travelling further. We had power, we had gears, no overheating, but this huge noise coming from underneath.
I crawled under to have a look and noticed that the last crossing had taken its toll and they large steel bar that stretched under the car, holding the gearbox up and protecting it had been bent severely and moved back until it vibrated against the muffler. The Mexicans had told us that Osh had some great mechanics and we noisily drove to the border where sleepy guards let us through without any fuss at all.
Osh – Kyrgyzstan
Osh is a large sprawling town which is famous for its amazing markets. But we needed help and stopped at the first garage we came to where a very friendly local, Almaz, translated my hand signals and took us to a mechanics for a little damage repair. 4 children were working on various car engines and parts, the oldest about 16 and the youngest maybe 10. These guys were the mechanics!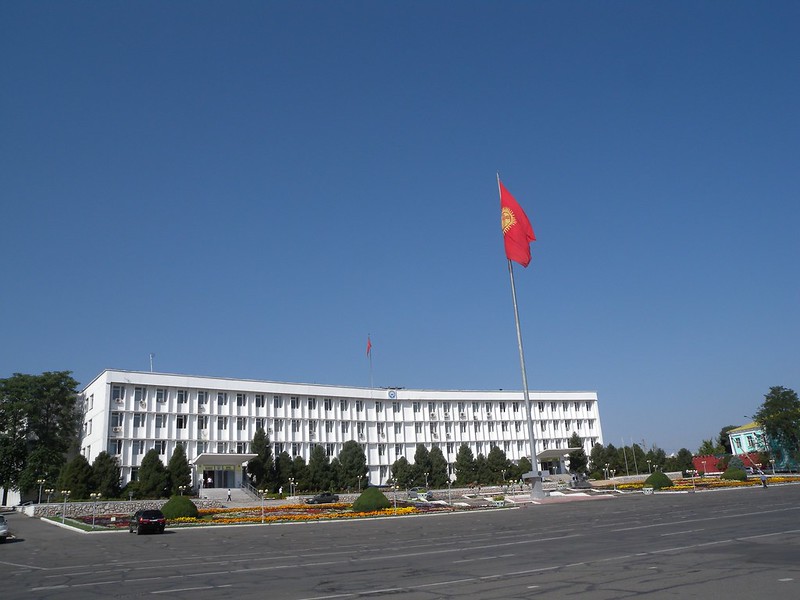 Getting the Ambulance fixed
After a quick trip over the pit we agreed on the damage and the boys pulled it all apart and fixed the problem. I took a 15 pound sledge to the rear bumper and we had opening doors again. The kids spent about an hour on the damaged beam and the accelerator cable and charged us $4.
Unbelievable and after some petrol and a big thanks to Almaz (I am Muslim and you're happiness is thanks enough) we were off into those famous markets for some food and a wander. We travelled some more along the roads before pulling up for some dinner.
About a dozen people turned up and welcomed us, with Mohamed inviting us to his house for some supper. He and his family looked after us, feeding us watermelon, tea and bread with the best jam ever. Ever! No English but a warmth which crosses any borders we talked and laughed. Mostly by sign language. They offered but we couldn't stay and we drove another hour into the night. We were once again stopped by police at a checkpoint "Hello!" "Par Russki?" "Nyet Russki…" "Goodbye"…
At some time in the night was woken by a man crying so hard it was breaking my heart, being consoled by friends by this out of the way place in the middle of nowhere. I went to see if I could help, but before I could get to him some others turned up and they all left us in the dark.
Coming across a Car Accident on the way to Bishkek
Now the next bit is pretty difficult and I won't go into too much detail. We travelled through some amazing countryside here, beautiful turquoise lakes, dammed between mountains, with some amazing roads to suit.
We did come across a crashed truck a few minutes after it happened, Josh helped him out and away we went after realising he was fine and had called someone.
The Accident
About 12:30 I noticed about 50 people milling by the road and slowed to see what was happening, only to be called over and pulled up. A man had lost control of his car and had been thrown from the wreck. They thought we were a real ambulance. I tried to explain but couldn't get to them.
Calling for Josh I ran down to help. They were just staring at this bleeding, screaming man in the dirt. We did what we could, using all our blankets and towels as bandages. There was. So. Much. Blood. He had a massive head wound, severe lacerations to his arms and upper body, a possible fractured arm and internal injuries, spitting blood and crying at us.
I kept repeating to myself that I didn't know what I was doing, and did what I could while Josh got all I asked of him. At least we did something. They carried him to the ambulance and explained a town was 10km down the road.
His girlfriend turned up and pleaded for us to help him. I am not a paramedic. Josh drove well and the longest hour of my life was almost over. I don't really remember much but trying to keep pressure on his head wound and his girlfriend's eyes pleading for me to help him and save him, his passenger (who had his seatbelt on, was in and out of consciousness, another girl praying.
The Aftermath
I kept him awake. We finally found a checkpoint and an armed guard and I screamed for him to help before he took us to a doctor. The man was then taken away by a real ambulance. I didn't know whether to cry or throw up. It took me 3 hours to clean the ambulance of blood, and myself. We threw almost everything away. I shook Josh's hand and thanked him. I will probably never know if the man survived.
We once again found the soldier who helped and he offered us tea and bread, he could see we were both in shock and kept us there for an hour or so before exchanging numbers and saying goodbye. We drove in silence for a while before helping an American team with some petrol. They heard our story and saw our faces. We travelled with them to Bishkek, down a 30 mile descent on the other side of a long tunnel. We met some other teams and hunted down a place to sleep, I wanted a beer but was too tired and crashed. I didn't dream that night.
Mongolian Rally – Kyrgyzstan to Russia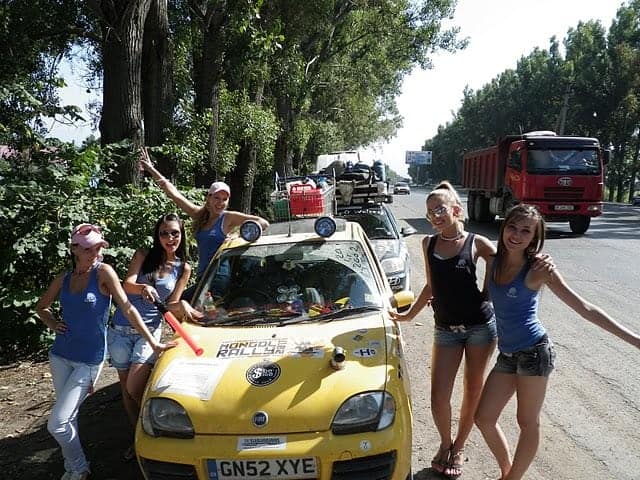 "If" is a funny word… If we hadn't have stopped for lunch, If we had stopped for a swim, If we hadn't have seen the truck crash. What if we didn't stop for dinner the night before.
If, if, if. All things turned out well though and after our drama we met up with a couple of great teams of guys and basically spent the rest of our trip with them. Conversations about rules and laws in our "Mongvoy" cracked us up…but rule one is we never talk about the mongvoy…um….apparently rule 2 is too.
We woke up the next morning and spent half the day just doing…well nothing really. A Kiwi/ Aussie team in a tiny, little Fiat were having problems so we just all sat around, getting to know each other. Imagine this: A beautiful, big, unknown city to explore and we sat in a car park, being chased by the sun and playing cards. It was a great morning, but the decision was made and we had to dump the boys and head towards the Kazakhstan border.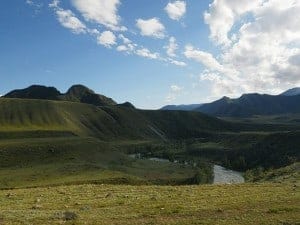 Now up to now we have had absolutely no problems with the police or military. Actually quite the opposite: they have been extremely curious and absolutely hospitable to us at all times. We had had so many warnings about them and had made it so far thinking that people had given us the wrong information.
Kazakhstan Border
Until now: about a kilometer from the border is a stop sign. Just one. Sitting on a straight piece of road. No crossing. Nothing there. Just a stop sign. I was driving and thought it was a warning for the border.
Until the whistle blew and we were called over to a large, uniformed, mustached gentleman sitting by the side of the road in a rather large important looking police building. "Why you not stop?" were his first words. This was going to be interesting.
He had also pulled over one of the other drivers from the convoy. He then explained to us that we should have stopped and the fine was $100 USD. Each. Or he would take our licenses. I got the idea that this wasn't how things got done and started to explain that we hadn't seen the stop sign as it was covered by a bus.
The Bribe
"In Australia you stop at sign?" Ooh he was a clever one. So we took a different tactics. "This money is for charity, for children, and you want to take it?" He asked us to "speak normal". But dropped the price to $50 for both.
I knew we had him then and we hit him hard. I asked to borrow his pen, carefully writing down his badge number and then asked him for his name. "You just want a bribe, you bastard…" Surprised he wrote it down.
I then explained I would pay him the $40, that the fee had come down to, but would be in touch with the embassy explaining what had happened and asked for a receipt. While the other people in the office laughed our mustached friend said "Go!" and we grabbed our gear and money and drove onto the border, also laughing.
This was the first major city border crossing we had come to and it was huge. So many people and cars pushing, shoving, jostling for position, pleading, weeping, trying to get through to the other side. We actually played leap frog with the cars, using them to let each other into the traffic and to make sure nobody pushed in.
After the fast and efficient Kyrgyzstan border officials let us through we were on a bridge across a river of no-mans land with hundreds of people all pushing towards the Kazakhstan gates. At one point men with balaclavas and guns pushed the people to the side, scary, threatening and surreal, while the cars squeezed through the throng.
Almaty – Kazakhstan
We even had to hold our mirrors back to get through. The people seemed to be used to it, though they still tried. The rest was fairly easy and we were off into the Kazakhstan desert on the way to Almaty where we found an old Soviet style hotel in our price range and dropped off our gear. Massive halls filled these floors, while small rooms and smaller showers made up the spaces. Steak was on our minds and we found a good steakhouse and had the best meal of the trip to that point, with a couple of beers of course, served to us by a very beautiful girl! What a day.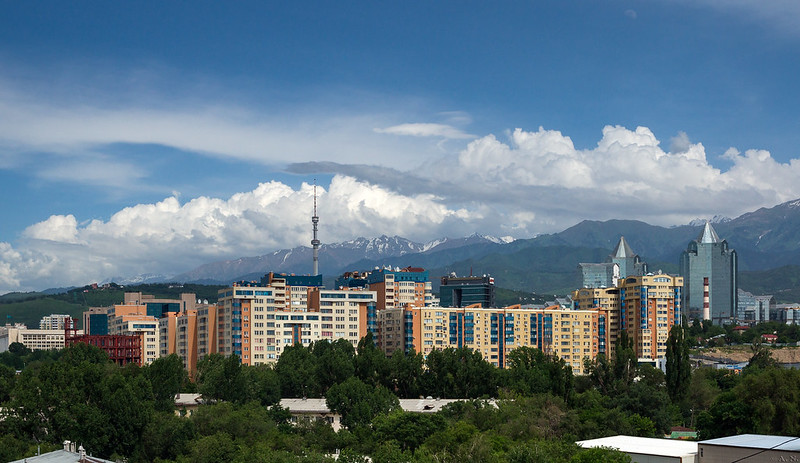 Big Bear Energy drinks…apparently they had samples?
Sleeping with the ghosts of communism we hit our beds, the Kiwi/ Aussie team caught up with us during the night.
Searching for a Maccas
Now a big thing on this part of the trip was that the boys had heard rumours that there was a Micky D's in Almaty…we were all very excited. What we found was a McBurger joint across the road from our hotel. Not McDonald's but McBurgers. Oh I laughed.
Funnily enough it was really a good meal and we all enjoyed the little break. From here we drove a long a dusty drive in Kazakhstan and let me tell you there really isn't much there. The only remarkable thing was that the Fiat team were stopped by the police, but fast thinking, they used the same trick we had the day before and took down there details, the police let them go! We found a great camp and watched satellites and shooting stars look down at us.
Argos – Kazakhstan
There just isn't much in Kazakhstan. The people are extremely friendly and helpful, but there is just endless roads of nothing to see. We ended up in a town called Argos. A depressing ruined city of grays and browns. The only bright note here were the people, who came out to see the weird and wonderful cars and people from so far away.
A few men came over asking us for drugs and money, I just pointed at his friends golden teeth and motioned for him to rip them out. "Plenty of money there…" They all cracked up!
Shopping
We stocked up on food while talking to a local young girl. Her English was great and she spoke to us of her people and town. Argos is situated about 150 km from where the Russians used to explode nuclear weapons. Ryan quipped in a Russian accent "T'is lucky you came in the summer… the winter…it's a little depressing…"
The city looked as though it had been part of some sort of experiment and we all agreed to head on another hour 'til we found a good camp. Another night of satellites and stars and we slept not knowing whether the grounds may be safe or not.
The next morning a farmer saw us and came over to greet us with his friendly dogs. He had lost both of his legs in a motorcycle accident, but still found his way onto a horse and looked after his flock. Very friendly and warming though it caused me to wonder if there was a complete person in Kazakhstan. Most people seemed to be without something: Feet, legs, fingers and hands, teeth and other body parts seemed to go missing.
Semey – Kazakhstan
The next morning we drove through to Semey, a surprisingly modern and lively city with modern conveniences and truly nice people. We stopped at a café and ate way too much before finding a hotel around the corner.
A nice young man came over to us, explaining he was studying in London, and would help us if we needed a guide for the day. After a much needed shower we hit the Semey streets looking for a night out before being shown a place that looked something like a wedding chapel.
Big Night Out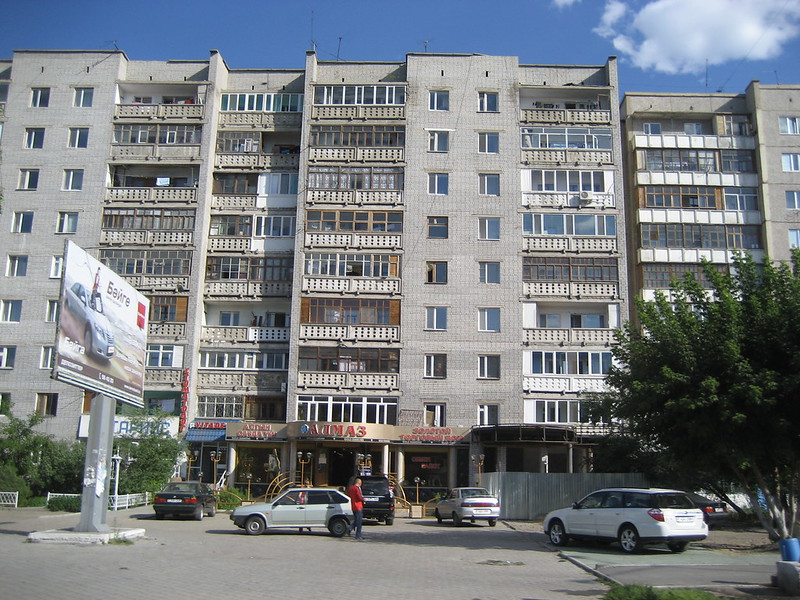 We had a great night of dancing and drinking cheap vodka before the boys got into a little trouble with the manager. Apparently one of them was dancing with the boss's girlfriend and he wasn't happy. I told them all to leave.
My thinking is that ten drunken guys is a bit aggressive and could be read wrong by anyone, causing more problems. But one guy trying to pay is what they want. The boys all grudgingly left and I fixed up the bill, knowing full well I was in a bit of a hairy spot. But my stupid big smile and wad of cash got me outside. The boys had all been hiding in trees and behind cars waiting for me! I explained my theory and we went home and crashed for the night. But not for me…the combination of too much and too much cheap vodka had caused my stomach to turn to water… you can imagine the rest.
Funnily enough I had just been saying the day before that I hadn't been sick on the trip. It was a long night and I wasn't the only one…
The next morning we gingerly packed up and headed for the Russian border. There were a few little stops by the side of the road as we needed to clear our, let's say, heads, on several occasions.
Russian Border
The Russian border was fairly straight forward except that when the lady asked Josh and I for our passports, Josh doubled over clutching his stomach and pleaded "toilet", causing both of the serious faced border police to crack up and point.
The young lady continued to laugh and couldn't at all keep a straight face through the entire 15 minute process. This wasn't helped by her partner dropping comments, and she almost had it together when Josh turned back up, a look of serenity on his face, and she cracked up again, stamping us through and letting us go. We were in Russia!!
Borders are a funny thing. They are there for a reason and I get that. But we had been through some good and bad borders. And the only reason I say bad is because of the time it had taken. There had been no real hassles, even the Turkemen lady and her obsessive need for crisp new US bills, wasn't that tough. Just time consuming. And we only had one more to go!!
Barnaul – Russia
The first town in Russia was not a good advertisement for the country, a bleak, grey, broken industrial town, looking like something from the end of the world. But this all opened up into some beautiful fields and plains and great scenery. Massive combine harvesters weaving through fields in herds of up to 12, criss-crossing as they worked to complete their work to get home, and continuing into the night.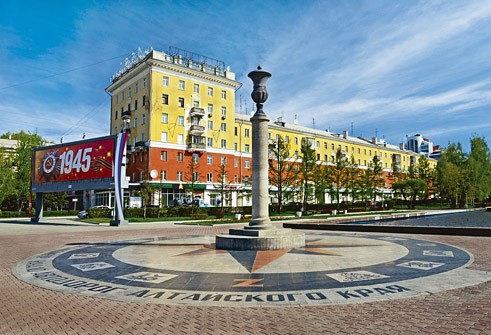 We were having problems with the fiat again and ended up towing it into Barnaul, getting there after dark. A crazy drive for Craig in the much smaller car as he studied the back of the ambulance for signs of the road to come from about 10 feet. We arrived in Barnaul around 9pm, tired and hungry, got some petrol and found our way into the city, looking for a hotel.
Finding a Subway
What we found was subway! And foot-longs all round. And it tasted like…Subway! So nice to have the familiar after such a long drive! The extremely helpful, English speaking attendant helped us amazingly and could show pretty much every other Subway staff member I have ever met how to treat people.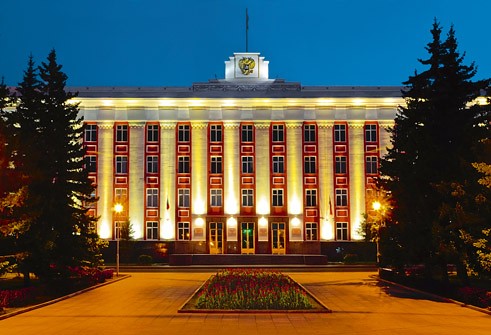 We savored our midnight meal and made our way out to find a hotel. But this was proving extremely difficult as most of the hotels seemed full. After consulting a local Madame, yes, you know what I mean, and getting directions in Russian, we headed for a hotel.
Unfortunately the policeman we consulted, who loved my phone, couldn't help us and we ended up just driving out of town a bit, crossing a bridge (with Ford signs on it) and setting up camp in a field. As we pulled in the ambulance engine died and the Fiat didn't do so well either. But tired we slept to the sounds of the rumbling trucks.
Getting the cars fixed
The next morning was a fight with the ambulance and Fiat to get them started. One of the new team mates, Connor, is an absolute legend and by the end of the trip had fixed every car at least three times. We managed to get the Ambo limping towards town and looked for the Ford dealership, finding it with the help of some very helpful locals and the police.
Now I have had some problems with Ford Australia, and the major Ford dealership in Newcastle, but let me tell you the Russians have them beat. Completely. We found the dealership and I walked in, grubby as usual, and asked a simple question to the curious eyes. "I don't suppose anyone speaks English?" Laughter rolled past me, and the ice was broken.
Within a few minutes I had met the mechanic and he was under the hood. Another few minutes and I had a hot tea, and was using the internet, another few minutes and a random blonde girl who spoke English was called in on her day off to help,
And the Dealer manager was chatting away happily to me about the trip and where I was from. The customer service was extraordinary and they fixed the car and gave me spares within 3 hours. Of course, with Josh asleep in the back! All for $120 AUD. In Newcastle they would have kept my car a week and charged an arm and a leg! Thanks to Ford Russia for looking after us!
Biysk – Russia
Back on the road we drove to the town of Biysk, this thriving metropolis was probably the most boring town in the whole of Russia. We just wanted a bar and a meal and could only find a supermarket which sold beer on tap. Just bring your own bottle. 50 cents a liter. Love it. But we wandered around and couldn't find anything to do.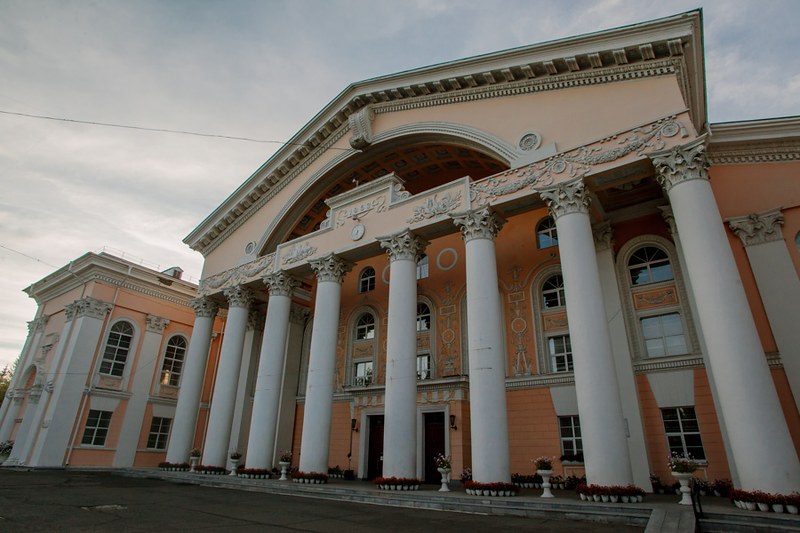 The hotel the guys found was hosting a wedding and we chatted a while with the wedding photographer, Sergei. Of course. Very nice guy and offered to send me the photos of the ambulance he had taken. I didn't have the heart to tell him that I had already taken hundreds. Bring it on.
The next day we drove through some of the most amazing countryside we had seen, and surprisingly, Siberia was incredible to view in the summer. Beautiful pined mountains, drifting down to frothy, fast, rivers, excellent holiday spots and Port Macquarie like landscapes. We were all stunned at how little we knew of Siberia, thinking it would be a desolate, frozen landscape and finding a place any of us could stay for summer holidays!
We came across Russian canoeists, another car accident (no ambulance needed this time), perfect camping spots, and finally the Mongolian border. Unfortunately the border is closed on weekends and some teams had been there since Friday night. We met up with about 15 or so teams and swapped stories and cooked up a big feed. It was so cold that the food was cooling as we ate it and we decided to climb into the Ambo for a beer and chat. The temperature dropped to -6 that night and believe me we felt it!
Bukhara Turkmenistan and onto Uzbekistan
For sheer WTF value Turkmenistan is off the charts! The border should have been a warning for us. 5 hours through here for what was essentially a big show with no real substance. I changed some money into the local currency and the mono-browed angry, clenched woman behind the desk wouldn't accept any of my US dollars if they were even slightly torn or worn.
This should have set sirens going off for all of us. We caught up with some other teams and the border guards lumped us all together demanding $65 each to get in and over $100 for the car. Most of the actual guards were friendly enough but the woman at the bank apparently also took all payments and we had to go through all of our combined cash to find enough money to pay for it all in nice, new, crisp, clean, ironed, fresh off the press, American notes. With cries of "Mister Mister" and a tap on the wrist for time she went through each note, discarding those she didn't like. "Why are you being such a bitch?" I asked conversationally just to see how much English she knew. But no reaction and no stepping down from the creased broken money. After what seemed ages we finally pieced together the fee and were allowed into the country. Next time IM in Turkmenistan Im going to give her back the cash she gives me saying "No Good."
We are the first people ever to be allowed into Turkmenistan without a guide, ever, and we were only allowed to do this by giving a map of where we were going and promising to stick with the plan. The $1000 fine helped us keep to the plan. With a sigh we drove towards Ashgabat past a massive valley and recent truck crash, a car carrier spraying cars across a rocky field and into Ashgabat. You have to see this place to believe it. Huge marble structures, amazing parklands, gold and silver, perfect roads, lights and colour, and street ninjas. Yep, street ninjas. Small, agile, covered people, with slits to see from their multi-coloured outfits are constantly on guard to clean anything that gets dirty. They are so fast and so good that they can clean up before you make it dirty. The roads are so clean constantly polished that it sounds like a 70's tv show car chase just pulling away at the lights and parking the car. Police are also every 500 meters to watch for mess, yell at you not to take photos, and fine you if your car is dirty. About 4 years ago the President there decided to design a massive showcase city, and wasn't terribly worried about the cost. The streets get closed down when he wants to go for a drive. I mean, he is the president. Even the market exchange office wouldn't take anything but perfect money, but we managed to get some dinner and also found some other teams in an expensive English style Pub.
Here we met Erash (like a Turkmen Hugh Heffner, he knew everybody and they knew him) and he helped us with accommodation and after 2 hours a locksmith finally got us into our accommodation and we drank good cheap vodka and talked before sleeping in this crazy, fairytale, lego city.
Erash was a great guide. He helped me changed my wads of Iranian money, took us to breakfast, petrol and sent us on our way north and into the desert. We couldn't get any ice in Ashgabat but about 200 km north in the middle of nowhere was a small kid with a fridge and we bought ice from him. Go figure. We also stopped at an "oasis" town on the way. No palm trees just camels and grayed, sun-bleached wood, a sea of plastic bottles and a bunch of cute kids posing for photos. The town would be a good set for a Mad Max movie. With Camels. We were heading for the fire crater. Apparently in the 60's, Russian gas exploration had found a small deposit of gas in the deserts out here. Thinking it would burn out in a few weeks and not worth their while, they set fire to it. 40 years later it's still burning. We found the turn off for the crater, a sandy, steep road into the desert foothills and Josh managed to get the ambulance up and he and Erron disappeared into the desert. The rest of us got a lift, 10 people in a hilux 4wd, with our gear, was very close. There may have been inappropriate touching. Unfortunate but couldn't be helped.
But then we saw the crater: 80 meters across and 40 deep, roughly circular and burning like the gates to hell. Its hard not to throw in references to the devil when you see this thing. The heat can be felt from about 20 meters away, and you can crisp your eyebrows looking into the pit. Its hard to believe its real. This massive, burning, glorious, scarily beautiful mistake. Everyone stared and listened to its angry rumble, hypnotized by its dancing beauty. Staring into the pit flames leap from the ground and just burn. The orange glow giving everything an eerily horror movie feel.
We sat down to a great dinner and vodka, chatting to Lukasz and a Russian submariner, explaining our journey and laughing and listening to some great stories and dodging the odd desert spider and slept under a sky filled with tiny reflections of the crater not 200 meters away.
The next morning we said our goodbyes and headed north through the changing scenery: from desert to greener lands, with interesting houses and historical mosques. A great lunch with the school bus team and we hit the Uzbekistan border. 5 hours. Friendly but thorough, all our gear removed from the car and checked, but we have nothing to hide and we finally got through. On our way to Qiva we met a few other teams and they were struggling to find their way: so we mongvoyed to Qiva. The roads were unbelievably bad and without our help they wouldn't have managed to find entry into this beautiful walled city. The other teams went and stayed at some locals house and we found them under house arrest the next morning. The law says you must stay at a registered hotel. Hope they got out!
We wandered around this beautiful sandstone and mud city admiring its warm beauty before heading further east. Our trusty compass guiding us along the worst roads in the history of roads. I don't think they could have been worse if we drove through the desert itself. At one stage, while passing through a town, we noticed about 20 cars all over the road, driving erratically, passing each other and giving money from car to car while at speed. We found ourselves in the middle of it all and laughingly gave and received money from the passing motorists. Oncoming traffic pulled to the side to let the crazy wedding party through, waving and cheering. A little further on we found an awesome Indiana Jones bridge across a raging river. We had to stop and a bus load of locals stopped and laughed at the crazy westerners playing on the old bridge. "Hold on Lady, we going for a ride!" Couldn't get the theme song out of my head all day. We found a great spot in the desert and cooked up a storm before sleeping.
The next morning found us with tire problems and we needed to get it fixed. We kept filling it with air and it kept going down. On the way to Bukhara it was easily 40 degrees plus, and we stopped and picked up some hitchhikers in the desert. At one stage we had 6 people in the back! At one tire filling stop we pulled out a couple of Frisbees and showed them how to use it. For 25 minutes we played like children on the side of the road. If you bring out toys, people will play. We couldn't speak to each other but we all enjoyed playing in the desert.
Bukhara is a beautiful mix of the new and the old. This trip has shown us that everything can be fixed and shouldn't be thrown away. We live in such a disposable society, but here everything can be reused and nothing says this more so than an umbrella mechanic. Down the steps into a dark cellar, he works on broken umbrellas of all types and price and puts them back together. I have never before seen an umbrella mechanic. After some hamburgers and ice-cream we headed into the old city and walked amongst the original Silk Road markets. Surrounded by trinkets, carpets, gold and history we gazed at ancient mosques and modern local art. We met some more teams and swapped stories before heading for Samarkand. We found a great hostel and went and had a final dinner and beer with Errin, Luke and Warwick. The gold teeth lady admonishing us, with a glint in her eye, for our filthy feet and clothes, but laughing out loud through gold teeth when I told her how beautiful she was. She tried to marry us off to her daughters before chasing us out with a promise to return for lunch the next day. Goodbye to the boys and we actually slept in a bed that night!
Samarkand is the beautiful ancient hub of the Silk Road, vibrant and rich with foods and people from all over. We went to the massive twin mosques at the parks centre and watched the rehearsal for what must have been the independence day parade. 100's of kids and soldiers all marching, singing and dancing. What a show. After a great breaky and good chat with some of the other teams at the hostel we hit the road and headed for the border. Unfortunately the easy and close eastern border was closed and we had to reroute ourselves over 200km to the south and back up. A long dusty drive through curious checkpoint after checkpoint. No problems just wanted to chat! Our first scary moment came when an unmarked car pulled up next to us at night, police flashing there red torch telling us to pull over. Stories of bribes and corrupt police running through my head I smiled and greeted them telling them where we were heading. One of the officers jumped in and my unease grew but they soon set us at ease explaining they knew a short cut to the border and took us straight to the border!. We had dinner and vodka with them and explained our story to the colonel and his men, and some taxi drivers, before sleeping there for the night (again looked after by soldiers!).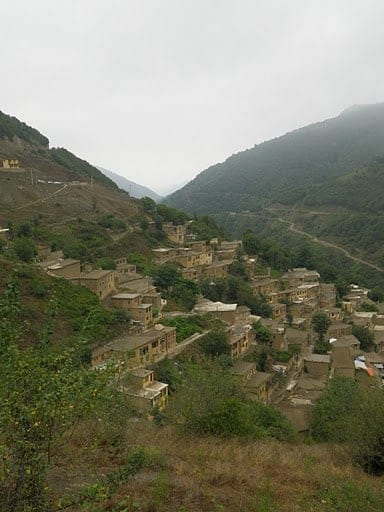 Next came the Iranian Border: and it was very easy. A Turkish gentleman who just likes to help and practices his language skills by getting travellers through the border made the ordeal through the Iranian border a breeze.
A cursory check of the vehicle by bored officials and then into the Persian side where I was greeted with "What are you wearing!" by one of the guards. Apparently my boardies just wouldn't do. A quick change and a friendly smile all round and the soldiers were all happy and off we went into Iran. Again High Fives as we passed the broken teeth of watch towers disappearing over distant mountains covering an imaginary line.
OMG…the Iranians have towns and cars…who would have thought?
My first impression of Iran was of dust and dirt, brown and hot. The first town was alive with people, shopping and gawking at our unusual presence. Now Iran does not take our credit cards, which would have been great to know before I filled up. After a crazy and funny bout of sign language we paid in US$ and shaking hands were on our way. Ramadan is the Muslim festival where the locals don't eat til the sun goes down. We were starving, but had to wait til after 9pm and had the best kebabs with rice. Now remember all those stories about travellers being hassled incessantly about local customs and laws? It's just not true. The Persian people are extremely understanding about foreigners and will just let you know if you have done something wrong. No arrests. No stoning. The large, angry looking, gentleman at the next table quietly said something to me as I tiredly ate my meal with my left hand. A bit of a no no as this is the hand they use to clean themselves with. I simply apologised and thanked him; he smiled and waved as he left. No cops or anything. We slept in the cool of the mountains that night.
I love the cash exchange in Iran: after visiting several banks we finally found one that would help, thanks to a gentleman in one bank we were able to get in to meet the big guy in another bank. $150 US got us 1.5 Million of the local money. Nice. There was mention of getting naked and throwing it around, maybe rolling around in it a bit. Never happened. That's my story. The scenery was changing as well: massive mountains like sleeping beast, breaking into valleys with cool lush green splashes. A long low mountain chased beside us, covered in a thick veil of moving cloud along the peaks. We followed a road that quickly turned into a track that quickly turned into a mountain goat trail and followed it up past blackened hills, scarred by running creeks, into the mist. Up and up we went towards the cloud and finally drove past gaping valleys beside the road and into the cloud itself! The temperature dropped and so did the visibility, dodging sheep, goats and cows we drove through the thickening white. Some nice people flagged us down near the top for photos and a gift of watermelon. Apparently a nose job is a status symbol and the young lady had some bandages on her nose, some people even fake the nose job. But I think you would be able to tell.
Like a magician removing the magic cloth, the clouds parted and we were in the beautiful mist-forests of NW Iran. Amazingly lush and green, misty rain, cool and refreshing. We sat and had a good lunch by the side of the road as we waved at the locals driving by. We followed the suicidal road through to Mesuleh, a very well known stepped town, high in the mountains. This place is built into the side of the hills and many of the houses have common walls, roves and floors. One man's roof is another man's patio. With all features of a town, it even had a small waterfall running through it. Apparently the government in Iran started to make knitted dolls in a bid to combat the increasing yearning by children for Barbie dolls. The knitted dolls come in all colours with different outfits. They didn't catch on for some reason.
As we drove from the mountains the temperature noticeably increased and we decided to finally sleep by the side of the road. Big Mistake as the trucks drove past and beeped all night! We woke up early and headed through the mechanics town of Saveh, where everyone seemed to be fixing cars. All manner of auto mechanic littered the streets and we managed to get some oil from a friendly local. On through a 50 degree day we travelled the highway and managed to get some nice fresh cold water. Then 2 minutes later the engine threw a spark plug and we hobbled back to a service station where the guys there helped by calling a tow truck for us. The guy that came through couldn't find the right size spark plug and basically rebuilt the old one. And for basically nothing. We thanked him and were again on our way. But, Boom! Again it went and I hiked the 5 km back to the service station where again our friend was called and towed us back to Saveh.
So our helpful tow truck driver got us onto a quest to find some parts for the Ambulance, but this seemed a massive chore to find anything remotely American in Iran. He mentioned that in Tehran we may find the part, but this was 200 km away and a long tow. The Spark plugs he had just wouldn't fit, but then a look came over his face and he ducked off for a minute. When he got back he was beaming and took me across to a metal machinist workshop where they proceed to machine the base of the old spark plug to fit the smaller one, and with a little arc welding it was done. A work of art! And it did indeed work a treat. For about $4. Unbelievable. He gave us his number and instructions for what to get in Tehran. We couldn't thank them enough and off we went to Tehran.
Tehran is hectic. A massive sprawling, moving, living, breathing creature of a million moving parts. Driving there is kind of like road Russian roulette. One-way streets filled with lumbering, coughing, stuttering trucks and buses, pestered by swarms of small bikes darting about, flitting in and out of the traffic of various cars, Peugeot and Renault and local cars including the extremely versatile blue ute, a ballet, a dance of synchronised chaos. Hundreds of moving items including pedestrian moving as one if you look close enough, looking for the smallest opening to dart in and make a few inches. Then the stores: you can literally buy anything in Tehran. And it's very much up to date with western technology. In our cities we have suburbs, but it seems that in Tehran you have areas built around specific items. The shoe district, the electronics district, the food district, the car part district. And all new! We found ourselves a shifty car park and good hotel with wifi and slept to the rhythm of the traffic.
The next morning I was on a mission to fix the Ambo: I met up with a lovely Malaysian lady who was a little scared to walk through the city by herself. A strict Muslim area she told me that her daughter had been hassled by some local youths the night before. But some older man had come to their rescue and chased the youths off. I needed to get some money to pay for repairs and took all of my cash with me as Wendy and I walked the 30 minutes to the exchange back. Past endless rows off stores of all kinds I noticed that she was very much the centre of attention amongst the men in the city as they looked her up and down without subtlety. Every guy. Every single one.
At the bank I changed my money for 52 million of the local! So much money considering our hotel only cost 400000. But I had no idea how much repairs would cost. I found the Bosch spark plug store but they didn't have my part. The young guy there took me into mechanics heaven to find the one guy in Iran who sold ford parts. 4 stories of twisting turning stores, hot and greasy, with parts galore. I believe you could start from scratch in this place and build a car. Mr Rezi spent all afternoon helping me install the spar plugs, gave us a spare set and some other parts, helped me give the car a minor service and all for $20. He is such an amazing person and we found this to be the case of all Iranians. Careful, caring and giving. Even the hotel manager extended our checkout more than 4 or 5 times to after 530 pm so we could get the car fixed.
From here we decided to head north west towards the Turkmenistan border as the 50 degree days int he south may not have been good for the Ambo. Tehran gave way to beautiful soaring peaks and mountains and a cool, misty valley drive past the tallest peak in the Middle East.
On waking we travelled through cloudy flat plains on a circuitous route through the north west and actually had some rain. A torrent fell from the sky in the desert farmlands and we passed surprised locals who just drove up in car loads to the rivers and simply stared at the swollen, flooding waters splashing through what we assume were simple creeks. A wrong turn or two later and we found a small dusty town at the end of a road where dozens of kids and adults came out to greet us. I honestly believe that the idea of using an ambulance is a bit of a joke by the organisers of the rally. Most of the travel books and information tell you to be discreet as western travellers in the lands. But people love us and cant get enough of us. Gifts of food were overwhelming and the people in Persia are some of the best people I have met. Most of the religious taboos I have been told about were not as strictly enforced as we were told, and most of the time we had nothing at all said to us. And an ambulance in the middle east is like tattooing a smiley face across your ass. Nobody knows why its there, those who see it will talk about it and tell their friends for ages, its a novelty and a good icebreaker. Shaking hands, smiling, broken English, "hello I love you".
Past millions of tracks from a million hoofs over a million years that lace the dusty mountainside in browns and greys we met up with some Aussie boys and camped for the night.
The long drive to the Turkemen border came with supplies and petrol and we left Iran as we entered it: through dusty browns and yellows, though it wasn't quite as hot.