Must Do
Lanzarote was subjected to one of the modern world's longest ever volcanic eruptions.  Which went on for six years from 1730 – totally transforming around one quarter of the island's total surface area.  Wiping out villages and farmland and replacing them with lava fields and the spent peaks of 300 volcanoes. This entire region, which measures about 200km square, was declared a National Park in the 1970´s and is the most popular visitor attraction on Lanzarote.  Welcoming around one million visitors every year.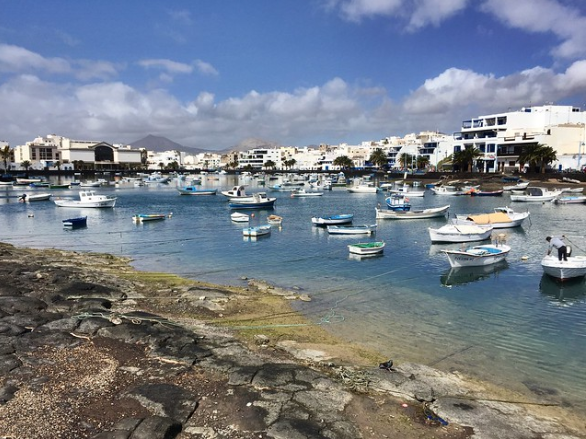 The eruptions have created the most surreal scenery – which is often likened to the surface of the moon.  Indeed the landscapes here are so out of this world that Apollo 13 astronauts were shown pictures of the region before making their own lunar landings.  Whilst also providing a dramatic backdrop for numerous major motion pictures.  Most recently Broken Embraces, the latest release from Spanish director Pedro Almódovar.
The Timanfaya National Park is open daily from 10.00 to 18.00 and admission costs €8 per adult and 4 per child.
What do you like best about Lanzarote?
 The climate and weather in Lanzarote is fantastic all year round.  Which means that even during the winter you can enjoy days on the beach or follow any number of outdoor pursuits.  Unlike say the UK where you spend many months of the year cooped up indoors.  This also helps to make Lanzarote a year round holiday destination.
I also like the small scale of the island – it measures just 60km by 40km.  Which means that you can live in the middle of nowhere and still be only 15 minutes from the holiday resorts or the island capital.  This also makes it very easy for visitors to explore Lanzarote´s many attractions.
Best Restaurants in Lanzarote
 There are literally thousands of restaurants on Lanzarote.  Many serving high quality international cuisine or modern interpretations of classic Canarian dishes.
However for me you can't beat eating right by the sea – and there are some fantastic spots where you can enjoy a bite right on the beach, at very cheap prices.
Head for El Chiringuito – the tiny kiosk restaurant that overlooks the unspoilt beach of Playa de Garita at Arrieta in the north of the island.  They turn out great value tapas from their cramped kitchen, play cool music and serve up a giant communal tapas every weekend lunchtime.
Best Places to Stay in Lanzarote
There a a large number of great resorts in Lazarote. I have added a few and there are links for more details and customer reviews on TripAdvisor.
Best Walk in Lanzarote
There are some really fantastic walks on the island.  Visitors can enjoy a supervised stroll through the Timanfaya National Park and walk along the coastline all the way from the capital of Arrecife to the main resort of Puerto del Carmen.  The most atmospheric spots though can be found in and around Haria in the Valley of 1000 Palms.  Where you can stroll for hours through a huge oasis of swaying Canarian palm trees.
Best Festival
 Carnival is the biggest and most colourful event on the island and takes place every February.  Whilst it doesn't quite match the scale of Rio it still brings locals and tourists alike together in a week long riot of dance and music.  With some fantastically colourful and inventive costumes on show.
Best Escape/Day Trip
 Lanzarote may be laid back but the tiny neighbouring island of La Graciosa is horizontal by comparison.  There are no roads here and a population of just 600 people.  Along with some of the most beautiful beaches in the whole of the Canarian archipelago. Ferries run regularly to La Graciosa from the small port of Orzola in the north of the island.
Something Not Many Tourists Would Know About Lanzarote
 One of Lanzarote´s best kept secrets is El Bosquecillo – the small wood – which is located on the rugged North West coastline.  It isn't signposted and doesn't appear on many maps – so very few tourists get to see it.  But on an island which is largely devoid of trees this spot comes as a real surprise and offers some fantastic views too.
To find out more about holidays to Lanzarote visit the Lanzarote Guidebook website – where you can download a free copy of their latest guidebook.