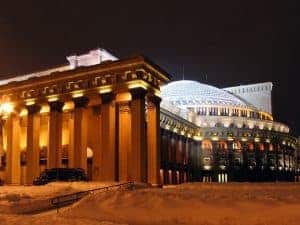 Must do
The main focal point of the city is the Opera and Ballet Theatre, right on Lenin Square, in the Centre of the City. Not only are the shows presented there world-quality, but the building itself is a work of art.
What do you like best about your city?
The lack of foreigners. This is pure, old-fashioned Russia, still clear of foreign influences except for whatever comes through MTV. Not sure how the locals feel about it, but for me, it's a great way to see the real Russia.
Best Walk in Novosibirsk
Grove Park, on Prospiekt Dzerzhinskogo. The park is 2 square kilometers of clean, crisp forest, cut all the way throughout by nice paths meant to be explored on foot. I may be a little biased here, since I live right across the street from the park, but the many people exploring the park every evening seem to agree with me. Benches are spread throughout, so you can take frequent breaks and just enjoy the greenery. In the wintertime, when everything is covered by snow, the paths are used for snowshoeing and cross-country skiing.
Best Restaurants in Novosibirsk
For the best combination of eateries in the city, head out to Mega, a shopping complex centered around the newly-opened Ikea. Surrounding an indoor ice skating ring, you'll find dozens of small booths selling everything from local blini (pancakes) or pelmeni (meat ravioli) to Western classics such as Subway, Sbarro and Planet Sushi.
Best Music/Festival
Live music during summer evenings on the walkboard against the River Ob. Sometimes followed by fireworks or live shows (such as fire juggling or dance teams).
Best Nightlife
Depends on what you're looking for. New York Times, a diner that turns into a music hall at night, is a great place to enjoy live music and mingle with the locals.
Best Day Trip Out of the City
One of the negative things about being in Siberia is that you are literally– smacked-down in the middle of nowhere. You could probably drive out of the city and see some nature or explore a small village, but mostly you need several hours to reach anywhere worth visiting. The closest you can get to a day trip is the neighboring town of Akademgorodok, with a nice botanical garden, a small man-made beach and an interesting outdoor train museum.
Something that not many tourists would know about Novosibirsk
That you're expected to haggle when shopping at the outdoor markets. This goes for everything you're buying: from food to clothing to household stuff.
If you are interested in this article you maybe interested in my article about The Trans Siberian Railway or Things to do in Moscow