This article is from the Travelodium archive and was first published in 2010
On my first day in Okinawa, my friend and I had signed up for a bus tour of the Northern part of the Okinawa mainland The tour stopped at Ryukyu Mura, Cape Manzamo, Okashi Goten (a sweets shop), Ocean Expo Park, and Pineapple Park. We also got a handy English audio guide with our reservation.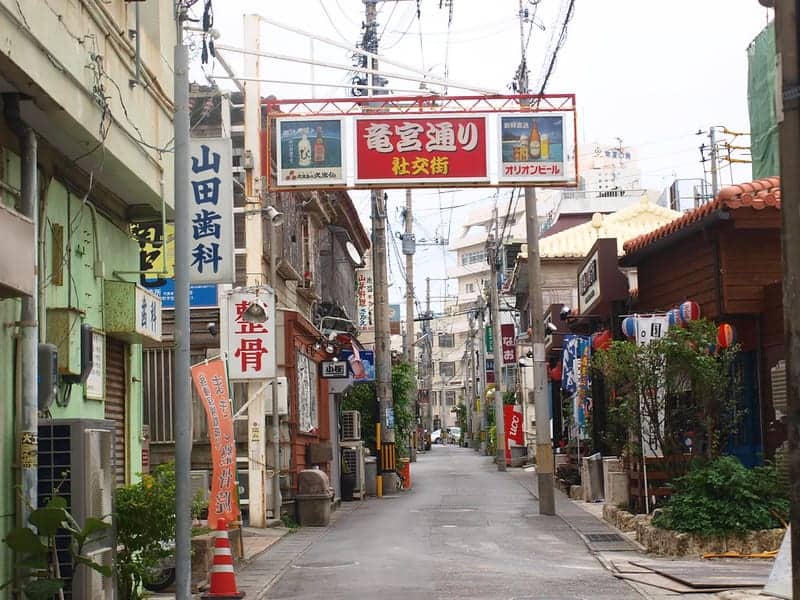 Naha
We drove down Kokusai Dori, one of Naha's famous shopping streets (and unfortunately only time we saw it), past the American Village and military bases on the way to our first stop: Ryukyu Mura. This is a recreation of a traditional Okinawan village. Apparently they brought in old Ryukyuan homes from all over Okinawa and reassembled them in this village to preserve the Ryukyu Kingdom's history. It's really cool to see and looks like nothing else in Japan. There's a habu snake show (skipped that), parade, traditional costumes to rent, a ceramic crafts classroom, and here they even make brown sugar the traditional way at the Sugar House with a water buffalo.
It's quite a nice place to stroll around and it's really neat seeing all the traditional architecture and crafts while listening to the Okinawan music playing throughout the village, and I loved the direction statues they had scattered around the park. They looked like little elves with their pink skin, red hair, and pointy ears. I wonder how the park came up with this because I doubt this is what the native people of the Ryukyu Kingdom looked like.
Cultural Perfomances
My favorite thing about this village was the stage performances. It should have been a parade, but it was a rainy morning so they moved everything indoors.  After walking around and exploring the village, I went back to the entrance area where there was a small theater.  I caught the very end of a folk dance that had the crowd participating and also saw a drum performance called Eisa.
After our first stop at Ryukyu Mura we went to two beautiful places along the coast: in Onna Village: Cape Manzamo and Okashi Goten.  ~~~ By the sea, by the sea, by the beautiful sea. You and me, you and me, oh how happy we'll be! ~~~
Cape Manzamo
Our bus drove all along the coast and through the windows on the left, we had a wonderful view of the East China Sea… the sea! It was RIGHT THERE. I'm sure the epic winds outside contributed to all the beautiful waves crashing into the coast. We only had 20 minutes at Cape Manzamo. This is a naturally scenic spot that is supposed to resemble an elephant's trunk. The bus stopped at the place where tour buses are supposed to park and I literally WHOOSHED off the bus. I'm glad I wore my cap to hold my hair down, but I had to clip it to my hair and hold onto my scarf.
The winds were epic at this cape and the waves crazy wild. I love the sounds of crashing waves! Our tour guide told us that the water wasn't a pretty color because of the weather, however I found it quite lovely! Though comparing my pictures to those I've found online on sunny days, I can see why she'd say that. We took the path that went on a loop past the elephant's trunk and up a little hill, through some weird gray sponge rocks and palm trees, and to an overlook of this bay area with what I call the wannabe Wedded Rocks from Ise City in Mie Prefecture.
The wind pushed me all the way to the souvenir stand area, which had tarps up to protect it from the wind. I would've loved to look, but the shopkeepers insisted on yelling IRASHYAIMASE at me and lingering around me every time I tried to look at something, so I gave up. There was not enough time to shop anyway.
Okashi Goten
A quick bus ride away was our lunch stop: Okashi Goten This place is a famous Okinawan sweets shop, especially known for its beni imo (purple sweet potato) sweets. They literally look like a potato! The design of the shop branch we went to in Onna Village was designed to resemble Shuri Castle. The inside was full of color and naturally, lots of purples. But before shopping, LUNCH TIME!!!
Lunch
My friend and I selected the vegetarian lunch. I will eat some meat and seafood, but I am extremely picky with this and did not want any surprise squid. Our tour group had the prime seats along the window with the most spectacular view of the East China Sea. I could've just sat there all day staring at it.
My lunch had a few dishes and it looked so pretty: rice, tofu topped with umi budo (an Okinawan seaweed, aka sea grapes), stir fry (tasty), veggie thingies, black slippery thingy, and a goya with tofu dish. Goya is a bitter melon, particularly popular in Okinawa.
This food is OH MY GOSH bitter beyond words. I took a bite and could not eat anymore. Even the tofu that was cooked with it was infused with the bitterness. My friend ate this dish for me. I don't know why or how she managed to do it, but she did. With such a beautiful view and good traditional foods, this was probably the best lunch I've ever had in Japan.
After lunch we had some time to shop. I loved this shop so much because of all the beautiful colors. It felt so tropical and exotic to me. There was also a viewing window where you could watch the process of their famous beni imo sweets being made. And along with all the sweets, the shop had all the typical souvenirs as well (key chains and statues and glass and things).
They had shiisa gummy sweets that would be too cute to eat, cookies, cakes… I'm glad they had some individually wrapped items so I could get myself a couple things without buying bigger boxes. I just wanted one! The boxes are for GIFTS.
Ocean Expo Park
I was kinda sad to leave my breathtaking view seat and the wonderfully purple sweets shop, but more Northern Okinawa adventures await! Next up on the tour: Ocean Expo Park and Pineapple Park.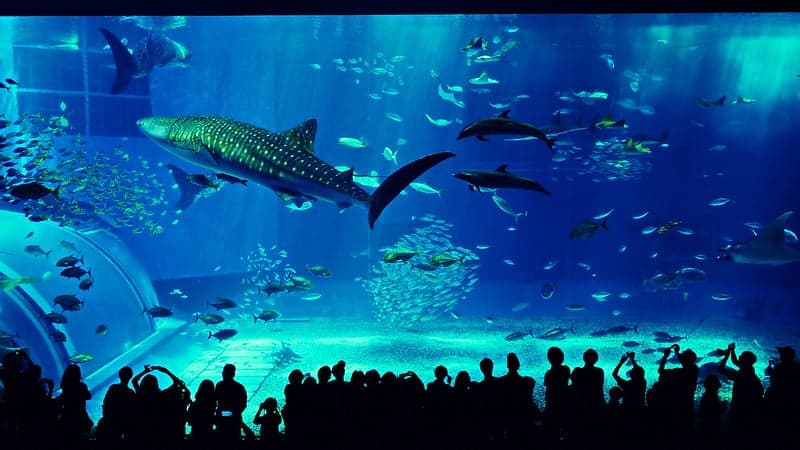 Churaumi Aquarium
I love fish so I was very excited to go to Ocean Expo Park, the home of Okinawa's Churaumi Aquarium. But before getting to the aquarium, we had to walk through a dreamland of flowers. I had absolutely no idea this would happen when I booked my trip, but we arrived at the park in time for its annual flower festival. Rainbow colors of flowers everywhere, and sea creature sculptures! It was so beautiful, even with the gloomy sky. All the creatures were so happy too!
I had to go down a giant, windy escalator to get to the aquarium entrance. Inside at the first exhibit was this interactive pool where you could pick up all the starfish and other little thingies in the water. The water was salty and I made the mistake of using my right hand, which had some scratches on my wrist from an accident…. so, OWIE. Churaumi Aquarium is home to some big fish, and some beautiful bright pink fish too. I loved the pink fish! Never seen anything like it.
Some of the tanks were recreated to match the seas of Okinawa and there's one that is HUGE with a big viewing area, complete with seating and stairs and ramps. It's like a maze trying to get out. Our tour gave us two hours at the park, which wasn't nearly enough. I had time only for the flower event, a dash through the aquarium, and some quick shopping at the gift shop. I missed the park's green house and dolphin show and Emerald Beach and other goodies.

After the aquarium, the bus drove down a sakura-lined road through Nago City. This was so incredibly beautiful! I could not properly capture it on camera, unfortunately, but I shall always remember the journey down that winding road lined with bright pink cherry blossom trees.
Pineapple Park
Next was what I was most excited for… the Pineapple Park. I couldn't wait to ride the pineapple car, but guess what I didn't get to do? Ride the pineapple car. Maybe it's for the best since it was covered with a clear tarp due to the rainy weather that day. Tarps are annoying. Our tour group was ushered inside the park where a park guide told us about the park. Over my head it all went, since it was all in Japanese, but I enjoyed listening to the nearby pineapple car's jingle and taking in the scent of freshly growing pineapple.
Then we were taken into the gift shop right away and given a giant shopping bag. The first shop was a pineapple wine shop complete with samples, and then we went into the sweet shop. I really liked the wine cake with its chunks of pineapple. I started tossing things into my shopping bag, mostly for gifts. The next shop over was a produce shop, and then the everything gift shop where I found my adorable pineapple plushy. Once shopping was complete, I happily wandered over to the bus and got in my seat where I examined the day's souvenir loot. I got some good stuff, but most importantly some great memories.