One of Singapore's oldest residential estates, Tiong Bahru is known for its trendy cafes and bookstores. Some of the most popular cafes in the district are Tiong Bahru Bakery and BooksActually. Other attractions in the area include a local park and a traditional food market. Many of the buildings are built in Streamline Modern style, which is characterized by long, clean lines and curved structures.
History of Tiong Bahru
Nestled within the heart of Singapore, Tiong Bahru is a charming neighborhood that weaves together the past and present, creating a captivating tapestry of heritage and modernity. As one of the oldest housing estates in the city-state, Tiong Bahru's history spans over several decades, leaving an indelible mark on its cultural landscape. Let's take a historical journey through the evolution of Tiong Bahru with a timeline of significant events.
1930s – A Visionary Beginning:
1930s: Tiong Bahru's story begins in the 1930s when the Singapore Improvement Trust (SIT) envisioned creating a modern housing estate to cater to the growing population and alleviate overcrowding in the city centre.
1940s – Art Deco Flourishes:
1940s: The development of Tiong Bahru took shape, with the construction of distinctive Art Deco-style apartment blocks and low-rise flats. These structures showcased streamlined designs, rounded balconies, and colorful mosaic tiles, setting the architectural tone of the neighborhood.
1950s – Vibrant Community:
1950s: Tiong Bahru's community flourished, and the neighborhood became a vibrant melting pot of different cultures, including Chinese, Malay, and Indian residents. The community spirit thrived through local businesses, markets, and communal spaces.
1960s – Evolving Urban Landscape:
1960s: As Singapore underwent urban development, Tiong Bahru experienced changes to accommodate the city's progress. The neighborhood saw improvements in infrastructure, utilities, and amenities to support its growing population.
1970s – Sustaining Tradition:
1970s: Despite modernisation, Tiong Bahru continued to preserve its cultural heritage and traditions. Iconic hawker centers, coffee shops, and local businesses became the heart of the community, serving as gathering spots for residents.
2000s – Resurgence and Revival:
2000s: Tiong Bahru experienced a revival as the younger generation rediscovered the neighborhood's unique charm. The area became popular among artists, creatives, and hipsters, giving rise to trendy cafes, boutiques, and art galleries.
Present – A Tapestry of Old and New:
Present Day: Tiong Bahru stands as a harmonious blend of old-world charm and modern sophistication. The historic Art Deco buildings coexist with contemporary structures, creating a picturesque streetscape.
Heritage Conservation and Community Engagement:
Preservation Efforts: Tiong Bahru's historical significance and architectural beauty led to conservation efforts by the government and the community to safeguard its unique identity.
Heritage Trails: Tiong Bahru Heritage Trail was established to guide visitors through the neighborhood's storied past, showcasing its rich history and landmarks.
Community Spirit and Connection:
Community Initiatives: The residents of Tiong Bahru take pride in their neighborhood, organizing events, markets, and activities that foster a sense of community and camaraderie.
Cultural Festivals: The neighborhood celebrates various cultural festivals, adding to its vibrant ambiance and promoting inclusivity.
Tiong Bahru's history is a testimony to its enduring legacy, where the essence of the past intertwines seamlessly with the pulse of the present. As a beloved neighborhood that continues to captivate both locals and visitors, Tiong Bahru remains a living testament to the timeless allure of Singapore's heritage and culture.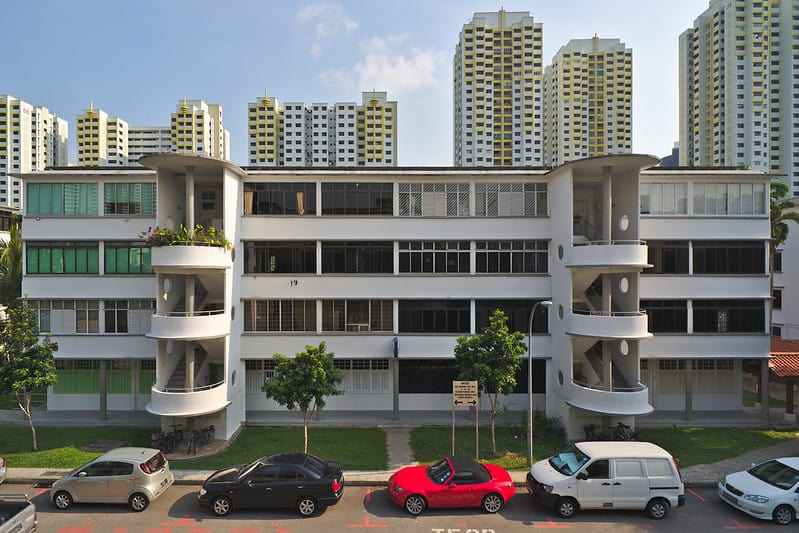 Must See
The neighbourhood is dotted with cute shops that cater to tourists of all ages. You can find gifts at Cats Socrates, Nana & Bird, Tumbleweed, and Toy Or Game. In addition to cute stores and boutiques, you can spend time in Tiong Bahru Park, which is a popular spot for locals to exercise. The park also features two walking trails and exercise stations, as well as a large train that is the center of attention.
The neighborhood's murals are an interesting way to learn about the past. A number of artists have created murals depicting bygone days, speaking to the people who lived in these buildings. You can view a few of these murals at the National Heritage Board, where you can obtain a free map. If you want to learn more about the history of the neighborhood, take a walking tour.
You can also find a great selection of art galleries in the neighbourhood. Whether you're looking for modern art or ancient works, you'll be able to find a gallery that fits your style. A great way to discover the different artworks of the neighborhood is to take a heritage trail. You can also visit the Degiosart museum. This is a popular art gallery that features works by renowned international artists. It has a wide range of art for sale, and is a good place to learn about the local culture.
The Housing Development Blocks are the ideal place to visit for a romantic evening stroll. The area has several parks and green spaces to enjoy. Despite being a residential area, Tiong Bahru offers several other attractions as well. The town's architecture is very diverse, so you can take a walk and take in the sights in this neighbourhood. You will be surprised by the range of art available in the neighbourhood.
Eating in Tiong Bahru
I've been to Singapore a number of times now and generally  stay in the same place each time and invariably end up at Newton Circus to eat or a couple other places that I know.
A couple of weeks ago I read an article about the Tiong Bahru Market and thought I'd give it a try.
So I hop onto the MRT to discover a new area of Singapore that I'd never been to before.
As I emerge from the MRT station I looked up at the high rise apartment blocks and think this looks like normal Singapore but after a short walk I start to see the 1920/30's  heritage of the district in some of the the architecture that has not been developed as yet.
Tiong Bahru was built by the government housing authority in the 1930's and was used to house rich men's mistresses. Mmmm.
The area has an art-deco feel and not surprisingly is now the centre of the Singapore hipster movement although there wasn't a beard to be seen.
Hotels in Tiong Bahru
Grand Copthorne Waterfront Hotel
Located in the heart of the business district, the Grand Copthorne Waterfront Hotel in Singapore offers a prime location. The hotel is only a 10-minute drive from the Central Business District. The hotel offers complimentary shuttle service to and from the airport. With its 4.5-star rating, guests can expect exceptional service and amenities. The Grand Copthorne Waterfront Hotel in Tiong Bahru offers a variety of amenities and services to ensure your stay is an enjoyable one.
From a foodie's standpoint, the location of the Grand Copthorne Waterfront is unbeatable. The Tiong Bahru district boasts art deco buildings and futuristic solar-powered vertical gardens. A trip to this district also gives guests the chance to visit the world-renowned Singapore Zoo and a number of beaches. The hotel is easily accessible by public transport, with nearby Outram Park MRT station an 18-minute walk away. The next-door Tiong Bahru MRT station, however, is more than 20 minutes away. Havelock MRT station is expected to be open in late 2022.
Furama RiverFront
If you want to spend your days doing something fun and interesting, you must check out Furama RiverFront in Singapore. The hotel is located in the heart of Singapore, near the cosmopolitan Chinatown, and is close to the Central Business District and the National Gallery. If you have a car, you can easily get to this hotel using major expressways. You can also easily access the hotel via Tiong Bahru MRT station or Outram MRT station, or take a taxi.
The hotel features a swimming pool and tennis court. Guests can also use the complimentary wireless Internet and cable television in their rooms. The hotel offers comfortable lounge areas. The Majestic and the Singapore River are located nearby. There is also a shopping mall and a movie theater located nearby. The hotel also offers free Wi-Fi and refrigerators. You can easily go to Furama RiverFront via public transport.
Hotel Miramar Singapore
The Hotel Miramar is a 4-star luxury hotel in Singapore located at 401 Havelock Road, near the bustling Robertson Quay. This upscale contemporary hotel is located near several shopping malls and the popular Chinatown, making it an ideal choice for business travelers and vacationers. In addition to the spacious rooms, the hotel has a fitness center, spa, and business center, so its guests can keep up with work and other activities while away from the office.
This boutique hotel is just a 5-minute walk from nightlife. Its modern rooms feature elegant decor and come equipped with cable TV, mini-fridges, and en-suite bathrooms. Guests can dine at the Ikoi Japanese Restaurant, which offers an all-you-can-eat Japanese buffet, as well as the Fern Tree Cafe, which serves a complimentary continental breakfast daily. Peach Garden Sichuan Restaurant serves authentic Sichuan dishes.
Hotel Nostalgia
The Nostalgia Hotel is a 50-room boutique hotel in Singapore's Tiong Bahru district. Guests will love the tasteful decor and free Wi-Fi in every room. The hotel offers daily housekeeping and laundry service, as well as free safety deposit boxes. The Nostalgia prohibits smoking inside its rooms to promote healthier air quality for all guests.
The hotel is a great base from which to explore the Singapore River and Sentosa Island. It's a short walk to the nearby Tiong Bahru MRT Station. You can walk from this boutique hotel to the Tiong Bahru MRT station. If you want to spend a day exploring the neighbourhood, you can explore the many shops and restaurants. The rooftop pool has a lovely view of the trees and the surrounding area.
Copthorne King's Hotel Singapore on Havelock Road
The hotel's prestigious location also makes it convenient for travelers to enjoy the nightlife at nearby Robertson Quay. The hotel offers complimentary Wi-Fi in all rooms, a fitness center, and valet parking. Other amenities at this property include an outdoor pool and an exercise room.
Located a bit outside of the city center, the Copthorne King's Hotel Singapore features free WiFi and an outdoor landscaped swimming pool. Guests can enjoy an in-house restaurant as well as free WiFi access.
Guests can enjoy a delicious breakfast at the hotel's restaurant. The Connections Lounge offers a relaxing environment to enjoy cocktails and meet friends. The property is located a few minutes' walk from Robertson Quay and the Singapore River. Guests can also enjoy a day at the beach. Alternatively, guests can spend the afternoon shopping and visiting the nearby Orchard Road.
Things to do in Tiong Bahru
If you are looking for fun things to do in Singapore, you should visit Tiong Bahru, one of the country's oldest residential areas. This district is home to many trendy cafes and book stores, such as Tiong Bahru Bakery, a popular pastry shop. You can also visit a traditional food market in this neighbourhood. Streamline Moderne architecture, popular in the 1930s, is prevalent throughout the area, with long, clean lines and curved structures.
Tiong Bahru Plaza
If you're looking for a shopping mall near Bukit Merah, Tiong Bahru Estate, and Jalan Membina, you'll definitely find it at Tiong Bahru Plaza. Located near Tiong Bahru Road and Bukit Ho Swee Crescent, this mall has everything you need to keep yourself busy. Whether you're after a designer boutique or just some nice clothes, you'll find exactly what you're looking for at Tiong Bahru Plaza.
This shopping mall has everything you could possibly want, including F&B and shopping. The mall features 167 retail and F&B outlets, as well as a cinema, a supermarket, and a food court. There's also a flea market at the first-floor open plaza, which hosts regular outdoor events. The mall also hosts weekly flea markets, which are sure to draw in a large crowd.
The Tiong Bahru Plaza is a busy, rectangular mall in the heart of Singapore. Most of the shops and eateries are mass-market, but there are some names that you can trust, including Hush Puppies, The Body Shop, and Popular Bookstore. The mall is a popular destination in the vicinity, and it's also home to many ATMs. A number of buses run through the mall, making it a great location for a day of shopping.
Tiong Bahru Heritage Trail
The new Tiong Bahru Heritage Trail offers visitors a taste of the neighbourhood's past, present, and future, and is an excellent way to explore the neighbourhood's rich history. You can follow the 2.5-kilometre trail, which begins at the Tiong Bahru Market and ends at Lim Liak Road, to learn about the neighbourhood's rich heritage. Each of the trail's stops is marked by storyboards, which tell the history of the area.
If you love hawker culture, you can try out some of the stalls on the Tiong Bahru Heritage Trail. You'll find the highest concentration of heritage hawkers in the city, with at least 15 stalls having been around for more than 50 years. You'll also find a historic marker commemorating the Hu Lu Miao temple, which was built around 1918 and eventually demolished. In 2006, the owners decided to sell the temple, and it was replaced by the Nostalgia Hotel.
The earliest housing estate in Singapore, Tiong Bahru is a fusion of old and new. Older residents have lived here for decades, while younger generations have flocked to Tiong Bahru to discover the city's rich history and heritage. In the 19th century, the lowlands of Tiong Bahru were used for crop farming. In the 1930s, a military fortification was constructed on Pearl's Hill.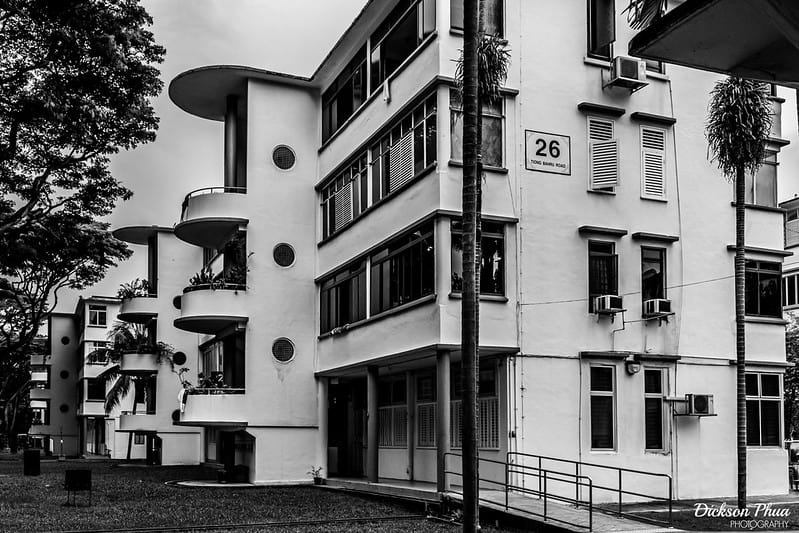 Tiong Bahru Food Centre
If you're looking for a quick lunch or dinner, then you can visit Tiong Bahru Food Centre. It serves more than 50 kinds of food and has several popular stalls, including the famous Fried Kway Teow. It's a good option for people who are on a budget and looking for familiar flavours. It is also a good place to try tutu kueh. Tiong Bahru Fishball, for example, is famous for its coloured rolls of fish paste. Wantons, beancurd puffs, and more can be ordered at the same stall.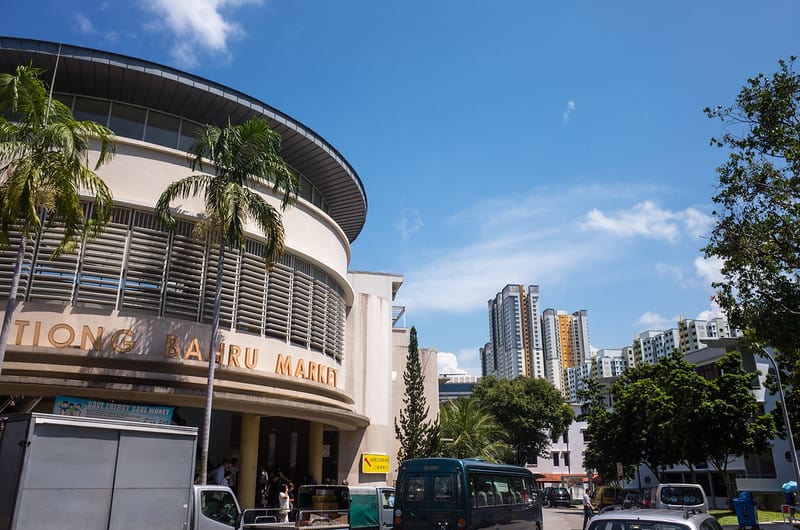 Another popular hawker stall is Tiong Bahru Pau, where you can find a variety of steamed and fried snacks. The stall sells about twenty different items, including fried and steamed ones. You can also get delicious egg tarts here, which are the best thing to eat while walking around Tiong Bahru. It is easy to walk to and is spacious.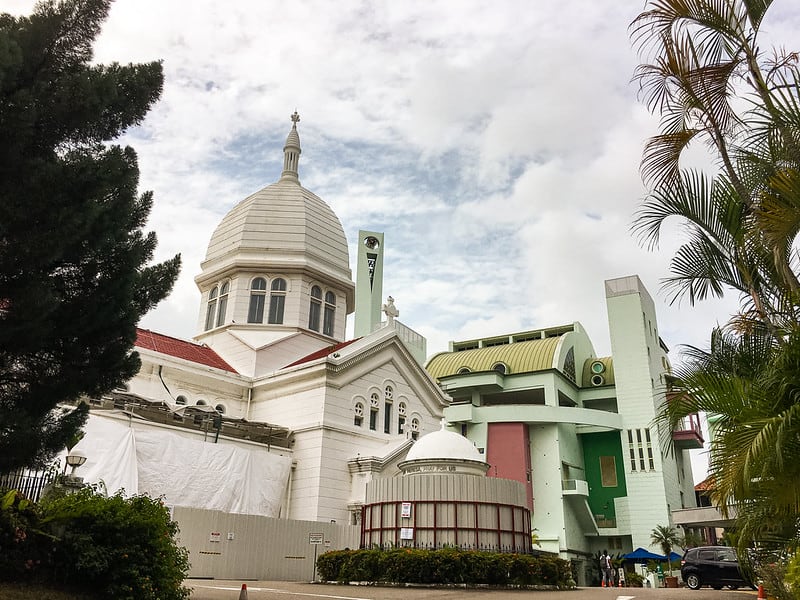 Tiong Bahru Market
After a short walk I come across my intended destination Tiong Bahru Market.
First I decide to pop into the Tiong Bahru Club diagonally opposite the market for a drink and wi-fi.
The club had an old world feeling to the place and they were playing 30's music when I walked in  ceiling fans circulating the air to provide a nice oasis from the humidity.
At lunchtime I decide to move across the road to the Tiong Bahru Market.
Visiting the local market is another way to discover the local art scene. The Tiong Bahru Market is home to a variety of different art stalls, including a Chinese restaurant that has a wall adorned with murals of famous Chinese artists. While there, you should also take a moment to check out the neighbourhood's murals. This place is a must-see for anyone who enjoys arts.
As I walk in I see dozens of hawkers stalls selling different types of Chinese/Singaporean/Malaysian Foods.
I wouldn't come to this market expecting to have an Indian meal the area seems predominately Chinese.
Most of what I can see I can get at home Kway Teoh, Chicken Rice etc but I see something I hadn't seen before Rice Cakes with a preserved radish and chilli sauce.
I sit at a table and strike up a conversation with a local girl Meiling. She tells me that the dish is called Chwee Kueh and is one of her favorites and a specialty of the market.
Funnily the next day on the plane I'm watching Anthony Bourdain eating exactly the same meal from the same stall on his show.
So I have the cakes and as you'll see from the photo they don't look appealing on the brown paper.
The cakes were quite gelatinous and the texture is not something that a lot of westerners will like but the sauce had flavour and was completely different to anything I'd had before.
I guess when you're predominately eating the one grain you try and find different ways to prepare it and the cakes make a great alternative to steamed rice.
I ended up spending a couple hours talking with Meiling and Audrey thanks for helping me and also it was great to speak to you both. Sorry, I might have spoilt your lunch with my oddball questions.
And I will endeavor to go to Taiwan soon.
It was great to hear about how you view Singapore and gave me a greater perspective on the country and the people.
Everywhere I've been in Singapore over these couple days everyone has been really friendly to me and I thank you for that.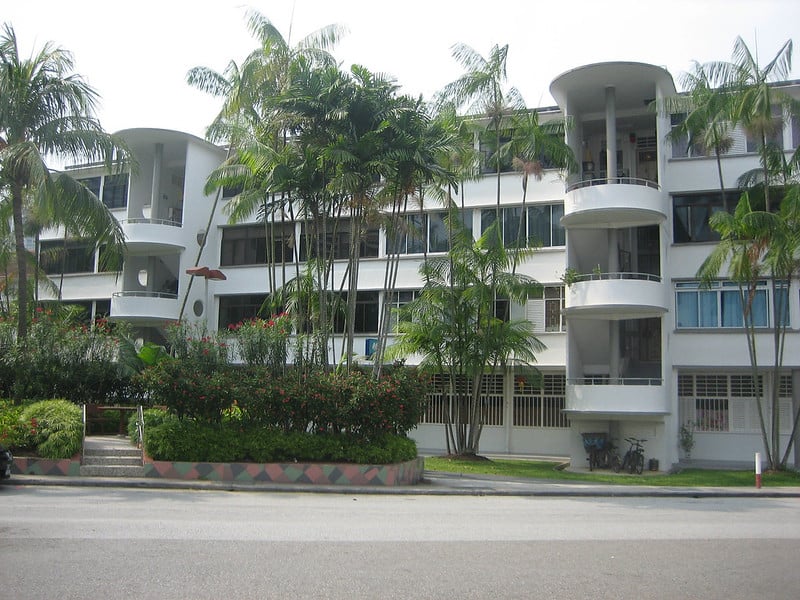 10 Interesting facts about Tiong Bahru
Art Deco Architecture: Tiong Bahru is famous for its well-preserved Art Deco architecture, making it one of the most visually distinctive neighborhoods in Singapore.
Oldest Public Housing Estate: Tiong Bahru is home to one of Singapore's oldest public housing estates, with some of the buildings dating back to the 1930s.
Hawker Culture: The neighborhood boasts a diverse range of hawker centers and food stalls, offering delicious local dishes like Hainanese chicken rice, char kway teow, and chwee kueh.
Bookstores and Cafes: Tiong Bahru is a haven for book lovers and café enthusiasts, with numerous indie bookstores and charming cafes that exude a cozy and artistic ambiance.
Street Art: Wander around the alleys and side streets of Tiong Bahru to discover colorful murals and street art, adding to the area's vibrant atmosphere.
Rich Heritage: The area's heritage is celebrated through the Tiong Bahru Heritage Trail, which takes visitors on a journey through the neighborhood's history and landmarks.
Upscale Boutiques and Galleries: In recent years, Tiong Bahru has become a hotspot for upscale boutiques, galleries, and artisanal shops, offering a mix of contemporary and traditional offerings.
Gentrification and Preservation: The neighborhood has undergone a careful process of gentrification while still preserving its original charm and historical significance.
Public Market: Tiong Bahru Market is a bustling and iconic food center that offers a wide variety of local delicacies, attracting both locals and tourists.
Community Spirit: Tiong Bahru is known for its strong community spirit, with residents organizing various events, markets, and activities that foster a sense of togetherness and camaraderie.