Must Do
Visit Santa Barbara Castle on the top of Mount Benacantil. You can drive up to the castle or walk, (only really recommended for the super fit or the insane in Alicante's summer heat!) but my favourite option is to take the lift accessed from opposite El Postiguet beach. It costs 2.40EU to make the 142m assent and the views from the top over Alicante and the surrounding areas are spectacular.
What do you like best about Alicante?
Alicante has the rare pleasure of being a city on the coast so offers the best of both worlds in terms of city culture and long sandy beaches. There isn't many places where you can shop or visit museums and then walk across the road to the beach!
Best Beaches in Alicante
Alicante is a coastal city in eastern Spain, and it is located on the Costa Blanca. The area is known for its beautiful beaches and warm climate, making it a popular destination for tourists and locals alike. Some of the best beaches in the Alicante area include Playa de San Juan, Playa de la Almadraba, Playa del Postiguet, and Playa de La Granadella. These beaches offer a range of activities and amenities, including swimming, sunbathing, and water sports. Additionally, many of the beaches in Alicante are well-maintained and have facilities such as toilets, showers, and lifeguards on duty. So, if you're planning a trip to Alicante, be sure to visit one of these beautiful beaches.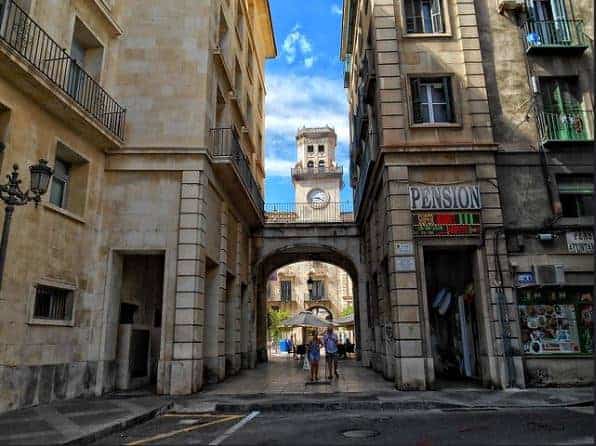 Best Walk in Alicante
For the best walk meander through the Old Quarter. It is know locally as El Barrio and is home to most of the city?s monuments, making it perfect for a daytime or evening exploration. I find something new each time but for those of you who prefer a more structured walk and further information, the tourist board organises free guided walks with information in English.
Best Restaurants in Alicante
The Old Quarter houses some of Alicante's best kept secrets in terms of cuisine if what you are looking for that Mediterranean flair. Sea bass cooked in sea salt, suckling pig and traditional paella are all a must.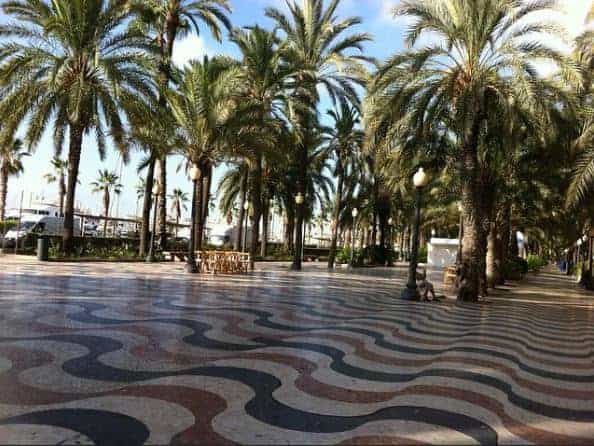 Accommodation in Alicante
This is a short list of hotels and guest houses available in Alicante. (H) denotes that the hotel is a historic building.
Top End
Casa Alberola, Curio Collection by Hilton, your coastal retreat in the heart of Alicante. It is beautifully set in a historic neo-classical building. Our exquisite architecture draws you in and back in time to the elegance of the 1920's. There are touches of velvet, intricate moldings and marble. (H)
Hospes Amerigo is an elegantly designed hotel is set in a 19th-century Dominican Convent in Alicante's old town, 300 m from Postiguet Beach. Hospes Amerigo is within 50 m of the cathedral and Alicante Town Hall. (H)
Melia Alicante is set between Alicante Harbor and Postiguet Beach, Meliá Alicante offers an outdoor pool and free WiFi throughout. All rooms feature a terrace, some with sea views. A kid's club is available in high season.
Mid Range
Hotel Maya is an excellent choice for travellers visiting Alicante, offering a family-friendly environment alongside many helpful amenities designed to enhance your stay.
Occidental, fully refurbished in 2020, is located directly in the city center near Rambla de Mendez Nunez, Esplanada de Espana, and the MARQ (archeological museum) – the perfect location to explore Alicante.
Budget /Backpacker Hostels
Set within 1.2 km of Postiguet and 700 m of Central Market, Hostal Numero Trece offers rooms with air conditioning and a shared bathroom in Alicante. Among the facilities at this property are a shared kitchen and a shared lounge, along with free WiFi throughout the property.
Offering air-conditioned rooms in the Alicante City Centre district of Alicante, Hola Hostel Alicante is 550 m from Postiguet. Among the facilities at this property are a shared kitchen and a shared lounge, along with free WiFi throughout the property.
The Market Hostel features air-conditioned accommodation and a shared lounge. Among the facilities at this property are a 24-hour front desk and a shared kitchen, along with free WiFi throughout the property.
In the summer the bandstand on the Explanada de Espa'a hosts a wide range of musical acts and impromptu performances. Alicante is also attracting more top international acts. Bryan Adams and UB40 were both in town in 2008 to mark the start of the Volvo Ocean Race.
Best Music/Festival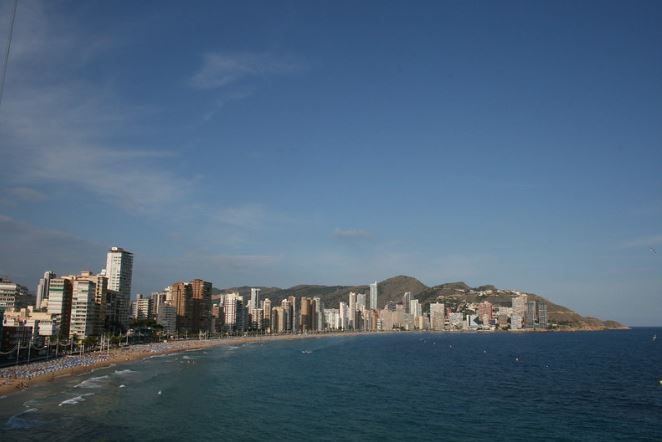 Best Nightlife in Alicante
The Port, on the Muelle de Levante Pier, is a newly built area of the marina. It's home to restaurants of all kinds and all manner of pubs and bars that stay open until the small hours of the morning. It is a great spot to gaze and marvel at the millionaire yachts and cruisers over a cocktail or two.
Best Day Trip Out of the Alicante
Escape the hustle and bustle for a full day's excursion across to neighboring Tabarca Island. There are a number of companies based in the harbour offering trips across to the Island. Ferry rides going every 20-30 minutes in the peak summer months costing around 15 euros for a return ticket.
It is a small and tranquil island perfect for snorkelling. The surrounding waters of the 2km long island were declared a national marine park in 1986.
Something that not many tourists would know about in Alicante
Alicante has its very own little Hollywood Hills the Ciudad de la Luz. These film studios just outside the city, perched on the hill still go relatively unnoticed. But are an emerging player in the world of film which is slowly starting to put Alicante on the movie map.
10 interesting facts about Alicante
Alicante is a city in eastern Spain, and it is the capital of the province of Alicante.
The city is located on the Costa Blanca, and it is known for its beautiful beaches and warm climate.
Alicante has a rich history, and it has been inhabited since ancient times. It was founded by the Moors in the 9th century, and it has been ruled by many different civilizations over the years.
The city is home to many important landmarks and cultural attractions, including the Santa Bárbara Castle and the Explanada de España, a promenade lined with palm trees and marble mosaics.
Alicante is known for its vibrant nightlife, with many bars, clubs, and restaurants in the city.
The city is also home to several museums, including the Museo de Belenes, which features an impressive collection of Nativity scenes from around the world.
Alicante is the birthplace of several famous people, including the painter Julio Romero de Torres and the composer Isaac Albéniz.
The city is located near several important natural areas, including the Sierra de Aitana mountain range and the Tabarca Island Nature Reserve.
Alicante is an important economic hub, with a thriving port and a growing tech industry.
The city is known for its delicious cuisine, with many local specialties including arroz a banda (a seafood and rice dish) and caldero (a fish stew).