It may come as a surprise to most people what it is actually like to live in Madrid. Most people not from here think it's just like the rest of Spain; completely relaxed, leisurely, and everybody has siestas at lunch. However, that is not the case and at peak times it can be as busy and bustling as London! Madrid is a hub of many cultures and welcoming of people of all different nationalities, leading many tourists to visit the Spanish capital for a ton of different reasons, whether it's the amazing seafood, the football obsession, or its dizzyingly huge parks with iconic monuments.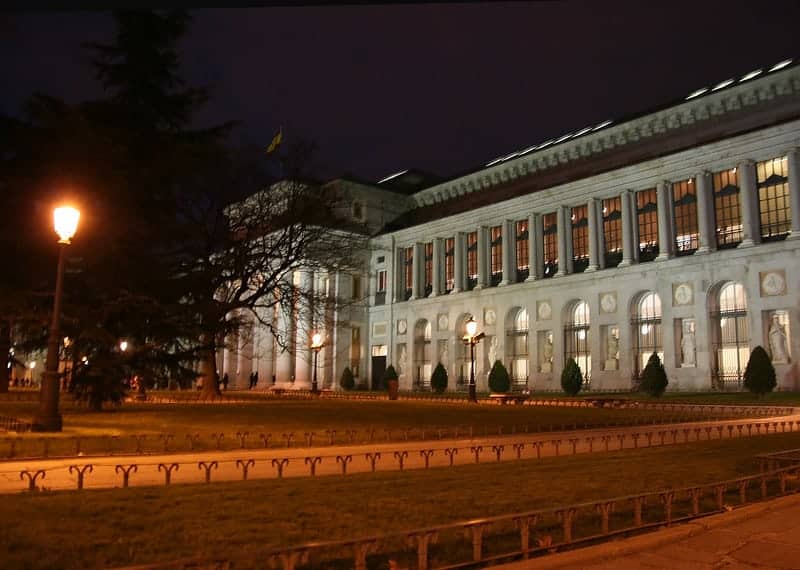 Must do
Madrid is a city of arts, and Madrid is proud to have The Prado Museum. The museum holds art pieces from between the 12th and 20th century. It is one of the largest museums in Spain and it holds one of the largest collections of art in the whole of Europe, with over 10,000 pieces in the collection.
Moving on to a more unusual collection of items, within La Latina, the popular El Rastro flea market is open on Sundays. You can find all sorts of peculiar and wonderful things in the market. It's outside and surrounded by other marvellous and unique antique stores, but get there early, as the markets don't stay open for very long.
Within walking distance of the flea market is the oldest restaurant in the world, Sobrino de Botin. Even if you don't go there to eat, the building is a spectacle in itself and there is even a model of the building in the window. In the year 2025, the restaurant will be 300 years old! The famous 18th century painter Francisco de Goya even worked there as a waiter when he was waiting to be accepted in to the Royal Academy of Fine Arts.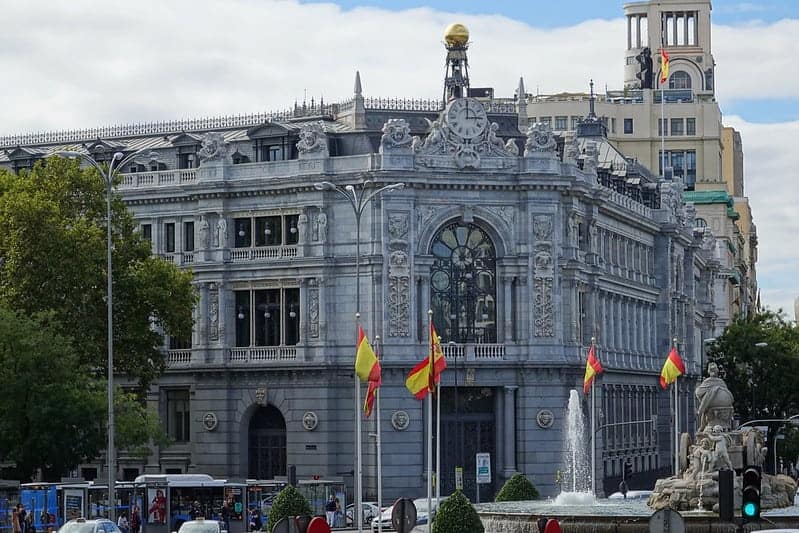 What do you like best about your city?
The people are some of the friendliest as the city is full of expats from many different countries, and everybody gets along so well because they are all here for the same reason with the same interests. As everybody here teaches and works at summer camps, it seems like everybody knows everybody despite Madrid having a population of over 6.6 million people. Though some people may not enjoy how over crowded the city is, it's music to your ears when you hear your native accent come from the next table. It doesn't matter where you're from, you'll always meet people from your native land and people who aren't will be interested to hear about where you're from. Madrid is a huge community of completely open minded travellers.
As the city is so over-crowded, most people's apartments are extremely small, though people don't complain because with Spanish culture, people are very rarely home. Despite popular belief, the Spanish are hard workers and the work almost every day, but once work is finished it's straight to a bar terrace until 1am. Drinking at terraces is such a huge culture in Spain that there are almost six thousand bars in Madrid alone.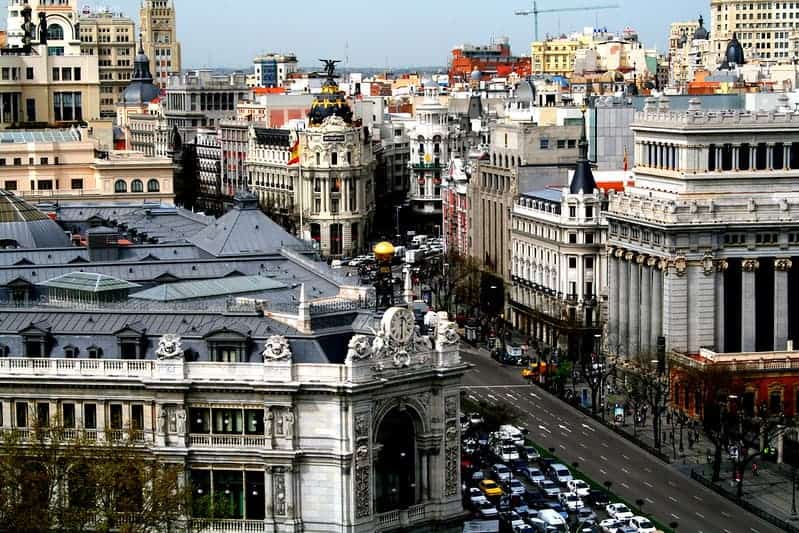 Best Walk in Madrid
If there's one thing Madrid is known for more than anything else, it's parks. You could put a giant roof over madrid and the place would be one giant park. There are number of famous parks all within walking distance of each other. The most well known of them all is Retiro. A park that has huge hedge mazes, a wide downhill pavement for of skaters and roller bladers, a tonne of fountains, and a massive lake where you can rent row boats in the summer. One fascinating thing Retiro is most famous for is its Fallen Angel monument. It stands exactly 666 meters above sea level and is the only monument in the world dedicated to the devil.
There are other beautiful walks such as Temple de Debod, located in the city centre, which is a sight to behold and the point where locals watch the sun set. The park has the name of Temple de Debod because inside there is an ancient Egyptian temple. It was moved to Spain after it was under threat of being flooded. The monument is one of the few Egyptian landmarks that can be found outside of Egypt.
Though this may sound strange, Cementerio de la Almudena, a cemetery located close to La Elipa, is one of the largest cemeteries in Europe and has a magnificent chapel and beautiful vistas. You will even find the graves of some extremely famous Spaniards in there.
Best Restaurants in Madrid
In Madrid the tradition is that with every drink you order from a terrace, you are given a small tapas, whether it's olives, crisps, or jamon. This makes it extremely difficult to not fill up on them and still have an appetite for dinner. However, if you can overcome the endless supply of food at the bar, you will find some of the greatest restaurants in Madrid, with plenty of variety too.
Seafood Restaurants
Spain is most well known for seafood, and almost anywhere you go will have a great variety of fresh fish. But Plaza Mayor is a huge square open to the public with plenty of wonderful restaurants. The restaurants of Plaza Mayor are great for serving the finest fresh seafood brought in from Galicia, including the best squid you can find in Madrid. Most places in Plaza Mayor have these olives stuffed with spicy peppers that everyone must try.
You could through a rock in any direction in Madrid and it would land in front of a restaurant that serves great sea food, but what's extremely hard to find in Madrid is great pizza. But low and behold there is one; Brew Wild, which serves pizza with the finest ingredients and a great and exhausting selection of Spain's very best craft beers. The place is a maze as it's underground with exposed brickwork, it's like you are actually sitting inside a huge wood fire oven.
Another place that proves Madrid is a great food hub for dishes outside of seafood is Mercado San Anton, a huge three floor indoor food market in Chueca. The market houses stalls with cuisines from all over the world. It's a locals' favourite. But if you want a more fine dining experience, head to the rooftop where you can dine in the sun in a restaurant that serves the most exquisite food.
Best Music/Festival
Every Sunday throughout the summer months, Sunday Brunch takes place, which is a day long event full of great DJs. It takes place in various parks, including Retiro. Different DJs play each week with some being more famous than others. The seasonal event ended 2019 with one of the biggest and most exciting performers Brunch ever had, Fatboy Slim, who played an enormous three hour set. They turned a park in to a mini festival, with pop up events, multiple food trucks, and games.
The most famous and popular festival Madrid has to offer is Mad Cool, which has been going for a considerably short amount of time compared to other festivals of the same stature. Mad Cool started in 2016, and from its inception it has always had huge names in the line-up, culminating with Taylor swift scheduled to headline the 2020 line-up until the festival was unfortunately cancelled due to COVID-19.
Best Nightlife
Another well known fact is that because Madrid is in the dead centre of Spain and the city is landlocked, there is no sea, but there are dozens of rooftops bars with pools that are open until late. The best example of this is Gymage, a secret paradise that first and foremost is a gym, but if you take the elevator one floor higher you'll find the most glorious sun trap playing house music, serving strong cocktails, and people drunkenly splashing about in the pool.
Malasana
Malasana is the trendy area of the city that has a dozen great clubs, and though the cost of a drink is a little more than the average, it's still wonderfully cheap. In Malasana is Taller Margarita, and I bet you'll never guess what their specialty is. Taller Margarita serves the best margaritas in the city, has a DJ playing on the top of a truck, and a VW Camper van that has been turned in to a taco stand. When it gets to about 1am you'll find the chef and the bartenders dancing inside it.
Another well known fact about Spanish nightlife is that Spaniards don't call it a night until about 8am, and that's no less true when it comes to block parties. Throughout the year there are several occasions when whole city streets are shut down and cocktails stands are put, along with stages for musical acts. These parties are usually on Spanish bank holidays such as Dos de Mayo (the second of May.)
If you don't want to travel to a party after having eaten, there's the perfect place for you. Taberna Alhambra is a traditional restaurant with great quality meat at an extremely affordable price, however the place is completely unique as the crew that run the place are partying while working. The later in to the night it gets, the louder the music gets, passers by on the street look inquisitively inside as people are doing pull up competitions on the ceiling beams and having tequila poured down their throats. The employees even have the seven deadly sins scrawled down their work shirts. Though it is hard not to feel sorry for naïve families who book a table there believing it's just another Spanish restaurant.
Best Day Trip Out of the City
If there is any location to easily visit just outside of the city it has to be the Plaza Del Toros, the bullring situated right next to the Ventas metro station. The metro line is easy to access from the city and the bullring is worth checking out even if you hate the idea of bull fighting. The bullring is huge and is used for events other than bullfighting when it's not the season, most notably being turned in to a club night by the Sunday Brunch organisers that have special themes, such as day of the dead or Christmas. Even just to walk around and inside the arena is noteworthy. It's worth visiting just to see the beautiful behemoth of an arena itself. The place is huge and if you walk around it you would have walked a whole kilometre.
If you want to go a little further out, Toledo is just a forty minute car ride away. Toledo is a small ancient city that has a lot of rich cultural history. The place is known by multiple different names most notably as "the imperial city" due to being the court of Charles V, and also as the city of the "Three Cultures" because of its Muslim, Christian, and Jewish influences. It's roman architecture is beautiful, but if you visit, make sure you take sun screen, the areas in Toledo are wide open and it can reach 45 degrees!
It goes without saying that the Real Madrid football stadium, Santiago Bernabeu, is great to visit even for people who don't have a love for the sport. You get to visit the locker rooms, sit in the director's chair, walk along the pitch, get a very detailed tour. It's a great day out.
Something that not many travellers would know about Madrid
Madrid's coat of arms is a bear with its paws against the trunk of a strawberry tree. There is a statue of the bear and the tree in Sol, and if you can find it, you will be standing in the dead centre of the country. Another interesting fact about the statue is that it's actually incorrect as the kind of tree doesn't grow in Spain. However, it has been reported that the kind of tree that it is, a strawberry tree, was never grown in forests in Madrid.
Interesting Facts
Madrid only accounts for 5.6% of total inbound arrivals in Spain
The main nationality of those arrivals are from "Rest of America and Rest of the World" which is distinctly different from other areas in Spain.
Barajas Airport is the 6th busiest in Europe and is a hub for Iberia, Ryanair and Air Europa which brings tourists from all over the world to Madrid