Redcliffe is a neighborhood in Bristol, United Kingdom. It is located on the east side of the city, near the harbor, and is one of the oldest parts of Bristol. The name Redcliffe comes from the red cliffs that once surrounded the area, which were formed by sandstone deposits.
The history of Redcliffe dates back to the Middle Ages, when it was a bustling port and a center of trade and industry.
In the 14th century, the area was home to many wealthy merchants and shipowners, who built grand houses and warehouses along the harbor.
In the 16th and 17th centuries, Redcliffe became an important center of shipbuilding and maritime trade, with many shipyards and warehouses located along the waterfront.
The area was also home to a number of important religious institutions, including St Mary Redcliffe Church, which is one of the largest and most impressive churches in Bristol.
In the 19th and 20th centuries, Redcliffe underwent significant changes, as the harbor and shipbuilding industries declined and the area became more residential.
Today, Redcliffe is a vibrant and diverse neighborhood, with a mix of residential and commercial buildings, including many historic and architecturally significant structures.
The area is also home to a number of cultural and recreational attractions, including the Redcliffe Caves, which are a network of underground tunnels and caves that were once used for storage and shelter.
Despite the ubiquity of the photographs of its more beautiful aspects – pastel coloured Georgian houses, views of the docks at night that look like watercolours – in brochures advertising the city, Redcliffe is not a place that immediately comes to mind when deciding which area of Bristol to focus on, when travelling. But it's a deeply rewarding place to explore, and testifies to the deep economic and social forces that make Bristol the city it is today.
Must-do activities
A Visit to St Mary Redcliffe Church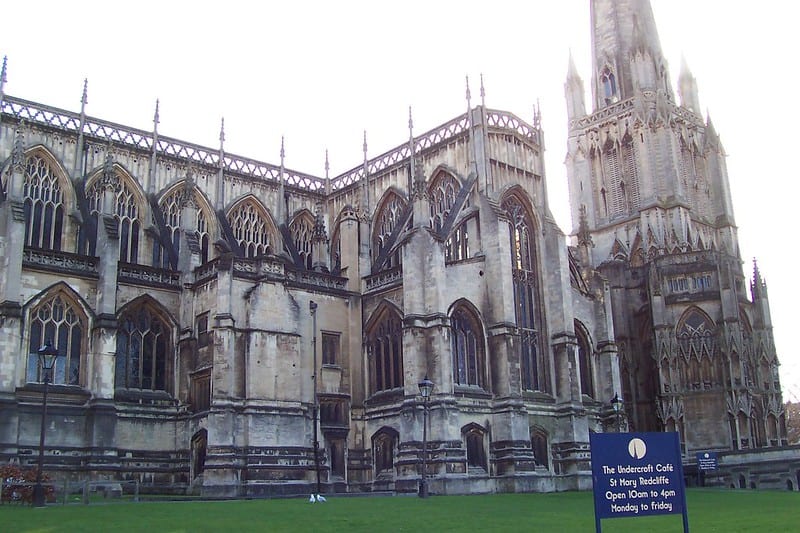 Described by Elizabeth I 'the fairest, goodliest, and most popular parish church in England. St Mary Redcliffe church is a beautiful example of gothic architecture. The earliest iteration of a church on these grounds probably dates back to Saxon times. This was when the port of Bristol began to prosper, but early extant parts of the church – the parts of the church that you'll see on your visit – date to the late twelfth century. There's a lot of different of styles of architecture in play here. From the late gothic decorated style (ribbed vaulted ceilings, pointed arches) to the baroque generosity of the stained glass. The spire was struck by lightning in 1448 and replaced (finally) in 1872; it remains the tallest building in the whole of the city.
Redcliffe Caves
These caves are how the area got its name. They stand beside the docks, and upon them stand some of Bristol's most iconic pieces of architecture: the multi-coloured houses of Redcliffe Parade. Consisting of red sandstone from the triassic period, the cliffs were dug into in order to provide sand for glass and pottery artisans during the Medieval period.
Later on, the caves were used to store imported goods, testifying to Bristol's growing importance as a centre of commerce during the seventeenth-, eighteenth- and nineteenth centuries. There's also a more macabre element in their mythology: it has been suggested – almost certainly falsely – that the caves were used to store chattel-slaves during the transatlantic slave trade. Today, a lot of the structures have fallen in, and the caves are now used primarily for visiting purposes, although there have been occasions in which they're used for theatre productions and film festivals.
The caves are not only a very impressive thing to visit – their cavernous spaces perhaps recalling somewhat the high ceilings of St Mary Redcliffe – but they are a great way into many aspects of Bristolian history: its prosperity and ingenuity, but also the darker aspects of its past, too.
The best thing about Redcliffe
The best thing about Redcliffe is the beauty and eclecticism of its architecture. It is unlikely that you'll find such a mixture of new and old buildings standing side by side whilst retaining such a high quality of design and thought. For example, on Guinea Street, you'll find one of Bristol's oldest remaining domestic buildings – a house built in the 1720s – standing next to a block of council flats whose coloured panels recalls the aspiration architectural ideals le Corbusier. This profound mixture of styles not only makes Redcliffe an interesting and beautiful place to live, but also a place really worth travelling to, as well.
Best Walk
Bristol Temple Meads
Towards its eastern end sits Bristol's main railway station, Bristol Temple Meads. The original terminus was built in 1843, and trains departed to London. since then it has grown massively, with 13 platforms taking passengers all over the country. It's a grade-1 listed building, and boasts some wonderful buttery sandstone and Neo-gothic gestures. After taking all this in, head down station approach, turn right and cross the road.
Redcliffe Estate
Turn left onto Redcliffe Mead Lane, and head up the hill. You'll be able to see the aforementioned Redcliffe flats: excellent post-war state architecture, both aspirational and pragmatic. Follow the road until you reach a passageway after the faith centre: take this turn off. There's a pretty good pub along this path, so if you're feeling thirsty, it's a good place to stop off.
St Mary Redcliffe Church and Courtyard
With the pub on your left, you'll be able to see an entrance to a church yard. Go through the gates and walk down the path that diagonally splits the gated square of the courtyard. From here, you'll be able to visit the church, or merely take it in your surroundings – the intense spires and buttresses, the war memorial – from a bench.
Redcliffe Parade
Do not leave the courtyard the same way you came in: instead, take the steps down to Redcliffe Way. Cross the road at the pelican lights and head up the hill, turning right after the pub. You'll be on Redcliffe Parade. As you walk down, the houses change. First, thin, slightly younger terraces made from an anonymous but stately brown brick. Then huge expanses of polished pastel wall set off with impeccable white details. The houses overlook the harbour, and it's worth lingering here, taking in the view.
Best Restaurants
Casamia
A Michelin-star restaurant on the Harbourside, with a rapidly changing menu. Regardless of what you end up with, the food will be locally sourced and delicious, though expensive.
Don Giovanni's: no-nonsense Italian food. Its location is particularly convenient for those travelling by rail, as it almost directly opposite the station approach of Bristol Temple Meads station.
Bocobar (Finzel's)
 A modern and stylish environment in which to drink premium coffee, locally-made apple juices or impressive-looking cocktails. (The cocktails are 2-4-1 on Tuesday and Wednesday evenings, between 5-7pm. They also do excellent sourdough pizzas, wraps and salads. It's a good option for those with dietary requirements.
Best Hotels
This is a small list of hotels that you will find in Redcliffe (Bristol). Please click the links if you'd like further descriptions and customer reviews in TripAdvisor.
Mercure Bristol Holland House is a 4 star hotel with 275 rooms which is perfectly placed for business or leisure, be it a family break, city getaway or a fun filled adventure in this cosmopolitan metropolis. All 275 rooms are contemporary and well appointed bedrooms with large beds.
Mercure Bristol Brigstow Hotel is a 116 room unique four star boutique style hotel with FREE WIFI throughout. Standing on Welsh Back a tree lined boulevard overlooking the river and historic Bristol Bridge in the heart of the old city which is one of the most desirable addresses in Bristol.
DoubleTree by Hilton Hotel Bristol City Centre is a 4 star modern 206 bedroom hotel is situated in the heart of Bristol and is only a 5 minute walk away from Bristol Temple Meads Train Station
Best Music
The Fleece and Ferkin
Usually known as just 'The Fleece," it is Bristol's largest independent live venue, and has put on shows from the likes of Radiohead, Coldplay and Idles. As well holding gigs from touring artists, it holds acoustic nights with a great range of new talent, as well as "Battle of the Bands"-type events. It's a grungy sort of venue, with reasonably priced cider and spirits, and promises a great night out.
The Louisiana
This is a smaller venue, but equally impressive in terms of talent that graces its small stage, both past and present. It's a pub that sits ever so slightly outside the usual boundaries of the traditional "Redcliffe" area, near where the harbour and new cut meet. upstairs. There is a small stage that a young Amy Winehouse once stood upon, and it continues to provide excellent live music.
Best Nightlife
Thekla
There are few nights out that will involve you walking across a gang-plank and onto a boat. But the Thekla allows you to do just this. It is an ex-steam boat that has been converted into a nightclub and live venue, and resides in Redcliffe section of the harbour. It hosts a lot of different nights: Pressure, an indie night, on a Thursday; Pop Confessional, which plays cheesy radio hits, on a Saturday-to name just a few of its regular events. There's reggae nights and David Bowie tribute nights: there really is something for everyone here.
Motion
Situated in the industrial buildings around Bristol Temple Meads, Motion is a great option for those who have more "heavy" tastes: those into EDM, those into hip-hop. It's a larger venue than the Thekla, with sound systems to match. A regular favourite event is Brooklyn Zoo.
A Day-Trip Out of the City: to Glastonbury Tor
You can catch a bus that will take you all the way out of the city, to the ancient town of Glastonbury. Before the festival, Glastonbury was famous fo a completely different reason. The tower that stands on the hill above the small town, and its associated mythology. The Arthurian Isle of Avalon – where the sword of excalibur was forged, and where Arthur was buried.
According to the folklore – is often identified with the hill. There's evidence that the tower has been around in some form or other since the Dark Ages, and certainly since the twelfth century. The tower that stands today is the same iteration from which the last abbot of Glastonbury abbey Richard Whiting, was hung from.
It's obviously of great historical and literary interest, but it's a beautiful place to visit, too. The hill is steep, but not far from Glastonbury high street, and the views from the top of the hill are wonderful. It would be a great place to travel to with a picnic.
Something that you didn't know about Redcliffe
Redcliffe is the birthplace of Thomas Chatterton, an eighteenth-century poet whose writing inspired the likes of William Wordsworth and Dante Gabriel Rossetti. His early death was immortalised in paint by the pre-Raphaelite artist Henry Wallis. The last surviving wall of his house is visible on Redcliffe Way.
10 interesting facts about Redcliffe Bristol
Redcliffe is a neighborhood in the city of Bristol, located in the southwest of England.
Redcliffe is known for its historic architecture, including a number of Georgian and Victorian buildings.
The name "Redcliffe" is thought to be derived from the red cliffs that used to line the riverbank, which have since been covered by landfill.
Redcliffe is home to a number of notable landmarks, including the Bristol Cathedral and St Mary Redcliffe Church.
Bristol Cathedral, located in Redcliffe, is the largest cathedral in the city and a Grade I listed building. It was founded in the 12th century and has undergone numerous renovations and additions over the centuries.
St Mary Redcliffe Church is a Grade I listed building and one of the most impressive churches in the city. It has been called the "finest parish church in England" by Queen Elizabeth I.
Redcliffe is home to a number of museums, including the M Shed, a museum dedicated to the history of Bristol, and the Arnolfini, an international centre for contemporary arts.
Redcliffe was once an important port, with a long history of trade and maritime activity.
The Redcliffe area was heavily bombed during World War II, with many of the historic buildings and streets being destroyed.
Redcliffe is a diverse neighborhood, with a mix of residential and commercial properties, as well as a number of restaurants, bars, and other amenities. It is a popular place to live and visit.