Greece – the country of democracy, history and culture. Known, mainly, for its islands, Greece is a worldwide destination for travelers of all ages and certainly for every "taste", with more than 100 inhabited islands to explore. Following this cliche', Rodos (or Rhodes), is an island in southwest Greece, close to the marine borders with Turkey.
Rhodes, (which translates in "rose") is a fairly big island, and it is the capital of Dodecanese, a complex of 12 islands. While, the island shows great beauty, across its whole area, it is the city of Rhodes that gets undoubtedly "the prize".
Host to one of the biggest medieval castles in Europe, the city of Rodos is overflown with multiculturism, showing an interesting combination of different architecture as it was once occupied by Knights, Turkish, Italians and Germans.
The city is small, so exploring on foot is easy, but also recommended, because you'll find something interesting, literally, in every few meters of walking.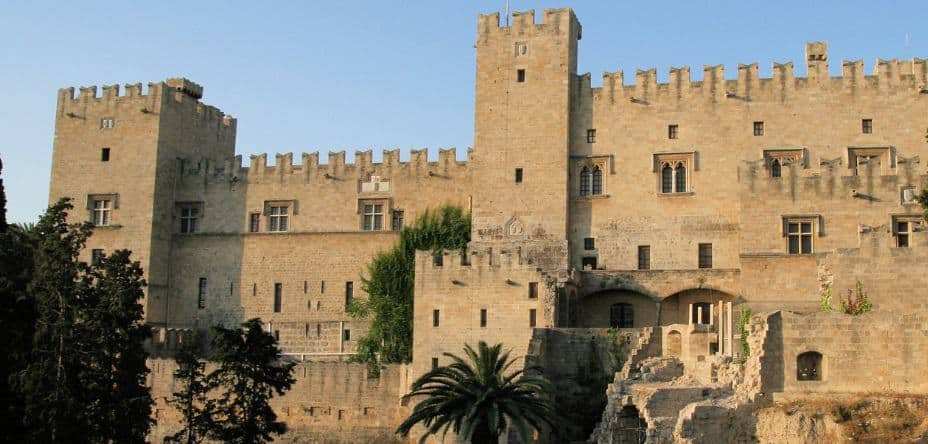 Must Do
Visit the medieval castle and Palace of The Grand Master of Rhodes.
The medieval castle of Rhodes is an UNESCO World Heritage site, and it is the largest and best preserved fortified city in Europe. The walls of the castle are ~4km (~2.5mi) long and have many strongholds and towers.
The walls are extremely well preserved. Inside the castle, there are pedestrian-only paved streets, where you can find a lot of greek food taverns and restaurants, but also shops if you want to buy souvenirs.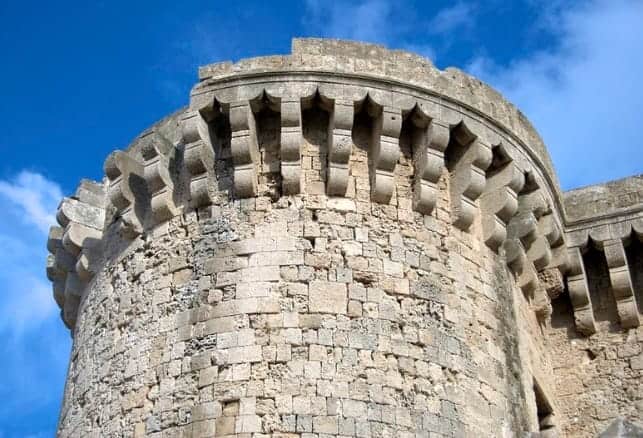 The entrance to the castle is free, and I would suggest wearing comfortable shoes, because you will probably walk a lot, and the paved streets are not very "foot-friendly"
The Palace of the Grand Master of Rhodes, is located inside the medieval castle. Inside you'll have the chance to discover a museum dedicated to Rhodes history, and visit the Grand Master's apartment with its superb mosaic floors.
One little know fact, is that the "Colossus of Rhodes", one of the 7 Wonders of the Ancient World, was most likely located in the palace's courtyard. You have to pay a ticket, in order to get inside the palace, but it is quite cheap.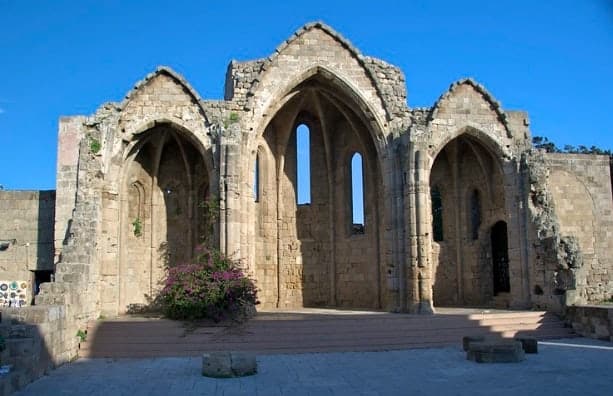 I would simply say, the city's landscape! That's because it is definetely not the typical sight seen in a modern city, but rather a combination of different cultures, standing next to each other, creating something unique. It's like you can witness the city's history just by wandering in its streets!
What Do You Like Best About Rhodes?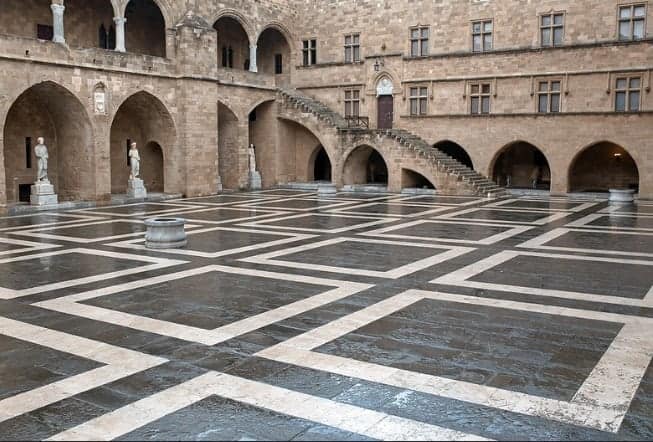 Best Walk in Rhodes
Mandraki, the city's modern 'face'.
After visiting the castle and the old town of Rhodes, it is now time to visit Mandraki, the modern part of the city. Starting from the west exit of the castle, and walking straight you'll find yourself next to three big, old,stone mills, an iconic sight, known as the "3 mills of Rhodes".
Continue walking straight and after a few meters, you will reach the New Market of Rhodes. It is a doughnut shaped building complex with a lot of shops and cafes, mostly preferred by tourists.
Across the street of the New Market, you will see the Courthouse, and right next to it, the National Bank of Greece. These two buildings, as with many others in the center, present italian aesthetic in their architectures, because they were built during the italian occupation of the island.
After walking about 100 meters (330ft) you'll reach the Post Office and a few meters further, the City Hall and the National Theater of Rhodes. Again these buildings were built during the Italian occupation, and are of particular beauty.
Keeping a straight path, after a short walk, you'll find two more unique buildings, the Casino of Rhodes and if you walk a little more, you'll meet the Aquarium of Rhodes.
When you finally reach the Aquarium of Rhodes, you'll be at the west side of the island. You may notice that you are surrounded by water, as the Aegean sea lies in front of you. In the afternoon the sun sets here, creating amazing colours. So find a bench, relax, and enjoy the sunset.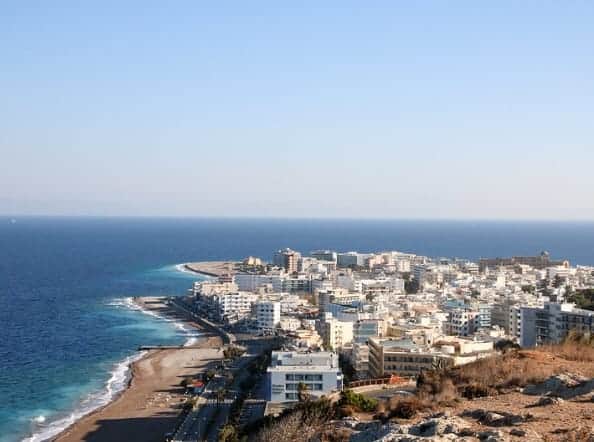 Best Restaurants in Rhodes
Greek food equals to good food, so if you want to try on some Greek food while in Rhodes, you're in for a treat. I would suggest "Koukos" for some local cuisine, good wine and music, in relatively normal prices. If you're more of a fast-food type eater, there are a lot of burger, pizza and souvlaki or gyros (greek fast food), restaurants scattered around the city. I would suggest "Rex" as an affordable but decent choice. For vegetarians and vegans I would suggest "Marouli".
Best Music/Festival in Rhodes
Rhodes has undeniably a great connection with medieval history as it has castles not only in the center, but all over the island (these castles are also well preserved).This fact alone is the reason for a series of festivals during late spring and summer months. It is a series of medieval festivals beginning and ending at the medieval castle of Rhode's city, which hosts the biggest celebrations. During the celebrations you'll walk around the castle or around Mandraki, and you'll have the chance to see knights, the king and the queen of the castle and peasants dressed in medieval clothing. There are also a lot of activities, such as archery, joggling, horse riding and even a treasure hunt, where you can also participate for free. Either by participating or simply by watching, the medieval festival of Rhodes is definitely a unique experience!
Best Nightlife in Rhodes
Nightlife is certainly something that is not absent from the city of Rodos. Head out to "Orfanidou" street, also known as bar street, if you want crazy parties and loud music. If you're more of a low- key person who enjoys mainstream music, then you should go inside the castle, to the old town where you would have a lot of options to choose from. If you're interested in wine and cocktails without loud music, then I would suggest "The Last Butler". or "Union" and, if beer is what you're looking for, I would suggest "Rogmi tou Hronou".
Best Day Trip Out of Rhodes
The city is host to a lot of ships making daily trips either to other close islands, either to places in Rhodes island. I would suggest taking a daily trip to Symi, which is a Greek island near Rhodes with very picturesque and unique scenery. If you don't want to take a boat you can either drive, get a taxi or go by coach to Lindos. Lindos is a village near the south end of the island (about 1,5h driving), which has its own castle and is literally built on a steep hill. It's certainly worth your visit. If driving is off the table, then you should visit "Rodini", a big park, located out of the center of Rhodes, where you can find peacocks, deer and a lake full of goldfish. It is accessible via public transport or you can even walk there.
Something That Not Many Travellers Know About Rhodes
Rhodes is host to a great number of travellers every year. One of the "little secrets" that most people don't know lies just next to the city. It is a spot where you can have a panoramic view of the city, and the best view for the sunset, Head out to the site of Rhodes Acropolis (it is very close to the city center). On the way there, following the road, you will reach a part where the hill on your right hand spreads, and starts taking a downward slope. Step out of the road and head to the slope. After a few meters you'll find a bench hidden, in a way, from plain view and in front of it, a breathtaking scene, similar to an art piece! Enjoy!