NAMIBIA – many people have never even heard of this place. It is a big desert country located in Southwest Africa. Us locals like to think of Namibia as a hidden treasure in this big world. You probably read "desert" and "Africa" and now you're wondering why on earth you should travel here. Well, I'll give you a taste of what Namibia has to offer by simply describing my hometown – Swakopmund.
Swakopmund, or Swakop for short, is a coastal town that is a popular place to visit during the summer, which in our case, is in December. The city has a very European vibe due to the German-styled buildings. It sits like a modern oasis between the Atlantic Ocean and the Namib Desert with many hidden treasures in its midst.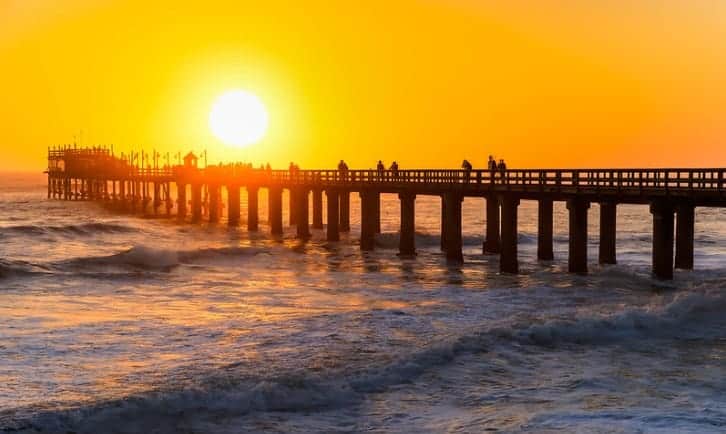 Must do in Swakopmund
GO SKYDIVING! What could be better than experiencing the ultimate adrenaline rush of willingly jumping out of a perfectly functional aeroplane? Nothing! This is your chance to check that box on your bucket list. After going through a safety briefing and a short skydiving class, you'll be ready to jump tandem with an experienced skydiver. Many people feel afraid and anxious right before the jump, but the moment you find yourself free-falling, all you will feel is pure bliss. Swakopmund is one of the best places to fulfil this experience, thanks to the amazing sight of the ocean on one side and the desert on the other.
RENT A QUAD BIKE! I cannot stress this enough. There are plenty of rentals all around the city. Some lodges even have their own quad bikes to rent out. Once you are on your four-wheeler, go on a guided adventure in the Namib Desert. The sandy dunes offer the best landscapes for a fun afternoon. Afterwards, you can even take your quad over the highway and ride it along the beach with the cool ocean breeze in your face.
If you're not looking for the rush of a quad bike, but you would still like to enjoy an adventure through the oldest desert in the world, hop on a camel. Many people can say that they have ridden a horse, but not many can claim to have ridden the backs of these desert animals. While they might be slow, they still offer a thrill, especially when they stand up and run.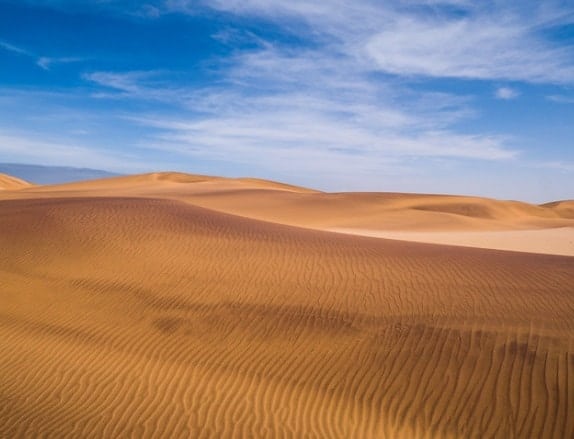 What I like best about Swakopmund
Swakop stands out from all other towns in Namibia due to the mix of cultures. You can feel, hear, taste and see the diversity from German to South African to the many native tribes of Namibia – all in one place. Swakop is my own little paradise simply because the people live and thrive harmoniously together.
Another thing I love most about Swakop is the weather. Most of Namibia has a dry and hot climate, but due to the Benguela Current, the coast provides a cool climate throughout most of the year. Some mornings the city is completely consumed by fog and those mornings are my favourite.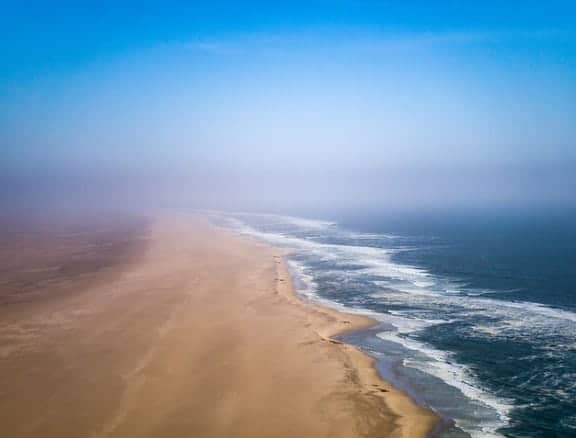 Best Walk in Swakopmund
Head toward the National Marine Aquarium of Namibia in the afternoon. There is a paved path that goes all along the coast. The path will first take you to the Jetty, a pier that takes you into the ocean to give you a better view of the shoreline. Don't stay there too long, because we'll be back. When you continue with the path, it will eventually lead you to the lighthouse with many stalls that sell African trinkets and jewellery along the way. Enjoy some refreshments in the form a coffee or a delicious ice-cream around the lighthouse, the head back to the Jetty.
As the day comes to end, catch one of the most beautiful sunsets you will ever experience in your life from the roof of the Jetty restaurant. African sunsets are like no other, and a sunset by the ocean is more breathtaking. The ombre colours set the sky aflame right before the sun disappears beyond the horizon. Afterwards, you can enjoy a lovely dinner at the restaurant whose roof you are standing on.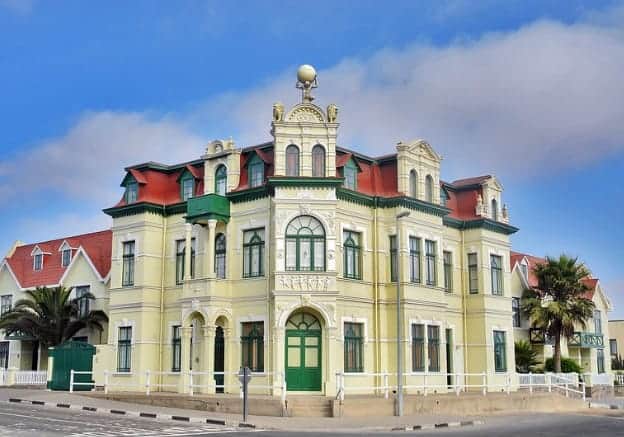 Best Restaurants in Swakopmund
Many people come across two of the best restaurants in town simply by going to the pier. No one can resist enjoying a nice dinner above the water at the Jetty 1905 Restaurant, or by The Tug at the other end of the pier that has a spectacular view of the ocean on top of its delicious menu.
However, there are plenty of other amazing restaurants to satisfy your cravings. Old Steamer Restaurant comes highly recommended by locals and tourists alike, offering mouth-watering grilled food and an assortment of international dishes. The restaurant has a rustic, old-school look that makes it a relaxing place to enjoy a meal.
If you're looking for a cosy cafe to enjoy breakfast or brunch, look no further than Village Cafe. The staff are as warm as their coffee and as sweet as their desserts. They offer a variety of meals and they also cater to more sensitive eaters like vegans and those who don't consume anything with gluten.
Best Hotels in Swakopmund
Best Festival in Swakopmund
Swakop hosts festivals for just about anything. For music lovers, what could be better than the Swakopmund Summer House Festival? People come from all over the country to enjoy the concerts by the beach where they can dance till the sun sets. For the offroaders, Swakop also hosts an annual Land Rover festival for those who admire the vehicle that can handle any terrain.
Every few years, Swakop also hosts a Color Festival where white is the dress code, but at the end of the day, you are covered in every colour on the prism.
Best Nightlife in Swakopmund
Namibia is no stranger to bars and Swakopmund have plenty of bars to choose from. If you want to get together with a few mates and watch a game, then you better head over to Locker Room Sportsbar & Lounge. It kind of reminds you of the old western saloons, since it has barrels for tables.
Desert Tavern is another bar where you can enjoy a few drinks with friends. It is one of the few places that are still open after midnight. Aside from drinks, you can enjoy excellent food along with a mixture of music from bands that play live.
Best Day Trip out of Swakopmund
Those who find themselves travelling to Swakopmund will most probably travel to Walvis Bay as well, another coastal city a mere 30 minutes away. Walvis Bay simply offers more restaurants and adventures to choose from.
One of the adventures outside Walvis Bay is Dune 7, the tallest sand dune in Namibia. Dune 7 measures just over 1250 feet and is the seventh tallest dune in the world. Hundreds of people climb the dune a day to enjoy the incredible view from the top. It is also a popular spot for dune surfing, as well as paragliding over the desert.
After spending so much time in the desert, hop on board a boat for an exciting dolphin and whale-watching tour. Catching a glimpse of a pod of whales and feeding seals is not an opportunity you can pass up.
Something that not many travellers know about Swakopmund
There is curious little sport that locals do by the beach where they cast their fishing lines into the ocean and try to catch a shark. Fortunately, they only do this for fun and they release the shark back into the ocean after first taking a few pictures of their prized catch. These fishermen are very friendly and will entertain anyone who approaches them.
There is no place like Swakopmund that offers all it has to offer. A trip to Namibia is not complete without visiting Swakop and enjoying all the adventures it has to offer.