Nestled on the south-east coast, Brighton has the reputation of having one of the most 'unique' cultures in all of the United Kingdom. While it isn't necessarily at the top of the agenda for foreign tourists, there is barely a person in the UK who hasn't taken a trip down to Brighton at least once. Being nestled right on the sea, and within an easy-reach distance of London, makes sure of this.
This is an old city. Formerly a fishing village that has grown up over the years, Brighton boasts a ton of things to do. Couple this with some unique architecture, and this is a prime place to visit.
Must Do
If you are heading into Brighton, then it is VITAL that you pay a visit to Brighton Palace Pier. It is one of the 'defining' attractions of the city. Hop onto the pier to enjoy a mix of amusements, fairground rides, copious amounts of fish and chips, and tons and tons of tourists. This is one of a few tourist attractions within the city that even a Brightonian would be more than happy with….albeit, would probably be complaining at the same time about the constant name changes of the pier!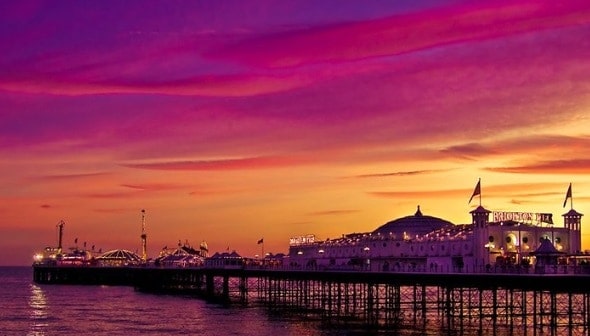 What do you like best about your city?
It is hard to choose between the people and the actual 'feel' of Brighton, to be honest. Brighton is well-known for having some of the most accepting people in England. You could head to Brighton, walk down the street, and see people dressed in and acting in all sorts of weird ways. Not one Brighton resident is going to be batting an eyelid at it. There are very few places in the world, let alone England, that you will be able to enjoy something like this.
Related Article : Things to do in Ashford
Of course, you can't mention the greatness of Brighton without complimenting the 'feel' of it too. Some people compare the city to a 'little London', which probably comes as no surprise. The whole reason the city grew up to be so big is due to the rail connections to London. Brighton has the same mix of bars, independent shops, and culture that London does. It is just a lot more compressed, and it is right by the sea. It is a prime tourist destination.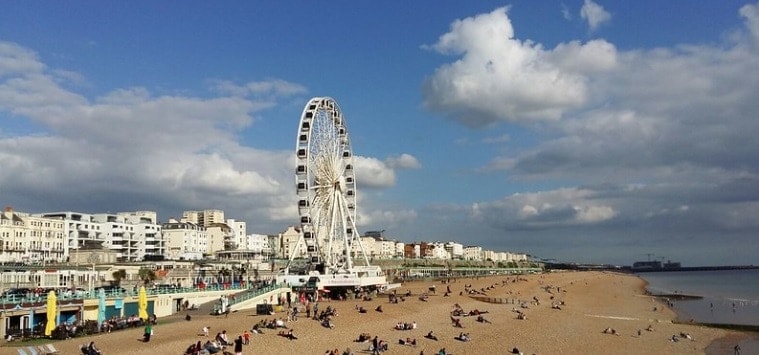 Best walk in Brighton
There are plenty of 'walks' throughout Brighton. There are some great parks in the area, although, if you are in the centre of the city, it is going to be tough to reach them on foot. This is why we want to guide you through some awesome walks throughout the centre of the city. It will allow you to experience the architecture of the place, as well as introduce you to some great places to eat and drink.
Any walk that you take should start off at Brighton Palace Pier. You may want to explore this for a bit too. Some people will have a walk along the coast at the same time. You could walk into nearby Hove like this. However, on blustery days, it may be a little bit too windy. On sunny days, there may be a little too many people here.
We suggest that from the Brighton Palace Pier, you make a beeline for the Odeon Cinema and the Brighton Centre. The busy street here is known as 'West Street' and will take you up to the clocktower. West Street is well-known for the nightlife. If you are not into that, then just keep heading up, absorbing the culture of Brighton.
Once you get to the clocktower, you will see the Churchill Square Shopping Centre. You could easily spend hours shopping here. This is great for burning off a little bit of energy.
Once you have exhausted the shopping centre, you can head down the road from the clocktower towards the train station. Once you hit the train station, turn around and come back on yourself. Only this time, you are going to be working your way through the North Laine. This has a ton of independent shops and restaurants to explore. It is quite a cramped location and can get very busy at the weekend, but there is no place quite like it in England.
As you work your way through the North Laines, you will finally encounter the Brighton Pavilion. This is the 'royal palace' for Brighton. Of course, it now a tourist destination. A pretty good one at that. If you are not planning to head here, or into the normal museum close by, then you will still want to walk through the Pavilion Gardens. It is beautiful.
Once you are out of the Pavilion Gardens, you should cross the road. This will allow you to enter The Lanes. This is the 'old' part of Brighton. It is packed to the brim with quaint little shops and is the perfect destination for those who want nightlife a little bit different than normal. Record shops and antique shops dominate this area, so you may see something that tickles your fancy.
If you are spending a bit of time in the shops as you walk, then this whole thing could take you the better part of a day. However, it will also allow you to see the majority of what Brighton offers from the Pier to museums to shopping opportunities.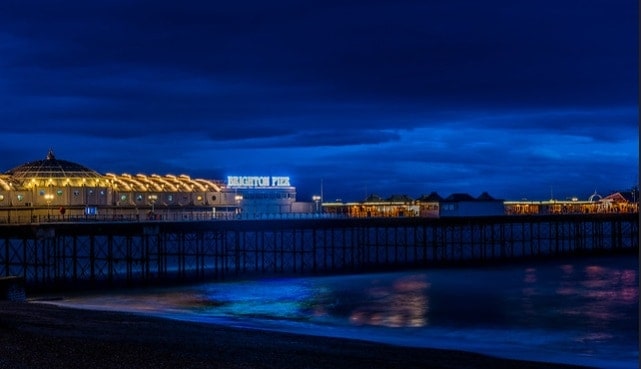 Best Restaurants in Brighton
Brighton is packed to the brim with restaurants to fit all budgets. You can enjoy everything from a 24-hour breakfast in a local cafe, to a restaurant that is pretty much guaranteed to be scoring a proper Michelin Star in the coming years.
For a touch of fine dining, then Etch. in Hove is going to be your best bet. The restaurant is run by a guy who starred on Masterchef: The Professionals (a reality show in the UK). If you want some fish & chips, then you can head to one of the chippies on the seafront, but if you want to taste fish the way it should be tasted, then The Little Fish Market is the way to go. This awesome restaurant often sells fish from the local area. You can't get much fresher than that.
If you head into The Lanes and North Laine part of Brighton, then you will also be able to enjoy a ton of smaller restaurants and cafes. Each has its own unique quirks. This includes some awesome vegan restaurants or stellar burger bars. You don't have to be walking around for long to find somewhere great to grab a bite to eat.
Best Festival in Brighton
Each year, the Brighton Fringe Festival runs through May. It is one of the largest Fringe festivals in the world. Throughout the festival, you can enjoy a variety of different performing arts throughout the city. Interestingly, anybody can run an event during the Brighton Fringe. This means that you get a mix of performers that you wouldn't find anywhere else. In fact, some people perform in the comfort of their own homes! You will often find a lot of comedians testing their material in Brighton before heading onto Edinburgh Festival later on in the year.
The Brighton Fringe Festival will often run alongside the Brighton Festival, which means that there will be plenty of other events going on throughout the city at the time. Of course, if you are heading to a hotel, then you are going to need to book early. The city fills up quickly throughout the festival season.
Best Nightlife in Brighton
There are some people who will tell you that West Street is the 'best' place for a bit of nightlife in Brighton. I am inclined to disagree. Sure, there are some great clubs there, but the whole scene that you find in this part of Brighton can be found pretty much anywhere else in the country. If you want to experience the 'culture' of Brighton, then I suggest that you head into The Lanes or North Laines part of Brighton. You will find a ton of quaint little pubs, and the prices are often going to be a lot cheaper than the main parts of the city too. Just about anywhere that you find in either of these places will be 'good'. If you don't like it, then you can easily hop to a different pub a couple of doors over and try that one out instead.
Some people are also interested in the 'On the Rocks Bar Crawl', which may be worth going on if you haven't been to Brighton before. This 'guided tour' will take you through some of the best pubs and nightclubs. Just do this once, and then head to wherever tickles your fancy the next time you are out in the city.
Best Day Trip Out of the City
Being just an hour away from London, it is tempting to say that London is probably going to be the 'best day out' for visitors to Brighton. However, I am going to mention something a bit different. It may be better to visit either Arundel or Hastings. Both of them have played a key role in the development of the United Kingdom (and the world as a whole, in fact). Hastings is probably the better of the options. It played host to the Battle of Hastings in 1066 which changed the course of history forever.
Arundel may also be an option due to the large castle it boasts. It is also going to be away from the coast, so it provides something a little bit different from the norm. The streets are a whole lot more 'ancient' than Brighton too. Arundel boasts somewhat of a village feel, even though it is closer in size to a town.
Something not many travellers would know about Brighton
Brighton boasts the oldest purpose-built cinema in the United Kingdom. While it is a little bit outside of the city centre now, a trip to the Duke of York cinema certainly wouldn't go amiss for people who love their movies. The cinema runs several screenings throughout the week. It is mostly going to be indie movies, but a couple of blockbusters have managed to slip through the cracks on occasion. It isn't that well-promoted as a 'tourist destination' in the city, so you will need to seek it out yourself.