The town of Cobleskill is an often overlooked and passed by rural town. Many people don't realize the beauty they are missing when they take the highway around the town instead of entering in. if you take the time to stop into Cobleskill you will not be disappointed.
Cobleskill New York is a historic and agricultural town known by locals to be quiet and quaint, with a lot of hidden gems. The town is on the smaller side, with about 6,625 full time residents. Cobleskill is located in Schoharie county and was founded in 1795. The town was named from Jacob Kobel, a grist miller who built his mill near a creek. Being that "kill" means creek in Dutch, the town was first know as Kobel's Kill, and later changed to Cobleskill. The town of Cobleskill has a lot of hidden history, from the antique barns strewn across the town to the stories of native American raids and local wars.
Cobleskill is a college town, home to one of New York states state universities, SUNY Cobleskill. Being an agricultural town, most students at SUNY Cobleskill major in an agricultural related field. The college is a big part of the community and has a large horse barn that is open to the public.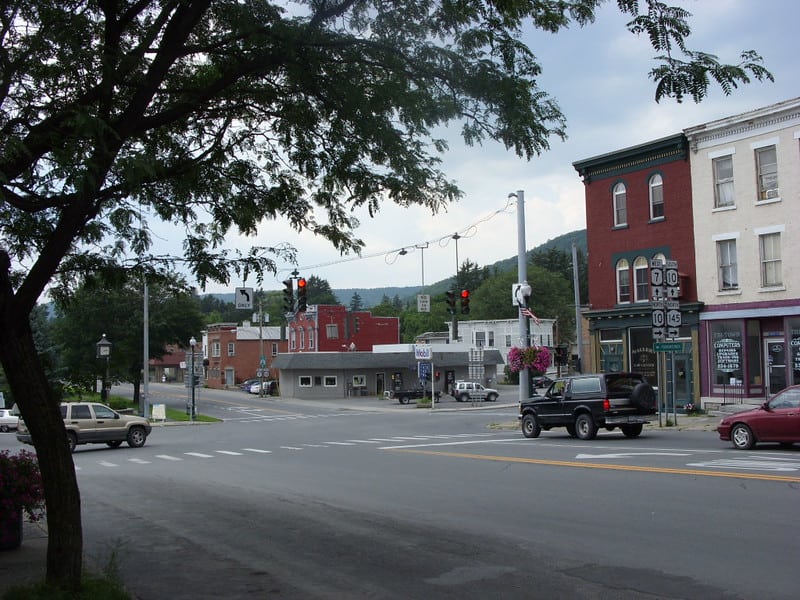 Must do
   If there is one thing you must do during your visit to Cobleskill it is visit Howes caverns. Located in the outskirts of town, Howes Caverns is the largest underground cavern in the Northeast and features natural rock formations and an underground river. The caverns were discovered in 1842 on accident by Lester Howe. One of Howes cows got loose; howe found the cow by a secret entrance to the cave.
At first, the only way to enter the cavern was to climb down with ropes and ladders, shimmying through tight spaces and guided by nothing more than a flashlight. The early tours took all day to complete. Hows Cave has since modernized to make it easy for guests to explore the natural wonders of the cave. When you go for a tour at Howes Cavern you will take the elevator fifteen stories below the earths surface. You will walk along the rock path, ride a boat through the river, and you can even get your picture taken by the natural rock formations.
What do you like best about your city?
The natural beauty in and around Cobleskill is definitely one of its biggest draws. From the first flower blooms in the spring, to the changing colors of the leaves in the fall, to the first snowfall in the winter, Cobleskill is covered in natural beauty.
Best Walk
The best place for a walk is the Cobleskill creek trail. The Cobleskill Creek trail encompasses just over two miles of fairly flat field bordering woods and a creek. With benches and picnic areas, this is the perfect spot for a family outing or a jog around the trail. This trail gives you a good look at truly rural Cobleskill. Another great choice lies just a few minutes out of town at Vromans Nose. Vromans Nose is a short hike up a nose shaped mountain that overlooks a scenic valley below.
Best places to Stay in Cobleskill
I have added the best couple properties on TripAdvisor to stay in Cobleskill. I have added links that will take you to TripAdvisor for more detail and customer reviews. A (H) denotes that the property is an historic building.
Super 8 by Wyndham Cobleskill NY – Super 8 by Wyndham Cobleskill NY is an excellent choice for travelers visiting Cobleskill, offering a family-friendly environment alongside many helpful amenities designed to enhance your stay.
(H) Grand Colonial Bed and Breakfast – won a TripAdvisor 2021 Travellers Choice Award Immerse yourself in the historic charm of our 1800s Colonial-style house on your next visit to the Herkimer/Cooperstown area of Central New York. We're located 1-mile from NYS Thruway Exit 30, close to regional attractions including the Herkimer Diamond Mines and The Baseball Hall of Fame in Cooperstown.
(H) North Grand Bed and Breakfast – Established in November of 1870 this 151 year old property boasts a character and charm that is not found in newer homes of this day. A spacious view of greenery and colorful flowers attracting birds of various types. This is a place to come unwind from the realities of life.
Best Restaurants
Cobleskill boasts a handful of quaint, local, restaurants. Little Italy is the best for Italian. Featuring many signature dishes and their famous "grandmas pizza," loaded with garlic and tomatoes, you will not be disappointed with this choice.
For breakfast, the Cobleskill diner is a local favorite and is typically bustling busy on a Sunday morning. The Diner offers typical American breakfast items. For the all around best American fare, the Bull's Head Inn is a wonderful choice. Dating back to 1801, you will be surrounded with history when you eat at this inn converted into a restaurant. The Bull's Head also hosts trivia nights as well as music nights below the restaurant in their pub.
Best music/festival
There are several seasonal choices when it comes to music and festivals in Cobleskill. During fair season the Cobleskill Sunshine Fair offers a fantastic place to throw on your boots and get dancing. The occasional "music in the park" also encapsulates passer byers and prompts them to stay and listen to the sweet country music. A local Irish Restaurant called Chieftains also offers swing/country dance lessons on Saturday nights.
Best Nightlife
Though the streets roll up at about Nine o'clock each night, there are still some great spots to get a drink in town. Locomotions sports bar and grill is a popular college student and local hangout and is open until one a.m. Locomotions is located behind the old train tracks and is converted from an old train station. Though closing early at only nine o'clock, the Bull's Head Inn tavern is also a good choice with live music and trivia on choice nights of the week.
Best out of town day trip
Cobleskill is located in an area where there are fun day trips in every direction. Fifty minuets to the East is Albany, fifty minuets to the west is Onionta, to the south is the Catskills and to the North is the Adirondacks. My favorite day trip is taking the hour and and half drive up to Lake George, just outside of the Adirondack park. In lake George you can go hiking, browse the many quaint shops on the main street, eat at their many yummy restaurants, or go for a scenic cruise with the Lake George steamboat company.
Something not many travelers don't know about Cobleskill
Many travelers don't realize that there is more to Howe Caverns than just a cavern; there are also the secret caverns, located one hundred feet below the ground and featuring underground waterfalls. The Secret Caverns are also open to the public for guided tours. This cavern is a bit more rustic than Howes Cavern and is only accessible by taking stairs. Another thing that many travelers and even many locals don't know is that the SUNY Cobleskill horse barns are open to the public. If you are looking to get your horse fix, head on over to the horse barns to visit with the many horses.
10 interesting facts about Cobleskill
Cobleskill is a town located in upstate New York, with a population of around 7,500 people.
The town is located in the Schoharie Valley, which is known for its beautiful rural landscapes and scenic views.
Cobleskill is home to the State University of New York at Cobleskill, which is a public college that offers a range of undergraduate and graduate degree programs.
The town is known for its strong agricultural heritage, with many farms and vineyards located in the surrounding area.
Cobleskill is also home to several annual festivals and events, including the Cobleskill Pumpkin Fest and the Schoharie County Sunshine Fair.
The town is located in close proximity to several popular tourist destinations, such as the Catskill Mountains and the Adirondack Park.
Cobleskill is an important economic center for the region, with many businesses and industries located in the town.
The town is also home to several sports teams, including the Cobleskill-Richmondville Bulldogs, which compete in the New York State Public High School Athletic Association.
Cobleskill is known for its small-town charm and friendly community atmosphere.
The town is easily accessible by car from other major cities in New York, such as Albany and New York City.